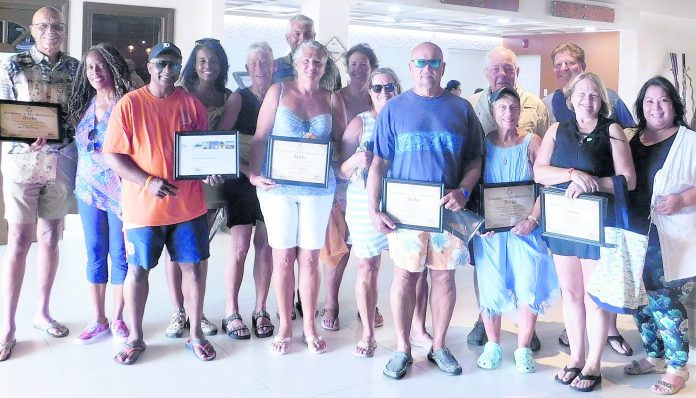 Recently, Darline de Cuba had the great pleasure to honor a group of Loyal and friendly visitors of Aruba as Goodwill Ambassadors and Distinguished Visitors at their home away from home.
 James & Terlene Todd were honored for their 29th year consecutive visit
Ray & Kathy Jankowiak were honored for their 26th year consecutive visit
Helene Sperber was honored for her 20th year consecutive visit
Max & Lynn Levin were honored for their 30th year consecutive visit
Ed & Sherrill were honored for their 22nd year consecutive visit
Donald & Stephane Palisay were honored for their 28th year consecutive visit
Eric & Durene Elem Vaughn were honored for their 16th year consecutive visit
The symbolic honorary title is presented on behalf of the Minister of Tourism, as a token of appreciation to the guests who visit Aruba between 10-20-35 and more consecutive years. 
Ms. De Cuba thanked them for choosing Aruba as their vacation destination and as their home away from home for so many years together with members of Paradise Beach Villas.
Top reasons for returning provided by the honorees were: The warm inviting sun, the gracious treatment from everyone, the absolute feeling of safety everywhere/anytime, the unending selection of restaurants and the turtle hatching.
Meet the '29ers'
"Aruba has given our group, who we call the '29ers', the opportunity to meet each other every year and renew our friendship at Paradise Beach Villas. It has been like a second home where your friends become family.
Our group comes from many destinations and we also communicate and visit each other during the years." The '29'ers" started 5 years ago with 8 couples and they decided they needed to choose one day during their stay to have a special activity. "Our first year we went on the Beach Pearl followed the next year with an all day tour of the island and dinner at Zeerover. Our third year we found us enjoying a private concert followed by a wine and cheese party at the home of a local family.
Last year we had dinner at the Marriott Stellaris listening to an evening of singer Amy. In honor of our 5th anniversary, as a group, one of our group members is sponsoring a dinner at Paradise Beach Villas and in addition one couple is celebrating their 30th consecutive visit to Aruba and their 60th wedding anniversary. When we hear welcome home we all feel we are home on "One Happy island". We love Aruba and look forward to visiting for many more years.q