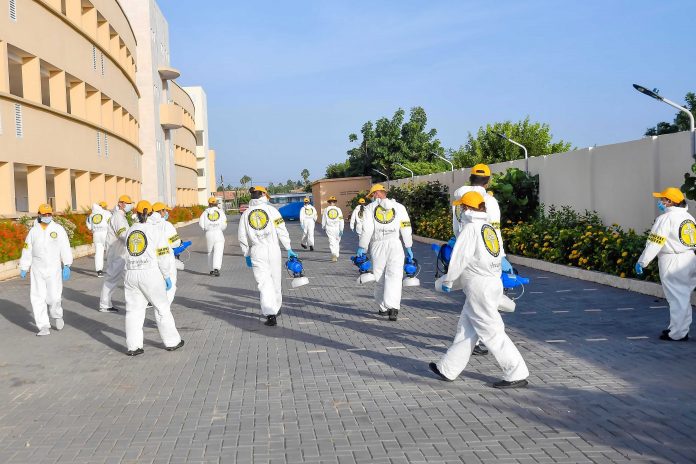 For over a year now, the Freewinds Volunteer Ministers have been sanitizing thousands of places from one end of Aruba to the other. These include schools, churches, essential stores, government offices, gyms, restaurants, bars, tourist attractions and more. And this tireless work has been done with the purpose to bring Coviv-19 cases down to zero and make Aruba the safest place on earth.
Since the onset of the pandemic the Volunteer Ministers of the Freewinds have worked tireless to carry out sanitization and prevention actions which included the distribution of some 100,000 Stay Well booklets with vital information on prevention, seminars on how to execute these prevention measures and even training others on the use of Decon 7, the strongest agent in the market able of neutralizing 99.9999% of all viruses and bacteria, so they can keep their organizations, clients, employees, families and friends Covid-free.
The Freewinds Volunteer Ministers can be seen 24/7, bringing their calming influence to all the areas they visit by assisting anyone who wants to remain well or wants to know how to keep their loved ones well and prepare for a better future for themselves and the whole island, as without Covid-19 the economy can have a real chance to fully recover into unprecedented heights.
One of the schools the volunteers recently fogged was St. Jan Kindergarten. After the desinfection was completed the Principal, Ms. Ann Arends-Hassell, told the in charge of the volunteers: "I thank you guys so much. I see you everywhere and I think that by now you can check off a list of places done that covers all Aruba! You guys are helping so much and going in so many different places!"
To find out how you can protect yourself, your home, school or workplace visit the How to Stay Well Prevention Resource Center online at www.scientology.org/staywell