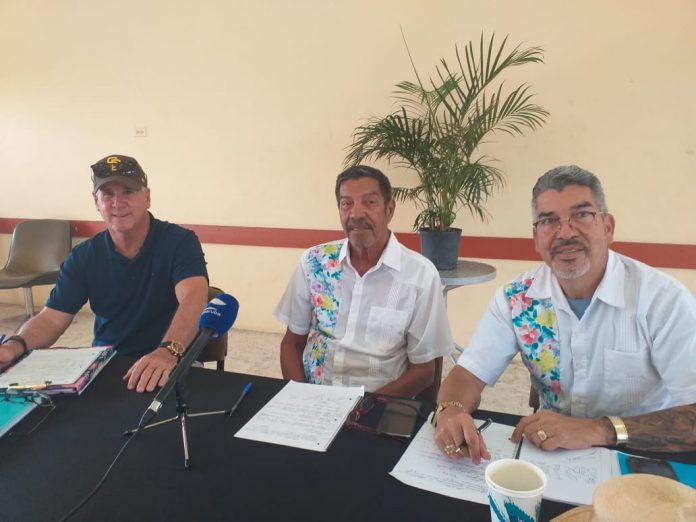 (Oranjestad)—On May 14th, the Chico Harms Foundation held a press conference where the new board of directors, Mr. Chico Harms, Mr. Leo Harms and Mr. Tito Tromp, gave an extensive explanation of all the activities taking place ahead of the 11th edition of the Brazil Neighborhood Day celebrations.
Mr. Chico Harms explained that the first official activity to open the celebrations will take place on May 28th and is a musical parade. The parade will start at 4:30pm at the Church of Brazil and finish at the Neighborhood Center Brazil.
As it is already known, June 24th is National San Juan Day, and to keep our culture alive, the foundation often organizes activities in hopes of passing this on to younger generations.
For the celebration of San Juan Day/Dera Gai, there will be activities taking place at the Neighborhood Center in Brazil. On this day, as Mr. Tromp explained, there will be prices for the participating dancers, both young and old.
He added that they are very happy that they noticed an increase of interest from children: "That's good, because it guarantees that our tradition will continue to live on in the future," he remarked.
On July 29th, the Cantica di Caya (Street Song) event will take place, for which there are already seven groups that are confirmed to participate. Just like in previous years, as Mr. Chico Harms have indicated, there will be three judging categories: kids, teens and adults. He also added that in case the number of participants from the kids and teens categories surpasses expectations, the event will be extended for a second day. The music genres that participants are allowed to sing include tumba, dansa, calypso crioyo and tambu. On
On August 19th, during the festivities of Batacaso Tipico, the finalists of the Cantica di Caya contest will reunite and perform at the Neighborhood Center Brazil. Mr. Leo Harms further elaborated on the coronation night of the folkloric culture queens, which will take place on August 26th. He explained that there are seven categories, starting from the category for babies to adult culture lady. Additionally, they will also coronate the Pillar of Culture. The Pillar of culture is an elderly person who has made significant contribution to the Aruban culture over the years.
The performances for this night will begin at 7:30pm, with artist presenting different forms of cultural manifestation, showcasing what the Aruban culture is all about.
This year, the foundation indicated that there will be no elections, replacing this with the coronation instead. This they decided after groups participating in the parade have showed their preference for the coronation during their first meeting with the foundation.
Each group must pick one category and appoint a queen who will represent their groups and who will be crowned for the categories they choose.
The Lantern Parade takes place on September 1st. This, as Mr. Tromp explained, gives the groups the opportunity to make full use of their costumes, while also giving the community those who missed out on the day parade to come see the night parade. During the last couple of year, he remarked, the Lantern Parade gained much popularity, especially because this takes place at night, where it's much cooler. For those who are participating in the Lantern Parade, it is important to state that this will only include lantern and not flashlights or any type of lights.
On September 2nd, there will be another annual tambu showcase, in which there are already five groups that have registered to participate. The Grand Cultural Parade takes place on September 3rd. Mr. Chico Harms explained that both cultural parades has a total of 11 groups that have registered, four DJs and six bands. He also pointed that it seems that this year will see the biggest parade yet, because the school in the Brazil district neighborhood will also be participating: "We have made a request to all school to participate, so that we can encourage the young ones to participate in hopes of passing this tradition on to them," he stated.
Mr. Tromp added that as a foundation, they are seeing an interest coming from schools for the cultural parades, and this is something they applaud. He explained that during the pandemic, they have lost many participants, because of the risks for older adults participating.
On the other hand, he said, it gives them much satisfaction to see that there are many young people that are participating: "This tells us that our tradition will surely keep thriving."
Brazil Day takes place on October 29th, and will include a multicultural food fair. Tromp indicated that they want to introduce more cultural event on the island, so that the community can learn and appreciate culture from other parts of the world, while also recognizing the diversity that exists within our own culture.
During this event, there will be multicultural showcase with traditional clothing from different countries. There will of course be different cultural foods and snacks sold from those countries.