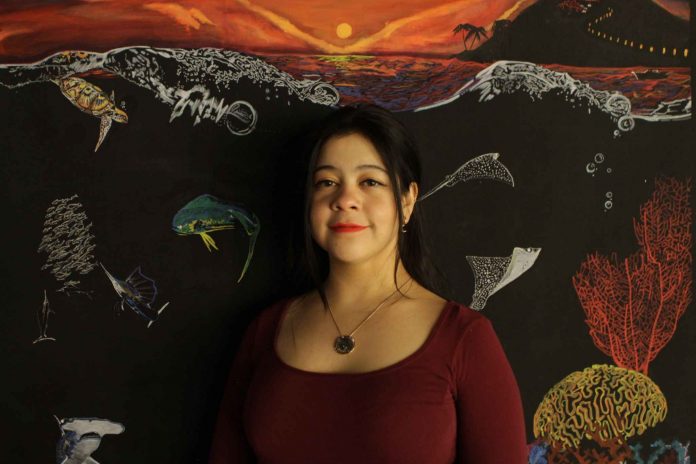 This year is the year of the creative industry, thus also the year of creative artists and entrepreneurs. Today we are catching up with the new upcoming young Aruban artist in the Netherlands who is breaking the ceiling in the fine arts. The Creative Islander interviewed Roslyn Schwengle to find out what she is currently up to and how this could contribute to a dynamic Aruban creative Industry in the future. We want to support our artist and especially the new generation of artists. Covid-19 has been devastating for the cultural sector, but read how Roslyn has managed to transform darkness to light and her message to other young artists on Aruba.
Who is Roslyn Schwengle?
"My name is Roslyn Schwengle and I am 22 years old. I am an Aruban artist finishing my Bachelor's Degree in Fine Arts at the Hanze Hogeschool Academy Minerva in Groningen, the Netherlands. In 2017 I received the opportunity to further my studies and without hesitation, I left my beloved island to pursue my dreams. From a young age I used to enjoy painting and seek for creative and artistic ways to express my emotions. Never would I thought that I am becoming an emerging artist and how art could change my life. I am very much known for my ambitious character, cautious instincts, humility, kindness, and my critical and analytical thinking. Now I can say that my hard work is paying off and that is the biggest lesson I could have learned."
What is the Green Light exhibition? Why is it so important?
"The Green light exhibition is a yearly event hosted by Academy Minerva that determines if a student can receive a "green light" to the next phase of graduation and participate in the final graduation show. It is the culmination of the years of hard work students have displayed. In the event that you receive a "red light" you are then not allowed to graduate. So, you can imagine how nerve-wracking this is for most students. Minerva Academy's Green Light Exhibition is organized by the exam committee of the Department of Fine Arts. This year the exhibition had 55 participants ranging from different artistic disciplines and backgrounds. Due to the pandemic, this year it had to be a bit different. The participants displayed around 53 works offline and 55 works online. It is also the first time that Minerva displayed an exhibition in the center of Groningen situated at Herenstraat in the building known as "men at work".
Next to this, the green light team, including myself, organized the entire event independently from the school. This was approved by the Director of Minerva Academy, Jose de Lang who has our development as young artists from the beginning. From looking for a venue, curation, funding, promotion, concept, transport, including our digital platform which included information on the artist pages supported by a 360 degree walkthrough. We even collaborated with designers in the Department of Design who helped us program the website from scratch. The Green light's exhibition was inaugurated on January 31st 2021 and will be available until February 6th 2021. Together we innovated and made history within an unprecedented pandemic. Even though we could not receive and host visitors in person, we welcomed even more people by going online.
The Green light is very important to be because it will determine my future career. We organized this event to motivate and giver hope to the world through our creativity and passion. With the inspiration of the art compass, my colleagues and I could ourselves and our artistic disciplines to the world. Something that is just precious and rewarding."
What did you display in the exhibition?
"In this exhibition I presented "Tenderness of Strength" (Ink on acid-free paper 21 x 29, 7 cm) and "Darkness of Day" (Paint on textile 143cm x 195cm).'Tenderness of Strength' includes aspects of vulnerability and bravery, such as when we face obstacles that frighten or intimidate us and observing them from another perspective. In life, hardships and challenges are common. However, through these situations, we discover parts of ourselves, grow, and ultimately prosper. The purpose of my work is to facilitate a space where my audience can self-reflect. Tenderness springs from strength and capacity, but there are extra qualities and depth that can only come from a heart that has experienced its own vulnerability and pain. This experience of being "tenderized" can strengthen us, and also help us become more tender in loving, not only others but ourselves. With "Darkness of Day" I wanted to illustrate my journey up until greenlights. With the message that life continuous even in darkness."
How do you feel after the exhibition?
"I feel so grateful for my journey and all that I have accomplished so far. Furthermore, I am grateful for everyone who has believed in my dreams as much as I have. After 6 months of hard work, my team and I made history and displayed a groundbreaking artistic exhibition. This is something I will take with me moving forward. This experience has taught me a lot and it is such a privilege to share that with an audience. I worked hard, did my best and presented my work, and after so many challenges in my trajectory I can finally say: that I have received my "greenlight" to move to the final stage of my graduation."
What is your message for Aruba?
"My beloved Island, admire and value our culture. Our cultural heritage and expression must continue. Learn our history and recognize our artistic talents. If you love to sing, dance, paint, or any form of creative expression, don't stop. Any form of expression doesn't cost you anything besides happiness. Aruban artists, professionals, and also young adults, take the courage to follow your dream, believe in yourself, and make a difference in our community. Like they say "the definition of insanity is doing the same thing over and over again and expecting a different result". Recognize your worth, and become the light you want to see in our society. Concentrate on what is necessary at the moment and love yourself unconditionally.
Like I have learned, even in darkness life continuous, and so will Aruba."
How does the future look like for you?
"My main goal at the moment is to graduate and earn my Bachelor degree in Fine Arts in 2021. I see myself developing my passion further and working in this field of arts. My dream is to paint big murals and to display my work in different museums and galleries. How I am going to get there I am not sure, but with faith I know I will achieve my goals."
The creative Islander would like to congratulate Roslyn with her well-earned success. Wishing you nothing but abundant achievements moving forward. Keep doing what you love and what you are passionate about. Aruba needs your support in the future in developing a dynamic and innovative cultural and creative industry. Sending all the support and admiration!
If you want to support Roslyn's beautiful work and see her journey, visit her website: roslynschwengle.com or find her on social media platforms.