Omaira Silva is well-known for her masterpieces. The most popular piece, the precious iguana, can be seen at the Aruba's airport. Now, she is finalizing another piece of art the 'Mosaic Social Sofa' at Eagle Beach.  
Back in November of 2020, Silva received a phone call from Felipe Da Silva of the MOTA group in charge of the WVB Watty Vos Boulevard, stating that his company needed to install an artistic cement bench to finalize the Eagle Beach Park. Silva was excited and presented immediately the Mosaic Social Sofa project that she knew off and was personally introduced to while visiting Europe in March 2019. During her visit in Europe she located several Mosaic Social Sofas in several cities and communities. Photos were send to Da Silva and it was a done deal. She would cover or as she calls it 'upholster' the cement bench in Mosaic Art and the theme would be our local Flora & Fauna. The project would have a duration of 6 weeks. Silva started the project on January 17, 2021 and is now in the final week of completion.
Silva also had introduced the Mosaic Social Sofa to Aruba Art Fair, Tito Bolivar for the section Ban Mosaik project in July 2019, which she is a member of. Having done two Mosaic Art project murals in San Nicolas for the Aruba Art Fair, in September 2016 the Carnival Nymph alongside renowned Chilean Mosaic Artist Isidora Paz Lopez and Carolina Kawal, an Ceramist from Brazil and the 'Cocolishi' Angel Wings in November 2019 as a solo project for which international Mosaic artist Kim Wozniak and Laura Rendlen were invited. Silva was assisted also by model Sandra Vega for this project. However, due to Covid-19 all came to a halt. Therefor the excitement to do this project on Eagle Beach is understandable.
About the design Flora & Fauna
Our Shoko, the Aruban Burrowing Owl, (Athene cunicularia rubensis) declared our National Symbol in 2012.
The orange Trupiaal, is also called the Venezuelan troupial and can be found in this region, Curacao and Bonaire,
The Ruby Topaz Hummingbird for its bright pearly reddish colors and rounded tails and is bigger than the blue tailed emerald,
The Caribbean Parakeet for us Prikichi (Aratinga pertinax arubensis) has become the National Bird of Aruba,
Our Bariga Geel 'chibichibi' aka Bananaquit or Suikerdiefje, or referred as the chickadee of the Caribbean.
The Kododo blauw (Cnemido-phorus arubensus) Aruban Whiptail Lizard aka 'renhagedis' as they swiftly disappear, just love those bright blue spots.
Our Iguana, locally better known as nos Yuwana, an adult iguana's color normally is a grayish green, while a you iguana is a bright neon green
The Monarch Butterfly and the small yellow butterflies that always dart in every garden,
Flora: The greenery in different shades of green our local flora, Kadushi Largo, the Prickly Pear/barbari fig, glass pebbles and marbles for the sparkle, the Bushi Cacti, the Aloe Vera giving it different shades of green and blue, Shrubs and Hedges as background and also added the tropical Hibiscus/Cayena Red flower to bring some more color into this project. The the dark green evergreen type leaves. The White Periwinkle flowers or Vinca, as they grow wild on our island and for sure in many gardens. She also added a few yellow Wanglo flowers under the iguana located on the front of the bench, to take it a little out of the camouflage.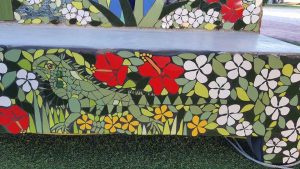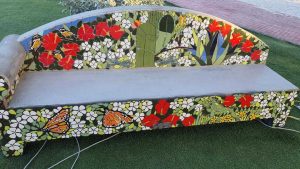 Every piece of ceramic tile is hand cut with much detail, placed with precision, passion, dedication, patience, hard work grouting, polishing and all with love for the art to bring it all together.
The selection of the local flora & fauna for this social sofa project was done in a playful, colorful whimsical approach as hope to contribute and help to boost awareness of nature on Aruba to ensure that especially our national birds do not disappear from the Aruban landscape. Most of the detailed mosaic art was created in her home studio and installed on location at the Eagle Beach Park, which attracted many visitors and created many social gatherings. Silva is pleasantly amazed how children interact with the art work, it pleases her immensely.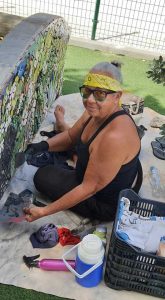 Just to imagine, parents sitting on a piece of art, stylish bench watching their kids play in the play park, or just when one is on a break from work to sit back and relax or read a book, or just sit in the sun, join a friend for a conversation and suddenly the Mosaic Social Sofa becomes an extension of ones living room.
Silva's dream is to have many Mosaic Social Sofas around the island in communities, bus stops, on a square, schools, mall or downtown created with the members of the community, a great team/friendship building moments.
Her wish is for everyone to preserve our Mosaic Social Sofa, to use extra caution as tiles do break, crack, chip or get damaged, to use TLC, no sharp objects, or use it as a resting place for bicycles, to be socially responsible for this Mosaic Social Sofa to last and be preserved for a long time, just like any equipment in the park.