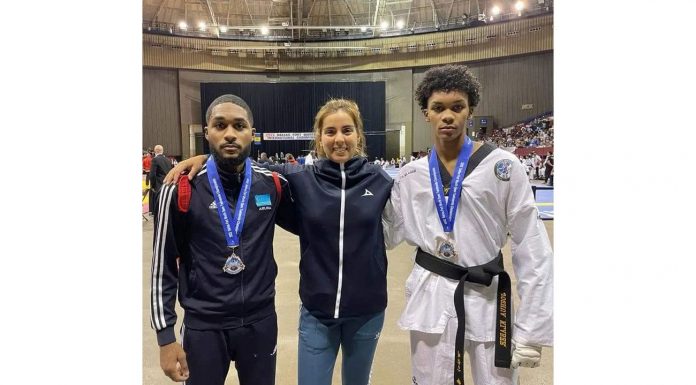 During an interview, Taekwondo Coach, Monica Pimentel, who represented Aruba in the 2016 Olympics, told our reporter how 2022 went for Taekwondo in Aruba, as well as expectations and projects for 2023.
"This year was very busy, after two years of Covid, everything restarted and it was really busy, both in Aruba as abroad, with competitions", she commented. She explained that this year there were various achievements, but the biggest one was the Panamerican medal of Anabella Fernandez in the cadette category, which is a continental medal for Aruba.
Pimentel explained that they closed a group that is travelling internationally, and this is the Taekwondo Team Aruba. In this group they guide children who already have a high level nationally to begin competing internationally.
She explained that they gave the name Taekwondo Team Aruba to the project of this team in order to achieve more exposure. "We created a new logo, the kids have their uniform and this way they are more recognizable."
Pimentel also travels with the Klaber brothers, Joshua and Jourde, who are in the Aruban team for different competitions. She commented that the preparation of the Klaber brothers is wider, they have a many more competitions and their goals are on a bigger scale. "This year they did various small competitions in the United States and also competitions in the 'ranked tournament' level, and they even participated in the World competition", she added.
In general, Pimentel considers 2022 a good year for taekwondo in Aruba. "Seeing that we were basically inactive for two years, it was a good start to have everything begin again this year. This year was very busy, I see that next year is going to be even busier", she commented.
Regarding next year, for the Klaber brothers and others, Pimentel said they have classifications for Central American games, for Panamerican games, another world competition and many big tournaments abroad for them. She mentioned that already in February there are three consecutive competitions, three consecutive weeks with competitions in Miami, Costa Rica and Las Vegas.
Aside from that, Pimentel said that on schedule they also have a training camp in Korea. They have a group of black belts mostly in the cadette and junior category. In this group there are mostly girls who developed really well this year, and for next year they expect to bring medals in the Panamerican level and more good results.
After this group, there is the color belts, and these are kids that have already stood out at the national level. Pimentel explained that they are busy selecting them because right now there is even a children's Panamerican competition that began this year and will take place next year as well, so that competition begins at a very young age.
Finalizing, Pimentel thanked the people of Aruba for the support during 2022. "They help a lot with fund raising, which is very important for us to help the children travel to achieve their sports goals", she said.