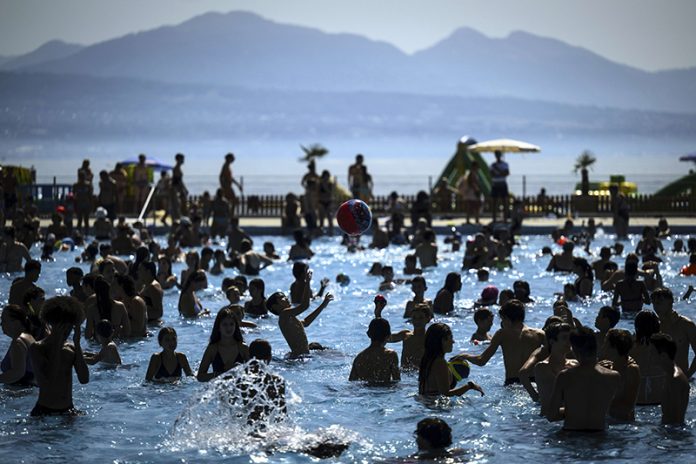 By JAMEY KEATEN
Associated Press
GENEVA (AP) — Police in southwest Switzerland warned Wednesday that a heat wave has increased the risk of falling rock and ice in the Alpine region, where it's been particularly deadly this year for mountaineers and hikers. Most of the victims have been foreigners.
Valais regional police say a spike in temperatures and a record high altitude of nearly 5,300 meters (about 17,300 feet) for a bellwether zero-degree Celsius reading over Switzerland has accelerated erosion in the Alps.
"With the heat wave of the last few days, and the days to come, the danger level is heightened in the high mountains," regional police spokesman Steve Leger said in an email.
The high temperatures have jeopardized the usual night-time refreeze that helps keep ice frozen solid. The resulting thaw means ice patches such as glaciers and seracs — blocks or towers of ice on top of glaciers — as well as rocky formations held together by ice could get dislodged, posing a threat to mountain climbers.
So far this year, 17 alpinists — or mountaineers who trek to the highest altitudes in the Alps — have lost their lives in the Valais region. That's more than the annual tallies recorded in each of the five previous years.
In addition, six hikers have died in lower-altitude excursions in Valais this year.
Only five of those 23 victims were Swiss. The others include Austrian, Belgian, British, Dutch, French, German, Italian, Romanian, Taiwanese and Ukrainian nationals.
Earlier on Wednesday, Valais police said a 37-year-old German woman fell more than 70 meters (230 feet) to her death while walking her dog on a path near the town of Zermatt, in the shadow of the famed Matterhorn peak, last week. The exact cause of her fall was being investigated.
National weather forecaster MeteoSwiss said the city of Sion, the regional capital, was set to see the mercury hit 37 degrees Celsius (99 Fahrenheit) on Thursday — among the highest temperatures in the country.
Much of western Switzerland has been baking in recent days, and many people have taken to the country's lakes and other watery refuges to beat the heat. The city of Lausanne granted free entry to two public swimming pools on Wednesday.
The heat wave was expected to ease later this week.