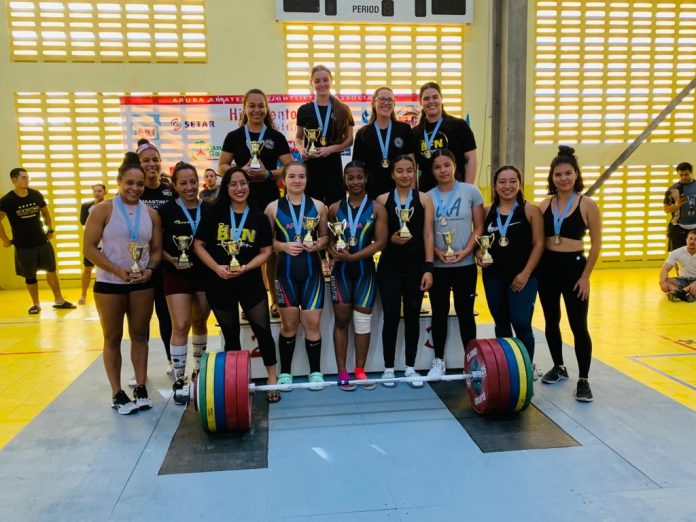 Last Sunday, November 13th, Aruba Amateur Weightlifting Association organized their National Weightlifting Championship, which took place in the Sport Complex Frans Figaroa in Noord, in connection with the celebration of ASU-Olympics.
Participating in this National Championship were athletes from TNT Gym, Paradise Strength Aruba, E2Rep and Body Fitness Gym & Nutrition. All four clubs had both female and male participants. In a good environment and with great motivation and enthusiasm, the athletes began the competition at 11am with the female competition.
Below are the female category results. AAWA will publish the male category results in the following days.
In the 55kg category, Cythlynne Lanoy of TNT Gym was in first place, snatch 55kg, clean & jerk 68kg for a total of 123kg. In second place was Nayeli Besaril of E2Rep with a total of 88kg; and in third place was Hanny Miranda of TNT Gym with a total of 71kg.
In the 59kg category, in first place was Jenelle Camara of E2Rep with a total of 85kg.
In the 64kg category, Eliana Gonzalez of BFN won first place with a total of 154kg. In second place, Andrea Galindo of TNT Gym with a total of 125kg; in third place, Chantal Mousalli of TNT Gym with a total of 107kg; in fourth place, Nalia Figaroa of E2Rep with a total of 105kg; and in fifth place, Jeanelly Everon of BFN with a total of 90kg. Chantal Mousalli is only 13 years old and she had a great performance.
In the 71kg category, Nicky Garcia of E2Rep won first place. In second place was Corina Boekhoudt of PSA with a total of 83kg; in third place was Angelli Thode of TNT Gym with 82kg.
In the 76kg category, Nataly Geerman of TNT Gym registered a total of 195kg winning first place.
In the 78kg category, Madeline Martinus of TNT Gym got first place with a total of 126kg.
In the +87 category, Ahley Alberts of BFN registered a total of 108kg and won first place.
At the end of the competition, the overall winners were revealed.
In the Youth Sub-15 category, the absolute winner was Cythlinne Lanoy, with Chantal Mousalli in second place.
In the Youth Sub-17 category, Angellie Thode was in first place and Hanny Miranda in second place.
In the Junior Sub-20 category, the absolute winner was Nataly Geerman, and she won the first place trophy.
Second place trophy went to Nicky Garcia, and third place to Andrea Galindo.
Finally, in the Master 30 category, the absolute winner was Eliana Gonzalez, with Jeanelly Everon in second place and Corina Boekhoudt in third place.
Present at the National Championship was Aruban minister of Education and Sport, Mr. Endy Croes, who gave a speech wishing the athletes success in their competition. Also present was the Technical Commission of Aruban Olympic Committee, integrated by Mrs. Monica Fajardo and Edmundo Josiah, who came to give motivation and speak to some of the athletes who are part of the pre-selection of the Aruban Olympic Committee.
On the images the new president of Aruba Sport Unie, Mrs. Soraida Boekhoudt can be seen awarding medals and trophies to the winning athletes.