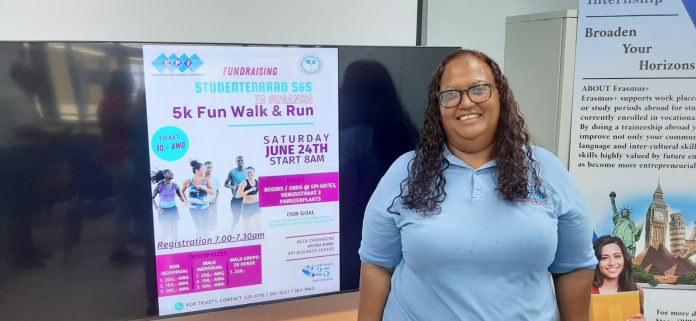 (Oranjestad)—On June 24th, students from the Health and Service department of EPI College will be hosting a Fun Walk and Run to celebrate EPI's 25th anniversary and raise funds to purchase instruments and uniforms for EP's Brass Band. They will also be assisting a social organization, as reported.
During a press conference, Julissa Arends, who serves as the PR for the Student Council, stated that the activity will involve a 5KM walk or run, starting at Gate number 3 of EPI and ending at the same location. The route will go through Venusstraat – De La Sallestraat – Sero Blanco – Watty Vos Boulevard – Meiveld – Tarabana Roundabout – Caya Betico Croes – Marathon Roundabout – De La Sallestraat, and back to Venustraat EPI Gate 3.
Along the route, participants will have a water station at Sero Patrishi Roundabout, and at the end, there will be fruits and water.
Registration begins at 7:00 am, and the activity starts at 8:00 am with the first group.
Prizes will include cash rewards of up to 1,250 florins for the top 3 groups: individual walkers, runners, and groups of five.
Those interested in registering can do so at EPI or contact the following telephone numbers: (+297) 567-8531, (+297) 525-8770, and (+297) 563-1040.
With the funds they receive, EPI intends to form their own brass band and also contribute 50% of the funds raised to a charitable organization.
Arends assured that they have approximately 1,000 tickets for sale, but they accept the community's help to achieve their goal of creating their brass band in time to participate in next year's march on March 18th.