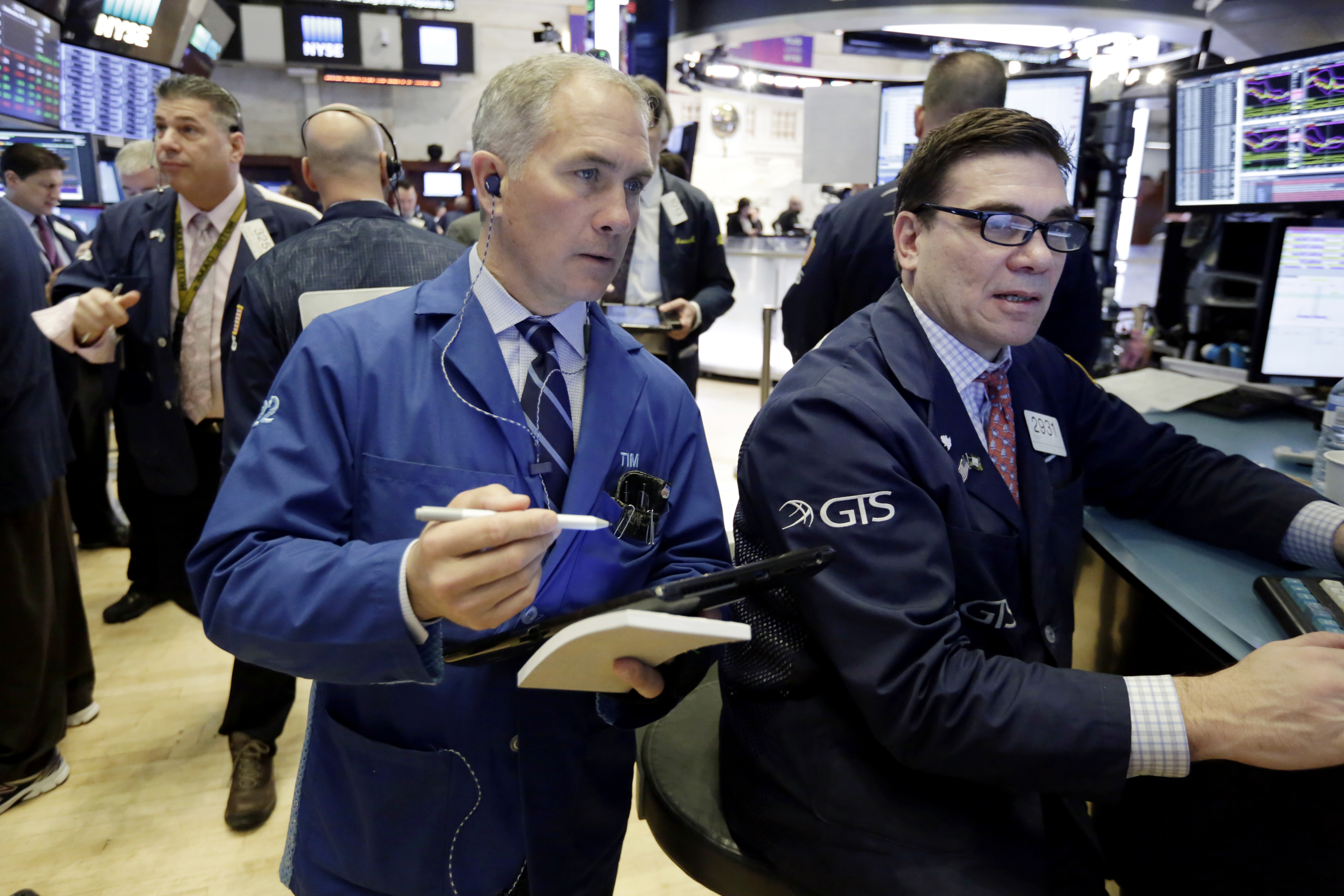 By MARLEY JAY
AP Markets Writer

NEW YORK (AP) — After a jittery afternoon of trading, major U.S. stock indexes fell Wednesday while smaller companies fared better. The Federal Reserve raised interest rates, as investors expected, and said it could raise rates at a quicker pace next year. Stocks traded higher early in the day and jumped after the Fed announced its decision. The Dow Jones industrial average climbed 250 points, but gave it all up as new Fed Chairman Jerome Powell addressed reporters. At the end of trading it wobbled and ended lower. The dollar weakened and bond yields turned lower. Yields had risen earlier in the afternoon.

The Fed said the U.S. economy and the job market continued to improve over the last two months. It still expects to raise interest rates three times this year, and said it might raise rates three more times this year instead of two. Brent Schutte, the chief investment strategist for Northwestern Mutual Wealth Management, said Powell is trying to tell Wall Street what the Fed's plans are without worrying investors too much. He said stocks dropped after Powell said rates might rise higher than the Fed expects.
"The market will have to get to know Jerome Powell a little bit and will have to test his credibility as Fed chairman," he said. "I would imagine the bar is higher for him in the shorter term because he is not a trained economist," unlike Janet Yellen and other predecessors. Small and mid-size companies climbed. Energy companies led the way as oil prices jumped for the second day in a row. Homebuilders advanced following a report that sales of previously occupied homes increased in February.
Cereal and packaged foods companies slumped after General Mills reported rising expenses and cut its annual profit forecast and airlines skidded after Southwest said its revenue is suffering as it cuts fares to compete with other companies. The S&P 500 index slid 5.01 points, or 0.2 percent, to 2,711.93. The Dow Jones industrial average lost 44.96 points, or 0.2 percent, to 24,682.31. The Nasdaq composite fell 19.02 points, or 0.3 percent, to 7,345.29. The Russell 2000 index of smaller companies gained 8.90 points, or 0.6 percent, to 1,579.30.
Bond prices edged lower. The yield on the 10-year Treasury note declined to 2.88 percent from 2.90
percent Tuesday. It had risen as high as 2.93 percent as investors expected quicker gains in interest
rates. David Kelly, the chief global strategist for JPMorgan Asset Management, said stocks usually do well when rates are rising, but only up to a point. "If interest rates are rising from a low level, there's more optimism about the economy, and that generally is a more positive thing," he said. That's the case right now, but with an important difference: the economy has been growing for almost a decade, and interest rates have been historically low for the whole time.
Kelly added that the Fed and the government need to be careful to focus on smooth growth, as the
recent tax cuts will dump some short-lived stimulus into the economy. "The overall effect of the tax cut is to deliver another keg to a keg party at 2 a.m.," he said. "The party is probably going to go a little longer but the hangover is going to be worse." Nine of the ten biggest gainers on the S&P 500 were energy companies. Some of the biggest gains went to Marathon Oil and Anadarko Petroleum.
Benchmark U.S. crude rose $1.63, or 2.6 percent, to $65.17 a barrel in New York. Brent crude, used to price international oils, added $2.05, or 3 percent, to $69.47 a barrel in London. General Mills, the maker of Cheerios cereal, Yoplait yogurt and other packaged foods, plunged after its third-quarter results were hurt by rising freight and commodity costs. The company also cut its annual profit outlook. The stock dropped $4.42, or 8.9 percent, to $45.51, and companies including Kellogg, J.M.
Smucker and Post Holdings also fell.
After early losses, Facebook rose $1.24 to $169.39. The stock fell 9 percent Monday and Tuesday
following reports a data mining firm working for President Donald Trump's campaign took data from the accounts of 50 million Facebook users without their permission. Authorities in Britain and the U.S.
launched investigations into Facebook's handling of user data. Facebook stock is down 12.5 percent from the all-time high it set Feb. 1.
Social media companies Twitter and Snap also regained a portion of their recent losses. Adding to
Snap's woes, its stock fell last week after pop star Rihanna called on her fans to delete the Snapchat app after an ad for game that made jokes about her assault in 2009 by her then-boyfriend Chris Brown. Snap apologized for the ad. In other energy trading, wholesale gasoline added 5 cents to $2.01 a gallon. Heating oil rose 5 cents to $2 a gallon. Natural gas fell 4 cents to $2.64 per 1,000 cubic feet.
Metals prices also increased. Gold rose $9.60, or 0.7 percent, to $1,321.50 an ounce and silver jumped 23 cents, or 1.4 percent, to $16.42 an ounce. Copper gained 2 cents to $3.06 a pound.
The dollar fell to 106.10 yen from 106.46 yen. The euro rose to $1.2332 from $1.2253. The CAC 40 in France declined 0.2 percent and Britain's FTSE 100 fell 0.3 percent. Germany's DAX finished with a small gain. Hong Kong's Hang Seng index erased earlier gains to fall 0.4 percent and South Korea's Kospi finished little changed. Markets in Japan were closed for a holiday.