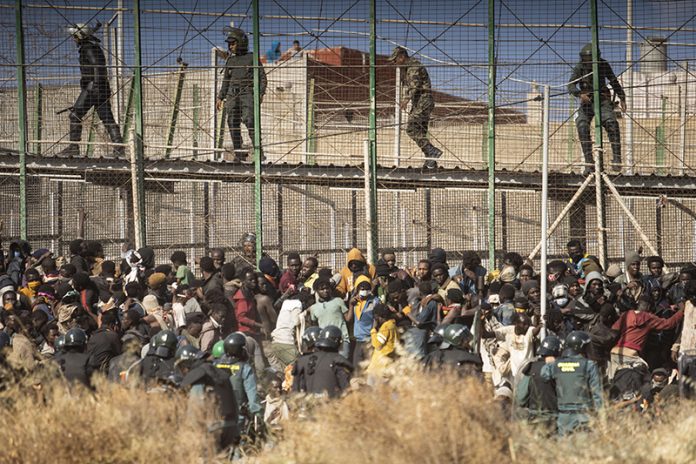 By JENNIFER O'MAHONY
Associated Press
MADRID (AP) — Spain received a record number of claims for refugee status and international protection last year, but the government rejects far more applications than the European average, a nongovernmental organization said Monday.
The Spanish Commission for Refugees, also known by its Spanish acronym CEAR, released its annual report analyzing Spain's response to increased demand for sanctuary in 2022 because of the forced displacement of millions by Russia's war in Ukraine, multiple conflicts in Africa and political crises in Latin America.
Spain received 118,842 asylum requests last year, its highest ever and the third-highest number in the European Union. However, only 16.5% of applicants whose cases were decided were awarded protection, compared with an EU average of 38.5%. Separately, 161,037 Ukrainians were awarded temporary protection under an EU-wide program.
"Once again we demand the law be respected to offer protection," said Elena Muñoz, legal coordinator at CEAR. The group criticized Spain's lack of safe, legal pathways to asylum, lengthy bureaucracy and an appointment system that has been hijacked by criminal networks to extort money from vulnerable asylum-seekers.
The report condemned the death of "at least" 37 migrants corralled into a border area separating Spain's north African enclave of Melilla from Morocco last summer, describing "the most violent and cruel scenes witnessed on a European border in many years." The tragedy, involving Spanish and Moroccan security forces, is now the subject of a legal complaint filed by several migrant rights groups after Spanish prosecutors shelved an investigation last year.
Spain received 20% of all irregular arrivals to the EU last year, largely by boat. But the rate of acceptance for asylum, refugee status and other forms of protection varies hugely depending on nationality.
Spain's historic and cultural ties with Latin America mean it's the destination of choice for many fleeing violence, political persecution and hunger in Venezuela, Colombia, Peru and Nicaragua. Applicants of these nationalities were turned away in their tens of thousands by Spain last year.
The CEAR report states that 95% of Colombians and 96% of Peruvians were rejected by Spain from accessing any form of international protection in 2022.
More than 36,000 Colombians filed applications for protection, with 16,187 of the cases reaching a final decision. Of those, Spain awarded 646 people of that nationality with refugee status in 2022, while a few dozen more received lesser forms of protection. Just four Venezuelans were granted refugee status last year among the 31,234 whose applications for any form of international protection were decided.
"All asylum-seekers are human beings," Colombian human rights defender José Miguel Lobo told a news conference in Madrid, after fleeing his country because of death threats related to his work on the country's peace process.
"I am alive, and I am grateful for that," he said. "But what they did for me, they could do for others too."
The report noted, however, that 94% of Syrians, 84% of Eritreans and 70% of Malians across the EU had their claims approved, though these nationalities are far more likely to suffer grueling overland voyages to northern Africa and on to Spain by boat. They also account for a much smaller number of overall applicants.
CEAR called on Spain to use its upcoming presidency of the European Council beginning in July to promote reforms of the Dublin Regulation, which makes the first country of arrival in Europe responsible for processing asylum claims.
It also noted a decline in arrivals by boat to the Canary Islands, the result of better cooperation with West African origin countries and Morocco, where many set sail for Europe.