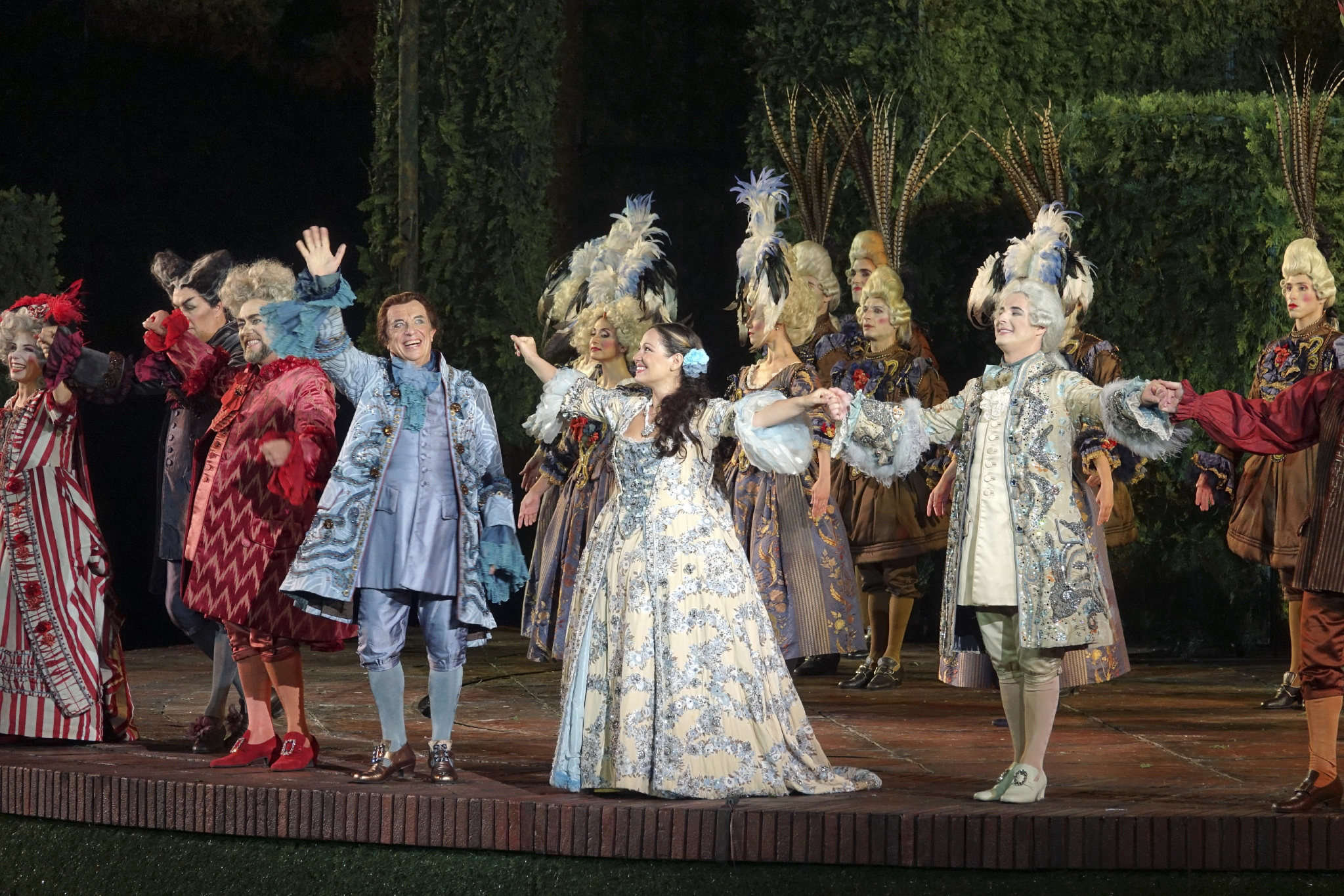 By COLLEEN BARRY
Associated Press

VERONA, Italy (AP) — The colossal Roman-era Verona Arena amphitheater remains an imposing presence in the northern Italian city's main piazza, but its place in the opera world has waned in recent years. The popular Verona Arena summer festival has lost both audience and prestige and nearly closed two seasons ago under a mountain of debt. Now the artists and public who have sustained it are putting their hopes for a relaunch in the hands of a former opera singer who this year became the first to run an Italian lyric theater.

Soprano Cecilia Gasdia, a 57-year-old Verona native who has appeared on the Arena stage as an extra, a chorus member and a star, inherited a troubled festival that has struggled for years. For her inaugural season as general manager, Gasdia has used her connections in the singing world to secure top voices with the aim of boosting ticket sales in the 13,500-seat amphitheater, the biggest open-air opera theater in the world, which in recent years has seen audiences plunge. Her next goal: balancing the budget.
"I know the whole opera world and the singers have all helped me. From February and March, I worked day and night to convince them," Gasdia said, adding that many singers also agreed to take a cut in their usual fees for this season. With short notice, Gasdia booked Russian mezzo-soprano Anna Goryachova as Carmen opposite Arena newcomer American tenor Brian Jagde as Don Jose, sharing the role with Italian tenor Francesco Meli.
Gasdia also coaxed back Leo Nucci, one of Italy's most renowned baritones, who had announced last year at 75 he had sung his last aria in the Verona Arena, reprising one of his signature roles, "Il Barbiere di Siviglia (The Barber of Seville)." "We singers are a bit like sailors, we make worthless promises! But the reality is, that if it weren't for Cecilia Gasdia, with whom I sang 'Il Barbiere di Siviglia' in 1996, I wouldn't be here," Nucci said backstage at the Aug. 4 season premiere of that opera. "I did it because Cecilia convinced me."
For next season, she secured Russian soprano Anna Netrebko, who will make her Arena debut with her husband, Azerbaijani tenor Yusif Eyvazov, in three performances of Franco Zeffirelli's production of "Il Trovatore (The Troubadour)." Gasdia said she is seeing results at the box office, although she won't discuss numbers until after the season closes later this month. "Ticket sales are a consequence of what we propose on the stage. We will be happy if all the great singers want to return to sing at the Arena of Verona, as many did in the past, when this theater was a destination for many," she said.
"It was considered a bit like La Scala, the summer-time La Scala. That would be the most beautiful thing for me, if that was to be the case again." There is no question that the Arena, which has hosted such opera stars as Maria Callas and Luciano Pavarotti, had fallen from its former glory. The average attendance last season was just over 50 percent capacity, down from two-thirds capacity just seven years earlier in 2010, according to the Italian society of authors and publishers that keeps entertainment statistics.
The Verona summer festival still remains popular with foreign tourists, who are responsible for about half of its ticket sales. But they often book packages not based on who is singing but on the ancient backdrop, the popular Italian repertoire including mainstays "Aida" and "Nabucco," and the impressive, imposing scenery that is lifted in and out of the Arena by crane in the wee hours of the morning. Israeli conductor Daniel Oren has been conducting at the Arena since 1984, a period he said when tickets were impossible to find.
"The Arena is very sad when it is partly empty. Even if there are 9,000 people, it's like a funeral for us artists. And for the business, it is also a funeral," he said. A recent performance of "Aida" had a swathe of empty seats in the pricey orchestra section, but Gasdia's bet on Nucci seemed to pay off. The Arena was nearly packed and the crowd thrilled at his trademark encore of "Figaro" during the performance and its closing fireworks display.
"Truly Gasdia, with her capacity, will succeed in making the theater great again," said Oren. "She is our great hope. Finally, we have a musician and a singer who knows voices. And thanks to this, I believe she will bring back the big audiences to the Arena, which we have lost."