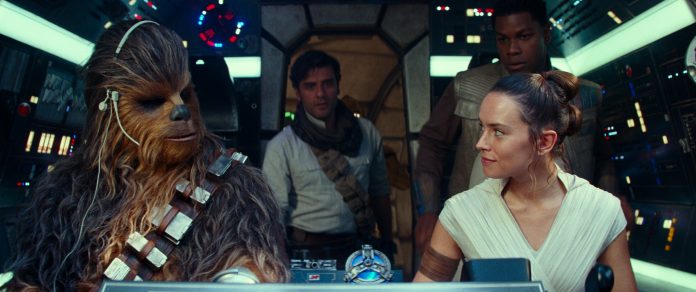 "Star Wars" was still rising in the last weekend of the year, while "Little Women" broke big at the box office.
"Star Wars: The Rise of Skywalker" brought in $72 million over the weekend to remain the top-earning film in North America by light-years, according to studio estimates Sunday.
In 10 days of release it has brought in $362.8 million for Disney, falling just short of the earnings of its predecessor, 2017's "Star Wars: The Last Jedi" in a comparable span.
Helped by the Christmas holiday week, "Star Wars" had a smaller-than-average 59% drop-off in its second weekend after earning $175 million in its first.
"For a movie that opened that big, that is a modest drop," said Paul Dergarabedian, senior media analyst for Comscore. "Movies that open this time of year, they usually have legs."
Sony's "Jumanji: The Next Level," earned $35.3 million for second place and has tallied a total of $175.5 million through its third weekend of release.
Director Greta Gerwig's re-imagining of the American literary classic "Little Women" had a $16.5-million weekend and a five-day total of $29 million since its Christmas opening, a major performance for a smaller-audience film with a budget dwarfed by the top two films.
The film, also a Sony release, starring Saoirse Ronan, Emma Watson, Florence Pugh and Laura Dern, scored big with both audiences and critics and is gaining momentum as an awards-season favorite.
"With Greta Gerwig's reputation as a filmmaker, a great cast and a perfect holiday release date, they've got quite a hit on the their hands," Dergarabedian said.
"Uncut Gems," an even smaller film that has also sparked awards-season buzz for Adam Sandler's rare dramatic performance as a jeweler and gambling addict, entered the top 10 for the first time as it expanded to more screens in its first week. The film earned $9.6 million over the weekend and has brought in $20 million overall.
Director Sam Mendes' experimental World War I epic "1917," earned more than $1 million since its Christmas opening despite showing in only 11 theaters. The huge per-screen average bodes well for the film's nationwide opening next month as it ramps up its Oscars campaign.
As 2019 ends, annual overall box office revenue is down by 4%, though it gained ground in its latter months, narrowing a deficit that was 11% in April, and 2018 was always going to be tough to beat.
"Last year was an outlier," Dergarabedian said. "It was just a massive year."
Between Marvel and "Star Wars," and its animation divisions, 2019 was utterly owned by Disney, which had all five of the year's top grossing movies: "Avengers: Endgame," "The Lion King," "Toy Story 4," "Captain Marvel" and "Frozen 2."
And with "The Rise of Skywalker" ending the year at No. 7 and "Aladdin" at No. 8, the mega-mouse ate up seven of the top 10 spots.