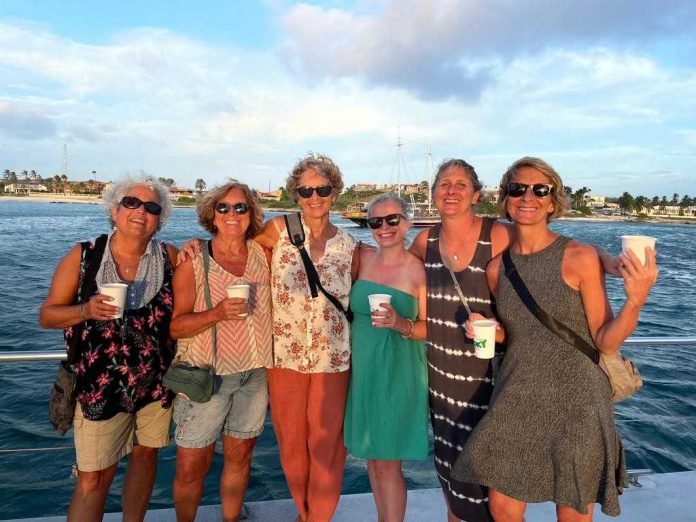 By Clyde Harms
ORANJESTAD — Annie's five sisters felt that their youngest sibling should celebrate this milestone in a special way and at the suggestion of Margaret they chose Aruba as the venue.
Margaret Kelberer has been a friend of Aruban born Ruth Harms since 1972 when they attended American Community School (ACS) in Beirut, Lebanon. After graduation both attended Macalester College in St. Paul, in Margaret's home state of Minnesota and Ruth's ties with the Kelberer family became closer. Margaret accompanied Ruth to Aruba on a family vacation and fell in love with the island. She has since visited Aruba many times and is currently even considering retiring on our island.
Due to compelling professional and familial commitments, two sisters could not join the group, but Ruth Harms and Colleen Desutter, a colleague of Annie's at BeTheMatch were happy to join the celebrations.
The ladies did just about everything that a visitor to Aruba would want to do in the week that they were here. They toured the south coast of the island with "1 Fool and his Boat", did parasailing at Malmok, took the AllAroundAruba tour of the north coast that ended with a visit to the grotto of Guadiriquiri, snorkeled at Mangel Halto and Boca Catalina, did the Red Sail sunset cruise and had a relaxing massage at Manchebo. You name it, they did it.
Between planned activities, the ladies enjoyed Eagle Beach (a favorite of all) and their morning walks along the Caribbean on Linear Park, especially on the wooden walkways. They were also very curious about the monument with the signatures and were impressed by the story behind the signatures. In all, the visitors enjoyed the sights and sounds of the city.
For their meals, the visitors visited several well-known places, among them, West Deck, Pincho's, Surfside Beach Bar, Sultan and the Dutch Pancake House. They also had Aruban "pastechis" at perhaps a lesser known Campeon, a Portuguese family store over 50 years old. They had the Superfoods "Experience" of being amazed at the variety of beers, coffee, cheeses, wines, chocolates and other goodies from all over the world.
Annie and her friends speak highly of the efficient system that Aruba's Health Department had established for checking in the visitors at the Airport. Each had her own choice of what they enjoyed most while in Aruba, but all have nothing but praise for the professionalism and friendliness they have experienced everywhere they have gone. They all feel that Aruba has great "vibes".
Annie, Colleen, Mary and Kristine are flying back to the United States later today. All have indicated that they plan to come back soon with their families. Ruth has already booked to return with her husband in January, and Margaret might be a resident of Aruba by this time next year.q