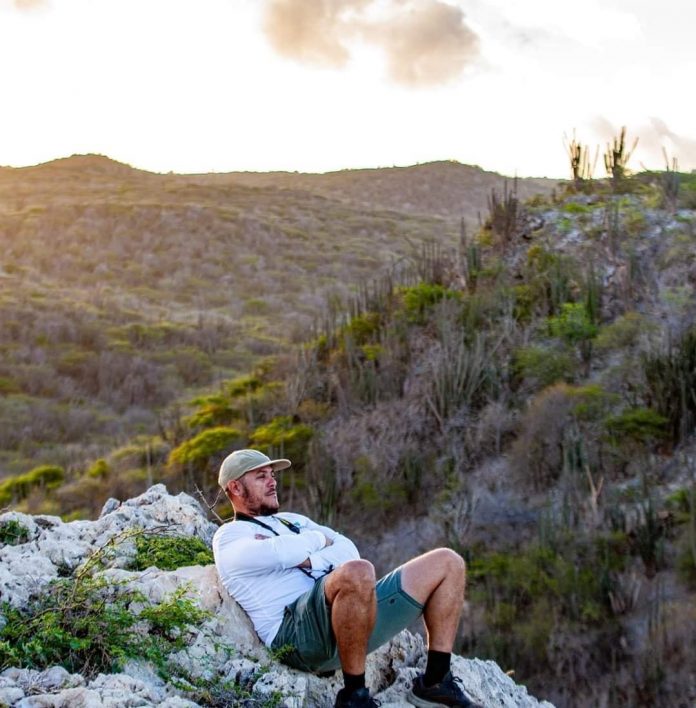 Aruba is a beautiful island with a nature that must be preserved. The environment is a system formed by natural and artificual elements which relate to each other, and they are modified by human actions. This is something that sadly not a lot of people consider important.
Shanon Croes is someone who loves nature and dedicates his time to it, to eco-friendly adventures with the goal of promoting different areas around the island, like beaches, mangroves, hiking tours, during which he combines nature with the history of the island's first inhabitants, the Caquetio indians, and the discovery of Aruba by Spain in 1499.
During a special interview with our reporter, Croes said that these activities are eco-sustaible, during which they don't work with tools like motors or oil while doing the tour of the mangroves or beaches on kayak. The participants have to use their own strength, energy and power. If the tour includes snorkeling, a lot of time they include in this a ride on the kayak to reach the reef.
The idea for eco-friendly adventures on Aruba started many years ago, according to Croes. He loves kayak from a long time, and he bought a couple of kayaks in order to do certain activities with the locals or tourists, which eventually ended up becoming his business. Croes says that he tries to do the activities in the most sustainable way, taking into consideration the environment and ecosystem of the area. "We try to leave it as intact as possible, that is our idea."
One of the countries in the region which is focused on sustainable tourism is Costa Rica. Croes says he wanted to take their example, and went to visit this country with 12 guests to do another tour abroad, to hike in the wilderness, on hills, and go on the ocean on a kayak. "To do sustainable activities in another country, which also has beautiful scenery", he said.
In 2018, Croes started working with The Shack Aruba. But his experience with kayak goes back a lot earlier, with different routes which can start from Santo Largo, with the Mangrove Tunnel Tour, finishing in Mangel Halto; another one is called the Mangel Halto Reef Tour, starting also at Mangel Halto, going by the Balashi bridge where they go on the reef for a while, and then finish back at Mangel Halto.
Every once in a while they do a long-distance tour, for example starting at Mangel Halto and ending at Moomba Beach, a route which can take approximately six hours. These usually involve around ten participants with two or three guides. Participants in these tours must have long-distance kayaking experience. "Even though it's not that hard, but your physical condition must be to a certain level, must know the ocean, and how to row, etc."
Although Croes is not the only person doing kayak activities, the difference is that he does long-distance. "I try every time to do something different, like combining hiking with kayak, where we start at Rodgers Beach and finish at Nikky Beach", he explains. They also restarted their tour of the caves in Colony, 'which is very interesting', after more than two years of Covid-19 pandemic.
Spain discovered Aruba in the year 1499, and afterwards, in 1636 the Dutch arrived. The original inhabitants of the region are the Caquetio indians who came from Venezuela. Heritage is one of the most interesting hiking activities that Croes does in order to show the history of our little island. This starts at Rooi Lamoenchi and finishes at Boca Prins Fontein.
For Croes, it is important that 'when a person or group does an activity to enjoy nature, to do it with awareness, without producing waste. When we go into the wilderness we not only go for a walk, we also give information about the flora and fauna in the ecosystem, the birds, all the animals, of our terrain. We come from a volcanic island, that is our terrain. We must choose to do more sustainable activities to take care of our environment. We have been depending on tourism for a long time, and a lot of time we let tourists do what they want. When you allow them to do this with our nature, that is not ideal", he said.
If you're curious about these tours, visit our Facebook page, https://www.facebook.com/arubatoday, to watch our Ask Pilar video with The Shack Tour, or scan the QR code.