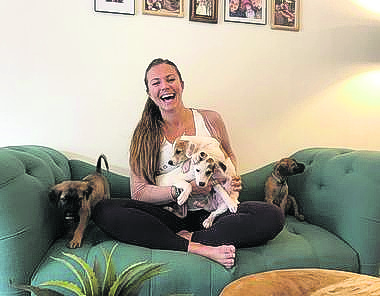 ORANJESTAD — Sgt. Pepper's Friends is a non-profit animal rescue organization founded and located in Aruba. Their dogs and cats are available for adoption in the United States, Canada, Aruba, the Netherlands and Sweden as of now. Every country they add to the list requires careful research, but they hope open up to families in other countries in the future as well.
The organization loves our beautiful island. However, the number of neglected, homeless, abandoned, sick and hungry dogs and cats wandering the streets is truly disturbing. Through donations and the hard work of their volunteers and their adoptive families, Sgt. Pepper's Friends are able to rescue many animals in need.
Where it all began… 
Three years ago, it all started when a beloved and special dog passed away much too early. Honoring this special dog, Sgt. Pepper's Friends foundation was born. From only a handful of people starting up a new foundation, we've grown into a well-known organization with an amazing group of (international) volunteers and team of foster families, in only three years. We have the biggest social media following in Aruba and have been able to make an impact on the lives of many animals on the island. For the future we hope to be able to contribute to educating our local community and create a much bigger impact for adult dogs as soon as our Sgt. Pepper's Friends Home is finished!
We hope you can join in celebrating our three-year anniversary by contributing to our fundraiser. With even a donation of $3 you are helping change the lives of animals and helping create a better future. We have a few big projects that will really make our new space come together. We know with your support we can make it happen.
We currently have a cat house but we don't have a space to host kittens when waiting to find foster homes. We have lots of visitors including local children's programs; a formal education area would be so valuable in educating the next generation on how to care for animals. The main big goal of the house is to host adult dogs where volunteers, visitors and tourist can come exercise and socialize adult dogs. We hope you will consider helping our mission and make a donation to celebrate our three-year anniversary.