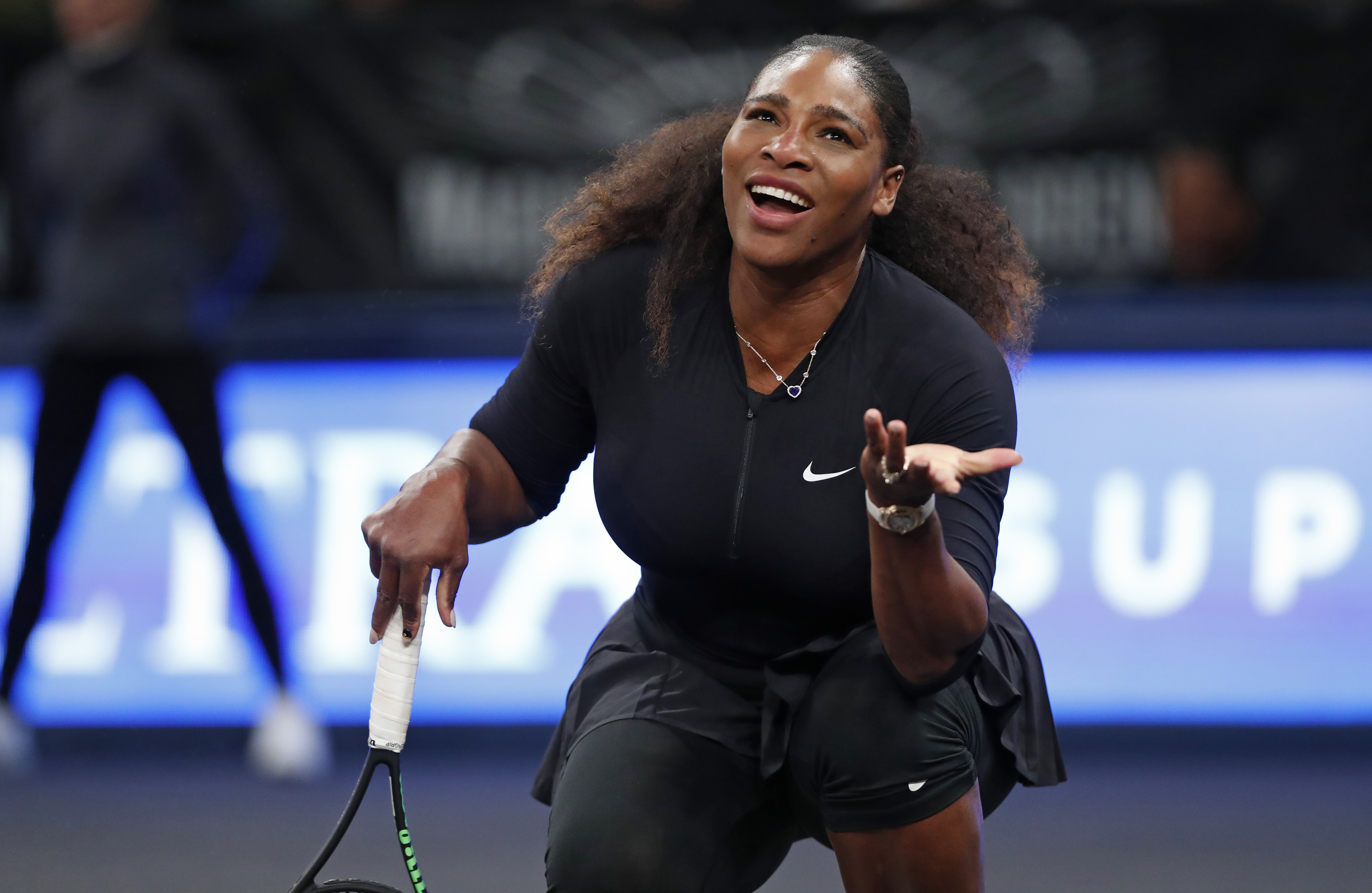 By BRIAN MAHONEY
AP Sports Writer
NEW YORK (AP) — Venus Williams gave a scouting report on her warmup partner that sounded the same as always. Serena Williams is back, and her game hasn't left. "She's got power, depth. She knows how to play," Venus said. "Yeah, awesome game." The Williams sisters were the headliners Monday night in the Tie Break Tens tournament in Madison Square Garden, an eight-woman event in which all matches were 10-point tiebreakers, instead of the usual games and sets.
Serena won her first match but lost in the semifinals. Elina Svitolina of Ukraine dominated the event, winning 17 straight points during victories over Venus and CoCo Vandeweghe before defeating China's Zhang Shuai 10-3 to win $250,000. Serena was playing singles for the first time this year as she prepares to return to the WTA Tour for the first time since giving birth to her daughter, Alexis Olympia Ohanian Jr., on Sept. 1.
The 23-time Grand Slam singles champion would later tell Vogue Magazine in an interview that she developed several small blood clots in her lungs after giving birth. She had played just once this year, losing a Fed Cup doubles match with Venus last month, and hasn't
played a singles match on tour since winning the 2017 Australian Open, where she beat Venus in the final.
Serena won her first match against Marion Bartoli of France, the former Wimbledon champion who is ending a 4 1/2-year retirement, but lost 13-11 to Zhang in the semifinals. She said she was having fun playing again and was excited for the future. "I think everyone should have high expectations," Williams said in an on-court interview after her loss. "You should always believe in yourself even if no one else does."
Her coach certainly does. With Serena returning this week in Indian Wells, California, Patrick
Mouratoglou told WTATennis.com he had high expectations for the three remaining Grand Slam tournaments this season. He said he sees the same determination in practice, but wouldn't know if being a mother had changed her until he saw her competing. Venus already knows what to expect. "I mean, the matches are definitely a good way to know where you are, but obviously she knows how to play," the 37-year-old Venus said. "She's going to bring that instinct on the court with her, so I don't think she's too worried about that."
Tie Break Tens held its first tournament in the U.S. after five events in Europe and Australia. The remainder of the field included Sorana Cirstea of Romania and Daniela Hantuchova of Slovakia, who retired last year. Svitolina, the highest-ranked player in the field at No. 4, continued her strong play to start the season after a winning a tour-high five titles in 2017.
The winner of two tournaments already this year, she wonthe last seven points to break away from a 3-3 tie against Venus, then swept Vandeweghe 10-0. "Of course, winning the first tournament of the year was a great start for me," Svitolina said. "It's always tough to transfer the work we do in the offseason, so this was a good sign that I'm moving the right way and I'm very, very happy that I played good tennis throughout the beginning of the year and just from here I can go only up."
Vandeweghe, a New York native, jumped at the chance to play at MSG. Her grandfather, Ernie, and uncle Kiki, now an NBA executive, both played for the New York Knicks. "I didn't have to think too long," he said. "Once I was asked by my coach, Pat (Cash), if I was going to be available around that time, I said, 'Yeah, I'll make myself available.' So it didn't take much thinking." She was on the U.S. team in last month's victory over the Netherlands in North Carolina and enjoys seeing both Williams sisters still playing well.
Venus reached two Grand Slam finals in 2017 and returned to the top five of the rankings.
She competed Monday night just a few days after the 20th anniversary of her first WTA Tour title in Oklahoma City as a 17-year-old. Many players have taken up the sport in years since because of the Williams sisters, and Venus hoped more might be interested in this format since they were.
"If that's the result, yeah, that would be great," she said. "I hope that is the result, that this is a lot of excitement and more people start playing. It's a great sport. The sport is great for everyone of all ages."