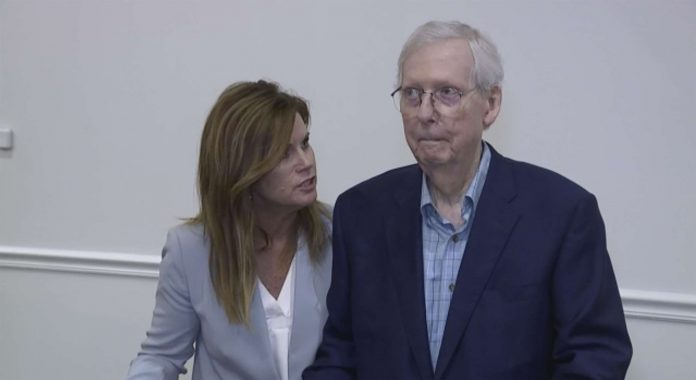 By MARY CLARE JALONICK
Associated Press
WASHINGTON (AP) — Senate Republican leader Mitch McConnell appeared to briefly freeze up and was unable to answer a question from a reporter at an event in Kentucky on Wednesday, weeks after he had a similar episode in Washington.
As seen on video from a local news station, the 81-year-old McConnell was asked whether he would run for reelection in 2026. The senator asked the reporter to repeat the question before trailing off and staring straight ahead for about 10 seconds.
An aide standing at the front of the room with McConnell then asked him whether he heard the question and repeated it to him. When McConnell did not answer, the aide announced to the room that "we're going to need a minute," and McConnell continued to stare ahead. In all, he was silent for around 30 seconds.
McConnell eventually answered two additional questions — though not the one about a 2026 campaign — and was halting and appeared to have some difficulty speaking. The woman then ended the news conference and McConnell left the room, walking slowly.
McConnell's reaction was similar to an occurrence in July, when he froze for about 20 seconds at a news conference in the Capitol. That time, he went back to his office with aides and then returned to answer more questions.
The latest incident in Covington, Kentucky, on Wednesday only adds to the questions in recent months about McConnell's health and whether the Republican, who was first elected to the Senate in 1984 and has served as GOP leader since 2007, will remain in Congress and in his leadership post.
McConnell called South Dakota Sen. John Thune, the No. 2 Senate Republican who is seen as one of his potential successors, after the event Wednesday. McConnell "sounded like his usual self and was in good spirits," Thune spokesman Ryan Wrasse said.
Wednesday's freeze-up came after McConnell had given a 20-minute speech earlier at the event. He appeared more comfortable during that part of the program, discussing the upcoming Senate schedule and joking at one point that his job is like "a groundskeeper at the cemetery. Everybody is under you but nobody is listening."
His office said afterward that McConnell was feeling "momentarily lightheaded" and would see a physician before his next event. Similarly, after the July episode, aides said McConnell was lightheaded and McConnell told reporters several hours later that he was "fine." Neither McConnell or his aides have given any further details about what happened.
In March, McConnell suffered a concussion and a broken rib after falling and hitting his head after a dinner event at a hotel. He did not return to the Senate for almost six weeks. Since then, he has appeared to walk more slowly and his speech has often sounded more halting.
Asked about McConnell at a press event shortly afterward, President Joe Biden said he had just heard what had happened. "Mitch is a friend, as you know," Biden said. "Not a joke. … He's a good friend. I'm going to try to get in touch with him this afternoon. "
McConnell had polio in his early childhood and he has long acknowledged some difficulty as an adult in climbing stairs. In addition to his fall in March, he also tripped and fell four years ago at his home in Kentucky, causing a shoulder fracture that required surgery.