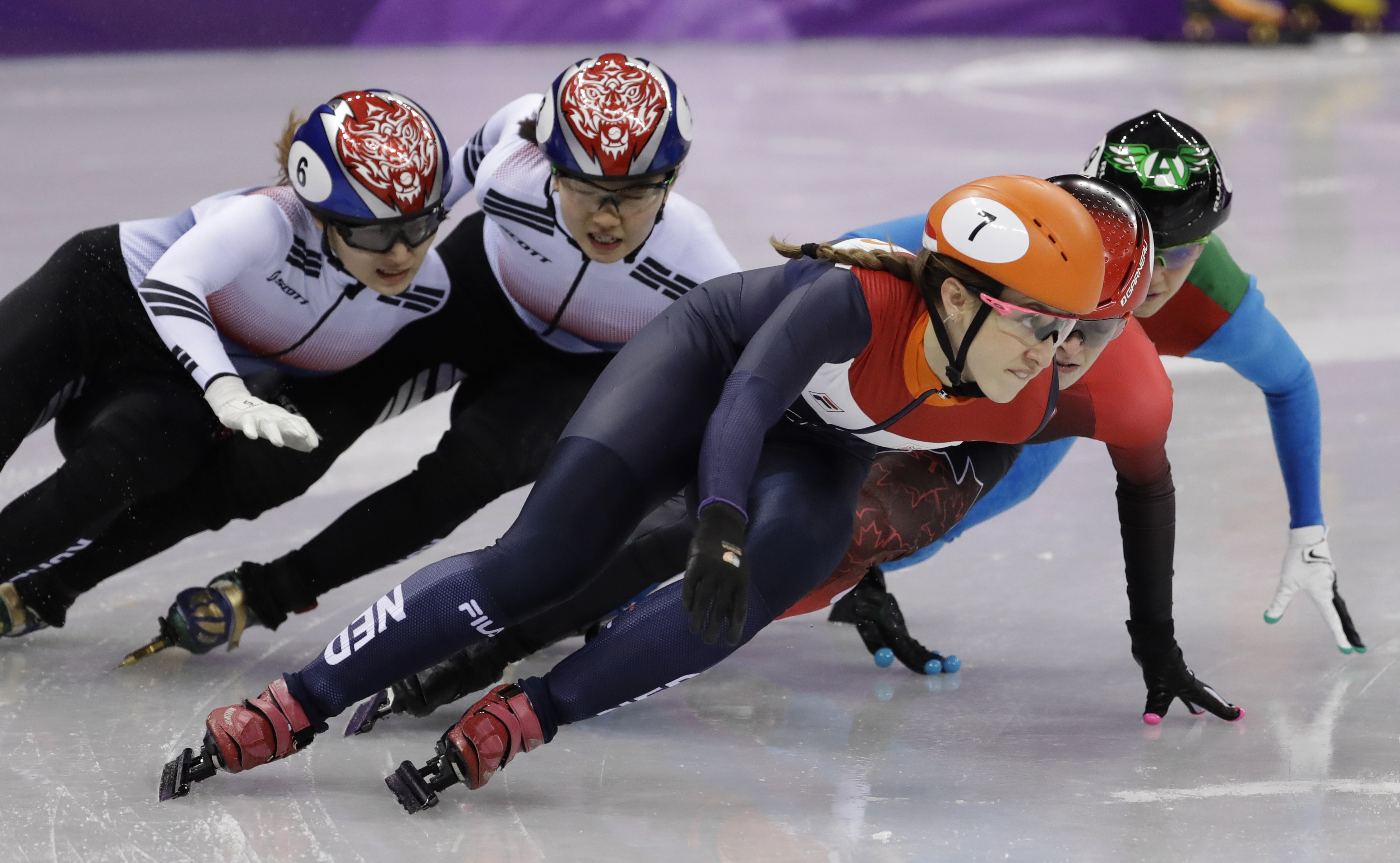 By RAF CASERT
AP Sports Writer
GANGNEUNG, South Korea (AP) — Science, method, investment, sheer determination — the Dutch set up a short-track program from scratch a dozen years ago in the hope of branching out its gold medal income from long-track speedskating. Frustratingly, their program had no Olympic title to show for it — until now.
And instead of science, it was a woman known as "Bouncing Ball" that threw all that methodology out the window.
After an ugly start to the Pyeongchang Games, Suzanne Schulting surprisingly skated into the semifinals, then into Thursday's final. And then, the giddy 20-year-old Dutchwoman surprisingly reached the top of the podium on the last day of the short-track program.
"It's gold," Schulting said. "That's crazy."
Besides her, Dutch technical director Arie Koops couldn't maintain his unflappable cool and pretty much went out of his head, too. Finally, the program he set up delivered, however unlikely the bearer of gold was.
"A 12-year investment now pays off," he told The Associated Press.
At the end of the short-track competition, the Netherlands was second to only South Korea in the medal standings.
In the Olympic history of the sport, the Dutch only had one bronze coming into South Korea, and now in two weeks it has gold, two silvers and a bronze. Only the host nation did better with three gold, one silver and two bronze.
And Koops' ambition to expand beyond long track now has the Dutch in fifth place overall in the medal standings with seven gold and 17 overall.
No wonder the Gangneung Ice Area was a happy mess of orange colors. And what a turnaround for Schulting.
Just a few days ago, she was a heap misery after her first Olympics had yielded nothing but mishap and early elimination.
Things changed on Tuesday. The Dutch relay team had failed in the semifinals, but in their B final, they set a world record. And then in an unprecedented turn of events in the relay final, two teams were disqualified and suddenly Schulting and her teammates had bronze.
It was enough for an expletive-filled celebration that made her both infamous and famous in a flash.
After Thursday, only fame awaits her.
She skated a brazen, blazing race that got better by the second. After a series of savvy moves, she was in the lead late in the 1,000 and then the two favored South Koreans took each other out in one of the typical crashes that made a name for the sport.
When she crossed the line, she shouted in disbelief and held out arms, trying to grasp what she just achieved.
She will happily go through life as a "Bouncing Ball" with an Olympic gold medal round her neck.
So why is she called Bouncing Ball?
"I've always got a lot of energy. I'm always like, 'Wahhhhh!' That's why," Schulting said. "Sometimes it's a little bit too much."
It was just right on Thursday.