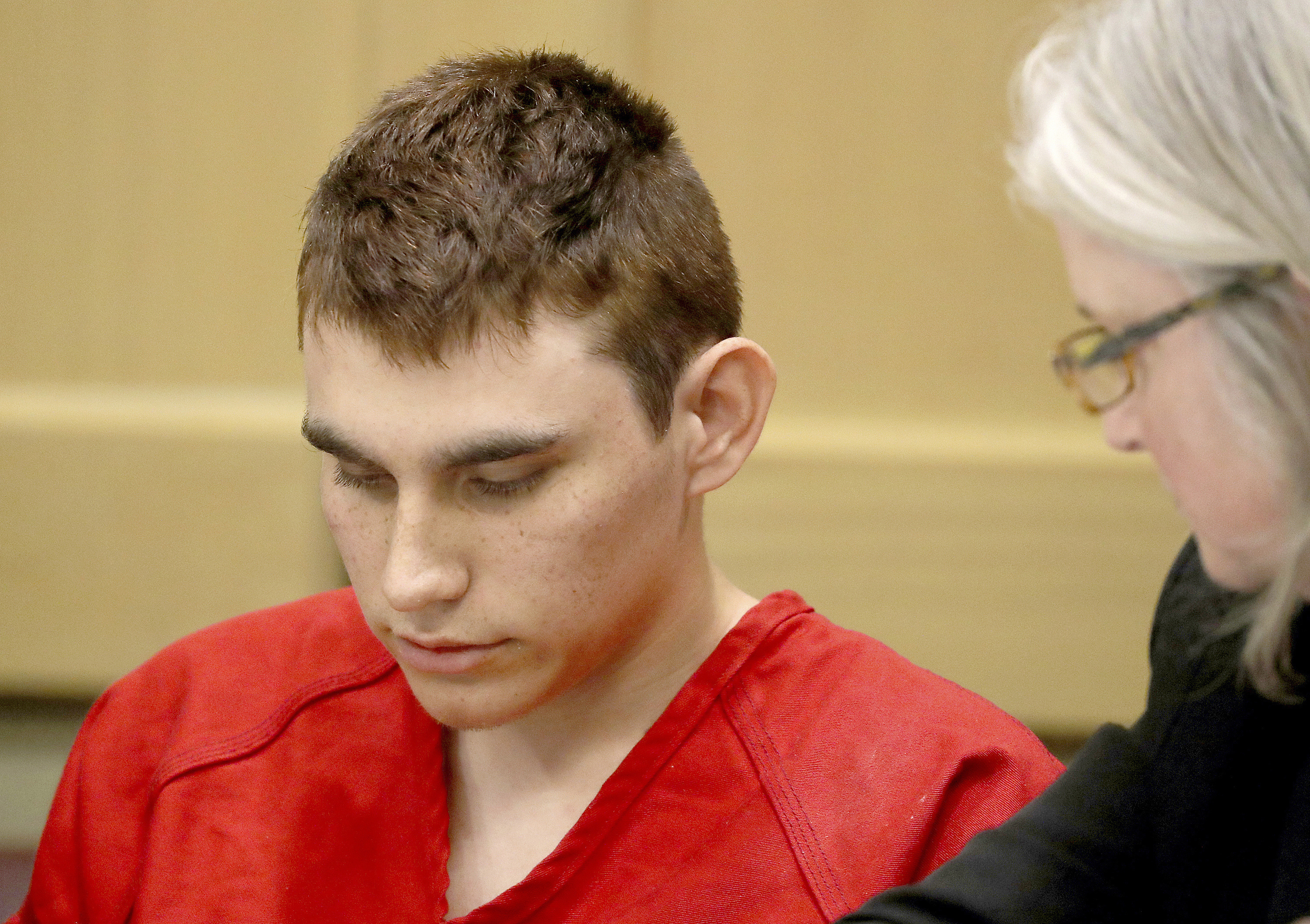 By CURT ANDERSON
Associated Press
FORT LAUDERDALE, Fla. (AP) — Florida school shooting suspect Nikolas Cruz was formally charged Wednesday with 17 counts of first-degree murder, which could mean a death sentence if he is convicted. The indictment returned by a grand jury in Fort Lauderdale also charges the 19-year-old with 17 counts of attempted murder for the Valentine's Day massacre at Marjory Stoneman Douglas High School in Parkland in which 17 people died and more than a dozen others were wounded.
Cruz's public defender has said he will plead guilty if prosecutors take the death penalty off the table, which would mean a life prison sentence. Prosecutors have 45 days to decide whether they want to seek the death penalty. James and Kimberly Snead, the couple who gave Cruz a home after his mother died late last year, testified before the grand jury. James Snead and the couple's attorney, Jim Lewis, wore silver "17" pins to honor the victims of the shooting.
The couple is "trying to do the right thing" and is mourning along with the rest of the Parkland community, Lewis said. "We'll let justice take its course at this point," Lewis said. "They still don't know what happened, why this happened. They don't have any answers. They feel very badly for everybody." Cruz told investigators he took an AR-15 rifle to his former school on Feb. 14 and started shooting into classrooms.
Jail records released by the Broward Sheriff's Office show Cruz was being held in solitary confinement. Officers described Cruz as avoiding eye contact with deputies but also being cooperative and engaged with his visitors. The report said Cruz "often sits with a blank stare," asked for a Bible to read and appeared to be "smiling and giggling" during one visit with his attorneys. Investigators and psychiatrists also have visited Cruz in his single-person cell in the jail's infirmary, where officers note his activities every 15 minutes.
His brother visited him twice, along with Rocxanne Deschamps, who took in both teens after their mother died in November. Cruz lived with Deschamps only briefly before moving in with the Sneads. In Tallahassee, the Florida House was expected to vote on gun legislation stemming from the school shooting. The legislation would put some restrictions on rifle sales, provide new mental health programs for schools and improve communication between school districts, law enforcement and state agencies.
On Tuesday, Democrats failed to strip the bill of language that would create a program to arm some teachers and school employees who complete law enforcement training. Two parents who lost children in the Stoneman Douglas shooting told reporters that all the victims'
families want the legislation to succeed. Andrew Pollack, who lost his 18-year-old daughter Meadow, and Ryan Petty, who lost his 14-year-old daughter Alaina, said there was enough good in the bill that it should pass.
Meanwhile, the Parkland school hosted two dignitaries Wednesday: Miami Heat guard Dwyane Wade and U.S. Education Secretary Betsy DeVos. DeVos told reporters that arming some teachers should be considered an option but not a requirement. As a model, she cited a program in Florida's Polk County where teachers or other employees at two private universities have trained with the sheriff's office so they can carry concealed weapons on
campus.
DeVos said she spoke with students who lit up when talking about the therapy dogs brought to campus. Carly Novell, editor of the school's newspaper, said DeVos had little interaction with students and teachers during her hourlong visit. "Most people were either angry that she was here or annoyed," Novell said. Wade arrived during lunchtime and went straight to the cafeteria, where Novell said the 12-time NBA All-Star posed for photos and talked with students.
"He talked about change and what needed to happen, which is kind of funny to me — a government official did absolutely nothing, and a professional basketball player talked to us and was real with us," the 17-year-old senior said.