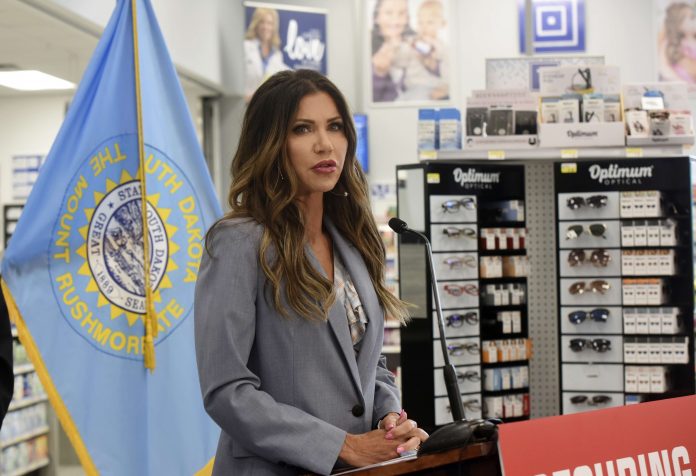 By STEVE KARNOWSKI
Associated Press
As the U.S. struggles with prescription drug shortages, South Dakota Gov. Kristi Noem has advanced a modest plan that she hopes will prod Washington to take decisive action to address weaknesses in the international pharmaceutical supply chain.
Noem told reporters at a pharmacy in Sioux Falls last week that her state will expand its stockpiles of certain medications that have been in short supply. The Republican former congresswoman also used the occasion to turn up the heat on the federal Food and Drug Administration, urging the agency to make the U.S. less dependent on foreign suppliers like China and India.
Noem said she hopes other governors — and members of Congress — take notice of what South Dakota is doing and lend their voices to push for long-term change in Washington to fix what she called a real risk to national security.
"My hope is that those leaders in D.C. that have the ability to weigh in on this issue will," Noem said. "We'll continue to educate them on why it's such a critical need for us to address it today."
Shifting shortages of a variety of drugs predated the COVID-19 pandemic by decades and continue to complicate treatment of patients across the country. Major contributors include manufacturing problems, demand spikes, tight ingredient supplies and overreliance on foreign sources. A U.S. Senate report in March said the shortages have "cascading effects on patient care."
Last fall, the FDA announced a shortage of the attention-deficit/hyperactivity disorder drug Adderall. Stores ran out of children's medicines due to demand during last winter's particularly intense cold and flu season. Prominent cancer centers warned last month that a growing shortage of common cancer treatments is forcing doctors to switch medications and delay some care. Several Democratic-led states plan to stockpile abortion-inducing drugs in response to a court ruling that could limit access.
There were 309 active drug shortages in the U.S. at the end of June, according to the University of Utah Drug Information Service. That's up from 295 at the end of last year and the highest total recorded since 2014.
Noem wrote to FDA Commissioner Robert Califf last week, imploring him to work with Congress on long-term solutions to fix the supply chain and reduce America's reliance on China and India.
"This is one of the issues that's still getting traction in Washington on both sides of the aisle, which is rare these days," said Stephen Schondelmeyer, a leader of the Resilient Drug Supply Project at the University of Minnesota.
South Dakota already maintains drug caches at each end of the state, at a pharmaceutical warehouse in Sioux Falls and at a Rapid City hospital. It will now add sites at partner pharmacies in five additional cities statewide. In addition to current antibiotic stockpiles, the department is adding albuterol, epinephrine, insulin, prednisone and pediatric amoxicillin to the list, which was developed by the state Department of Health as part of a study that Noem ordered in May.
"This effort is helpful, but not the whole picture," Schondelmeyer said.
He noted that South Dakota' plan focuses on outpatient medications. Serile injectables used in hospitals — ranging from drugs on crash carts to chemotherapy medications — have accounted for about 70% of the shortages over the past decade and may warrant stockpiling as well, he said.
Schondelmeyer estimated that around 15 to 20 other states, including California, also maintain some kind of drug stockpiles.
Noem said building up South Dakota's stockpiles shouldn't cause shortages or price spikes elsewhere across the country. The drugs in the stockpile will be rotated and released to pharmacies before they expire so they won't be wasted.
The Department of Health is still negotiating contracts with the five additional sites and the costs associated with the additional medication stockpile, spokesperson Tia Kafka said. The quantities will be based on epidemiological data and community size, she said, and the contracts will become public record once they're finalized later this month.
"This is an interesting solution," said Erin Fox, associate chief pharmacy officer at University of Utah Health. "Stockpiling can help buffer shortage situations and are an appropriate step to take, but they can't completely solve the shortage issue."
Tom Kraus, vice president for government relations at the American Society of Health-System Pharmacists, said his group supports the concept of stockpiling as South Dakota is planning — including by states and individual hospitals — as long as it's done carefully to avoid aggravating shortages.
The federal government also has its own drug and medical equipment stockpile, but its focus is different. The Strategic National Stockpile, run by the Department of Health and Human Services, assumes states will also have stockpiles and it's meant only to supplement their efforts.
Fox said the country needs to fix some of the underlying issues that cause shortages in the first place, such as intense price competition in the generic drug market that causes quality to suffer and forces suppliers out of the market. And she said the federal government could fund extra supplies of drugs for "inventory buffering" to provide a margin of safety when problems develop, similar to what South Dakota is doing on its own.
"When you need a drug, it should be at the corner drug store or the hospital when you need it, and it isn't," Schondelmeyer said. "There are real market failures in the drug supply that need solutions."