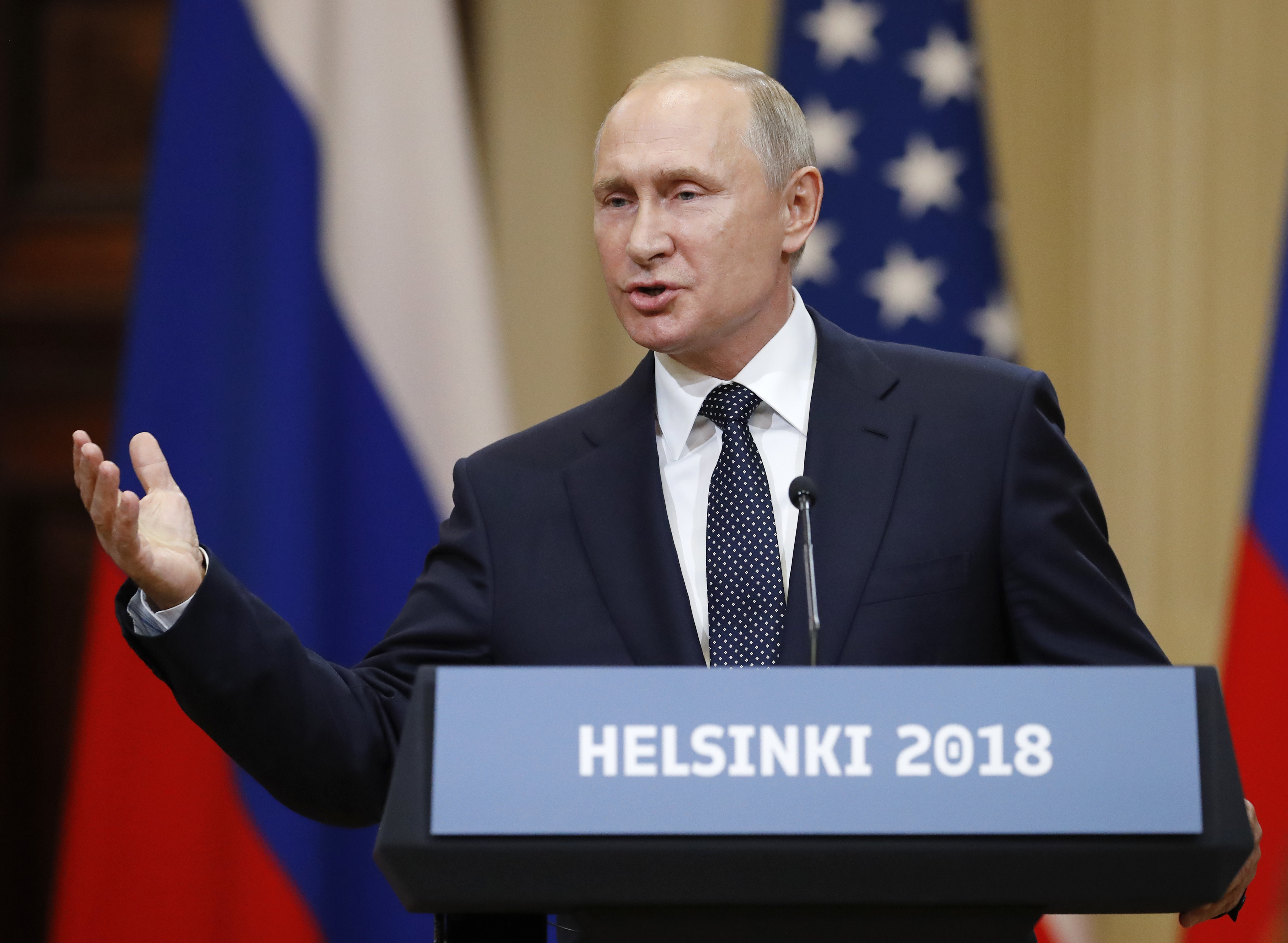 By ANGELA CHARLTON
JIM HEINTZ
Associated Press

MOSCOW (AP) — Russian media saw Monday's highly anticipated summit between Vladimir Putin and Donald Trump as a heartening step forward, with the Kremlin leader as the more prominent figure. After their joint news conference in Helsinki, Russia media also took some swipes at U.S. journalists for focusing on alleged Russian interference in the 2016 U.S. presidential election that brought Trump to power. "To me, it's the only question that interests the American press," reporter Yegor Kolyvanov said on NTV, a Kremlin-controlled national TV channel.
"Putin assured the entire world that he did not interfere," declared Olga Skabeyeva on state channel Rossiya-1. The channel's report gave clear precedence to Putin, running lengthy excerpts of his comments, with fewer, shorter soundbites from Trump. If tangible results from the meeting were thin, the ceremony of it and the civil atmosphere between the two world leaders received considerable attention and was interpreted as a move toward improving the soured relations between Washington and Moscow. "I saw two leaders today who can agree with each other," Konstantin Kosachev, head of the foreign affairs committee of Russia's upper house of parliament, said on Rossiya-1.
The meeting "plays a great role not only in adjusting and restoring normal political dialogue, this meeting also has great meaning for peace, for stability in the world," upper house speaker Valentina Matvienko told journalists. The state news agency RIA-Novosti quoted a political analyst who believed Putin appeared to be the stronger of the two leaders. "This summit will cause a lot of criticism from the Democratic opposition, maybe even part of the Republicans," said Boris Mezhuyev, editor of the Politanalitika website. "Maybe (Trump) will be told that he was not hard enough on Putin, could not get Putin to admit interference in the election, that he did not rigidly defend the American point of view on questions about Syria and Ukraine."
The reactions were largely in line with what the Russian media said in the hours before the meeting. Russia's largely Kremlin-friendly TV networks, websites and newspapers portrayed Trump as a political maverick who is being unfairly targeted by his own compatriots. The Komsomolskaya Pravda newspaper dismissed the U.S. investigation into Trump's "mythical work for the Kremlin," and praised him for meeting Putin "despite opposition from his own elite and the hysterics of the media." Panelists on Russia's popular Sunday night talk show "Vecher (Evening)" said Putin was going into the summit as the clearly stronger figure, notably coming off his successful hosting of the monthlong World Cup.
Universally sympathetic to Trump, they described the American as hobbled by domestic political challenges — a problem that Putin doesn't face after 18 years of stifling opposition. Those challenges include special counsel Robert Mueller's investigation. Ultranationalist lawmaker Vladimir Zhirinovsky was among those brushing off Friday's indictments of Russians accused of meddling in the 2016 election, calling it implausible that a dozen Russians could have done such damage. The arguments feed the Kremlin narrative that democracy is dangerous unless it is carefully "managed."
Russian commentators and editorialists who consider the European Union hostile, troublesome or irrelevant also welcomed Trump's criticism of longtime European allies as "foes" of the U.S. Russia's state-run Channel One said Trump's meetings in Britain and his contentious appearance at the NATO summit last week were secondary to Monday's summit, saying: "After all, he was just passing through Brussels and London on the way to Helsinki."
Ahead of the summit, Russian media did have rather modest expectations of how much Putin could concretely achieve. Before he arrived, Trump denounced the U.S. news media as the "enemy of the people," despite constitutional protections for freedom of the press.
The Russian media scene is a different beast. Under Putin, the Russian government has assumed control or sway over most broadcasters and mainstream media and put pressure on critical reporting online. Putin is also regarded as creating a culture of violence and impunity that has resulted in the killing of some outspoken Russian journalists. A protest sign posted on a Helsinki bus stop Monday read "Unpleasant things will happen to journalists who ask Putin questions." Despite clear interest in Russia in Putin's meeting with Trump, the summit wasn't the No. 1 item on many Russian newscasts or websites on Monday morning. That honor went to the World Cup, and Russia's much improved global image from successfully hosting the tournament.