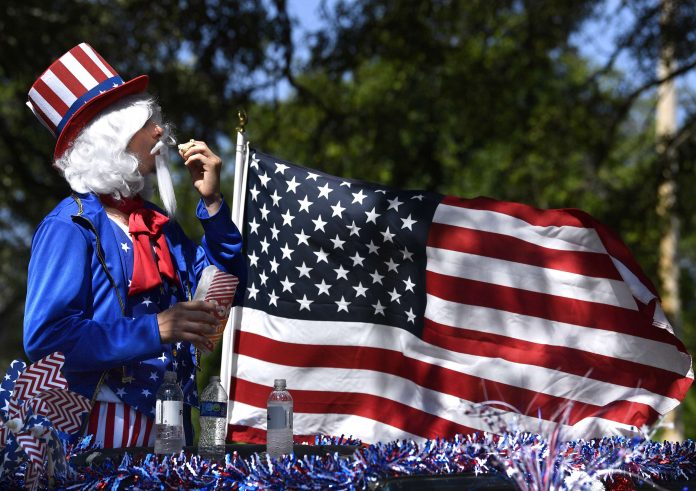 By STEVE LeBLANC
Associated Press
BOSTON (AP) — Revelers across the U.S. braved heat and heavy rain to take part in Fourth of July activities Tuesday — celebrating the nation's founding with parades, fireworks and hot dog eating contests at a time of lingering political divisions and concerns about the country's future.
In Boston, people dodged raindrops to nab a coveted space on the grassy oval in front of the Hatch Shell along the Charles River ahead of the traditional Boston Pops Fireworks Spectacular. Hundreds of thousands of partygoers typically line both sides of the river for the fireworks spectacular that follows a concert.
At another longstanding celebration, fans of competitive eating crowded to watch Nathan's Famous Fourth of July hot dog eating contest held in the Coney Island section of New York City.
Heavy downpours interrupted the contest, but after the pause, Joey "Jaws" Chestnut swallowed 62 franks and buns in 10 minutes.
"What a roller coaster, emotionally," Chestnut said. The 39-year-old from Westfield, Indiana first competed for the Nathan's title in 2005 and hasn't lost it since 2015.
New York wasn't the only state where weather factored into events.
The 10-kilometer Atlanta Journal-Constitution Peachtree Road Race that typically draws thousands of runners in humid summer weather was cut short due to possible thunderstorms.
Farther norther, storms were possible from the Dakotas and Minnesota south through Kansas and Missouri, endangering cookouts and fireworks shows. Hail the size of ping pong balls was reported in southeastern South Dakota.
The fireworks show in Yankton, South Dakota, was postponed until Wednesday night because lightning prevented crews from setting up the display. In Nebraska, the Omaha Symphony's Independence Day Celebration that includes a concert and fireworks shows were also postponed until Wednesday night.
New Orleans residents welcomed rain and slightly cooler conditions after days of heat and humidity baked the city. The General Roy S. Kelley fireboat was returning to New Orleans Riverfront for a patriotic water show, sending streams of red, white, and blue water into the air.
While the holiday put a spotlight on how Americans carry different views of patriotism, many people embraced the holiday with whimsy and a sense of community.
In Hannibal, Missouri, the hometown of Mark Twain, the Fourth of July weekend coincides with National Tom Sawyer Days. Fence-painting and frog-jumping contests were held.
Altoona, Iowa, dubbed its celebration "CORNival." In addition to the nod to America's birthday, the festival marks the 100th anniversary of the first acre of commercial hybrid seed corn, grown and harvested in Altoona in 1923. Twenty 6-foot-high fiberglass corn cob statutes decorated by local artists were being unveiled and will later be placed around the town of 21,000 residents.
In Joppatowne, Maryland, hundreds of people lined up at a Sheetz gas station to pump regular fuel at $1.776 per gallon, WBAL-TV reported. Sheetz set the price per gallon in commemoration of the year the Declaration of Independence was signed, according to a statement posted on the company's website.
And in the east Tennessee city of Gatlinburg held its annual Independence Day midnight parade early Tuesday. George Hawkins, who created the parade, died Saturday, news outlets reported.
Running events were a feature of many celebrations.
In Lexington, Kentucky, about 2,000 people ran through the city's downtown, Stephanie Thurman told WKYT-TV that the race had been on her bucket list. "I started these races here in 2019; I turned 50. That was one of the things on my bucket list, so I did that, and ever since then, I was bit by the bug,"
With fireworks came some accidents.
A fireworks explosion Monday in western Michigan killed one woman and left nine other people with injuries ranging from critical to minor, the Ottawa County Sheriff's Department said.
Early Tuesday, improperly disposed of fireworks tossed into a bin started a blaze that destroyed two homes in Parker, Colorado, just southeast of Denver, according to fire officials.
Some cities were eschewing firework displays for shows in which drones fitted with lights are coded to create massive, moving shapes in the sky. Lake Tahoe, California, Salt Lake City, and Boulder along with a few other Colorado towns, have opted for the the aerial spectacles that can display an expansive American flag and the year 1776 in red, white and blue. Avoiding explosive fireworks limits the danger of fires in states already devastated by massive burns.
The Chicago suburb of Highland Park, where a shooting at least year's Fourth of July parade left seven people dead, also held a drone show to avoid the startling noise of fireworks.
Gun violence also marred some of the celebratory atmosphere, as shootings left five dead in Philadelphia and three dead in Texas.