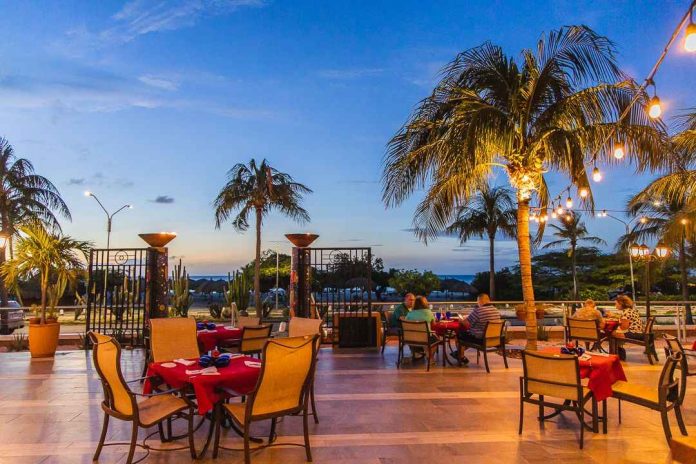 How about dining under the stars, on a terrace right across from the boardwalk of one of the best beaches in the world, indulging in food from an all-praised chef while live guitar music completes for a stunningly romantic night? "Here you have the once-of-a-lifetime experience of a multi-color sunset right in front of you." Food and Beverage director Pierre Kock invites you to Las Ramblas restaurant at Eagle Beach for a meal to remember. Only on Aruba.
Walking along Eagle Beach looking out to the amazing Caribbean Sea, there is a moment that makes your head turn. That moment happens when you hear the guitar strumming of Ernesto Ferro. As you get closer, the smell of rosemary and thyme on the grill hits you. A higher terrace with a stylish staircase strikes your fancy. You wonder… And then, you're tempted to discover more.
Two mosaic columns with fire bowls decorate the entrance staircase and guests sitting in comfortable chairs enjoy the culinary delights of chef Sonny Partodikromo. "Las Ramblas is part of La Cabana, the resort is well-known for its trained staff, the strong connection with guests and the support to our community," states Kock. Without wanting to sound blasé, we may say that La Cabana is the epitome of the 'One Happy Island' concept for years already, to locals and visitors.
Your private venue for Christmas
Restaurant Las Ramblas is an excellent venue for your private event, reception, Christmas dinner … you name it. Imagine you invite your employees, your family, your friends to the best terrace in town overlooking the blue and admiring the amazing sunset while indulging in culinary pleasures. Call them to have your private VIP terrace reserved!
The Taste of Spain in the Dutch Caribbean
Las Ramblas' name refers to the famous boulevard in Barcelona, Spain. The menu offers Spanish small dishes called tapas, but they also give you fresh seafood choices and savory steaks. All prepared on a charcoal grill. This is the best place on the island to taste sangria and try delicious paella!
Chef Sonny makes a perfect partner with Chef Willy Guerrero. Where Chef Sonny is creative and a playful with flavorings, chef Guerrero focuses on the principal of 'make everything from scratch'. "There is this great dynamics between old school and modern cuisine that impresses our guests, together with their three cooks they make magic," says Kock. For the wine-pairing, the restaurant works with wine specialty companies, such as Divino and Arion. "All ingredients for an unforgettable night are present."
The devil is in the details
Las Ramblas understands very well that standing out is important on an island where there are many restaurant offerings. The concept is therefore carried out up to the details surprising you from the moment you walk the stairs until the end of the night under the stars. The music is high-quality as Ferro is not your average guitarist, he built his name. The seats are very comfortable and the welcome by restaurant manager Lino van der Biezen and his staff is a step further. The illuminated menu is real thoughtful, the table is dressed up with colored, glass candle holders that match the mosaic entrance columns and there are plants that add to the ambiance. It is just down to the last detail.
Close to community
Kock: "We are very close to our community and I have chosen to work with the local hotel and restaurant students to organize their internships here. This is what La Cabana is all about: supporting community and pleasing visitors. It works both ways, we mentor the youth and we pamper the guests."
Las Ramblas is open from Tuesday to Saturday between 5.30pm and 10.00pm. For reservations please call or WhatsApp: (297) 737-9068 or call (297) 520-1100. Facebook: Las Ramblas Aruba.