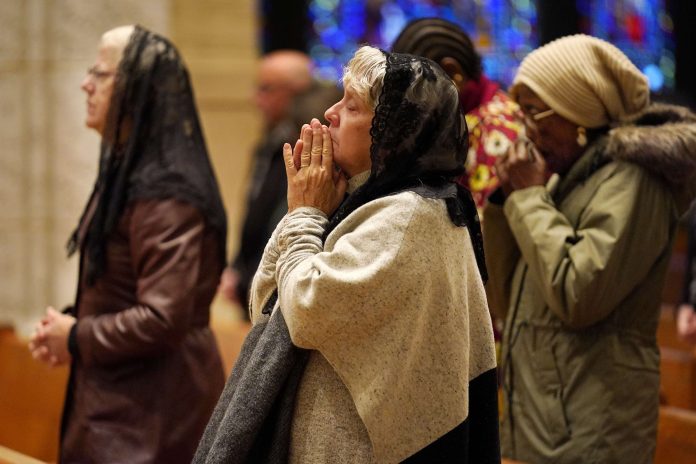 By DAVID SHARP, ROBERT F. BUKATY and JAKE BLEIBERG Associated Press
LEWISTON, Maine (AP) — Church bells rang Sunday as Maine residents gathered to pray, reflect and support one another following a traumatic week in which a fellow Mainer gunned down 18 people in the worst mass killing in state history.
The Rev. Daniel Greenleaf opened worship at the Basilica of Saints Peter and Paul in Lewiston with a moment of silence. Then, he told the congregation that it was good to be able to finally pray together after days of lockdown imposed while police searched for the 40-year-old gunman, Robert Card.
Card's body was found Friday in a trailer at a recycling center in Lisbon Falls. Card died of an apparent self-inflicted gunshot wound though it was unclear when, authorities said. Card was also suspected of injuring 13 people during the shooting rampage on Wednesday night in Lewiston.
Several women wore black veils in the cavernous sanctuary, where a church official said they are raising funds to help shooting victims and others hurt by "the horrible events in our small town."
"We can see the rays of light in darkness," Greenleaf told those present. He said that it is for times like this that they have "practiced" their faith for.
"We cannot fix this, but then again human beings are not machines to be fixed," Greenleaf added.
At Lisbon Falls Baptist Church, arriving church members warmly greeted each other. But the atmosphere turned somber when the Rev. Brian Ganong brought up the tragedy. He prayed for those fighting for their lives, those who lost family and friends, first responders and medical workers, and others — including the Card family, who he said had ties to some members of the church.
"It did happen. We may never know the reason why," he said, encouraging the congregation to seek solace through a higher being.
After the service, Ganong said it "took one person" to shatter the community's "sense of peace and security."
"They feel violated, right? They feel intruded upon. This has infringed upon their safety," he said. "But I understand that we live in a world that is evil. And it was probably a matter of time before it infringed upon us."
Standing outside the Catholic basilica after attending early Mass, Marcel Roy said the last few days have been painful but that he's hopeful the community can begin the long process of healing.
"This feels good," Roy said with relief as church bells rang.
The 70-year-old Lewiston resident said that he knew four of the shooting victims and is praying for them as well as the shooter.
"I can't hate the guy," he said of the gunman. "He wasn't brought up as a killer."
Authorities recovered a multitude of weapons during their search for Card and believe he had legally purchased his guns, including those recovered in his car and near his body, said Jim Ferguson, the special agent in charge of the Boston office of the Bureau of Alcohol, Tobacco, Firearms and Explosives. He declined to provide specific details about the guns, including their make and model, and wouldn't say exactly how many were found.
Investigators are still searching for a motive for the massacre, but have increasingly been focused on Card's mental health history. State Department of Public Safety Commissioner Michael Sauschuck said Card had been hearing voices and had paranoia.
Card believed "people were talking about him and there may even have been some voices at play," Sauschuck said.
Family members of Card told federal investigators that he had recently discussed hearing voices and became more focused on the bowling alley and bar, according to law enforcement officials who spoke to The Associated Press on condition of anonymity in order to discuss details of the investigation.
Street life began returning to Lewiston in the city of 37,000. Police missed two clear opportunities to end the lockdown sooner, after failing to find Card's body in searches of the recycling center Thursday night and early Friday.
For many residents, Sunday was a day to reflect, mourn and, for some, to take the first tentative steps toward normalcy. Some went hunting on the opening day of firearm season for deer, and one family handed out buckets of flowers in downtown. Others gathered at a makeshift memorial to the victims down the street from the bar targeted by Card.
But there were still reminders of the shooting.
Over at Schemengees Bar & Grille, one of the shooting sites, workers in white hazmat suits could be seen methodically cleaning up a staircase. Yellow tape surrounded the site and a small memorial had emerged near the bar, featuring colorful balloons, flowers and a poster that read: "Be Strong Lewiston."
Leroy Walker, an Auburn city councilor and father of one of the victims, was greeting people at a trick-or-treat event on Sunday hosted by an organization he leads.
He smiled broadly when the children hugged him, and accepted hugs from community members. But he became emotional when he spoke of his son, Joseph, who normally would've joined him at the event.
"It's been a tough few days, trust me. The heart doesn't stop bleeding," he said. "I miss him every minute. I miss him more every day."
The deadliest shootings in Maine history stunned a state of 1.3 million people that has relatively little violent crime and had only 29 killings in all of 2022.
Three of the injured remained in critical condition at Central Maine Medical Center, and a fourth was stable, hospital officials said. Another patient was transported to Massachusetts General Hospital, and the rest were discharged.
A stay-at-home order in place during the massive search was lifted Friday afternoon, hours before authorities announced they had found Card's body at the Maine Recycling Corp.
The Lewiston shootings were the 36th mass killing in the United States this year, according to a database maintained by AP and USA Today in partnership with Northeastern University. The database includes every mass killing since 2006 from all weapons in which four or more people, excluding the offender, were killed within a 24-hour time frame.