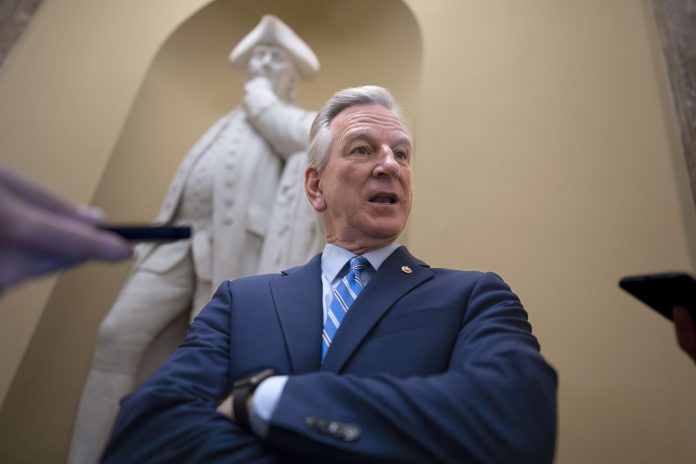 By CHRIS MEGERIAN and COLLEEN LONG
Associated Press
HELSINKI (AP) — President Joe Biden on Thursday said it is "irresponsible" of a Republican senator from Alabama to block confirmation of military officers in protest of a Defense Department policy that pays for travel when a service member has to go out of state to get an abortion or reproductive care.
"He's jeopardizing U.S. security by what he's doing," Biden said of Sen. Tommy Tuberville. "It's just totally irresponsible in my view."
More than 260 nominations are stalled by Tuberville, including Biden's pick for the chairman of the Joint Chiefs of Staff, America's top military officer. The U.S. Marine Corps is currently without a confirmed leader for the first time in a century because of the block. It also affects scores of one-, two- and three-star officers who are assigned to new base commands.
"I'd be willing to talk to him if I thought there was any possibility of changing his ridiculous position," Biden said during a press conference with the president of Finland. Biden traveled to Finland as a show of support for the new NATO member, following the NATO summit in Lithuania this week.
"The idea that we're injecting into fundamental foreign policy decisions what, in fact, is a domestic social debate on social issues is bizarre," Biden said.
There were also efforts at the Pentagon to encourage Tuberville to drop his opposition. The senator told reporters later Thursday that he had just spoken with Defense Secretary Lloyd Austin and expected to speak with him again.
The block also affects the families of nominees, who usually relocate over the summer to their new military communities so school-age children can get settled in before fall.
And it stretches to hundreds more younger military personnel who don't need Senate confirmation but are still affected by the hold because they are assigned to serve as staff or aides to the relocating generals. Those aides move their families as well. So they are essentially stuck, too.
A proposal last month to hold a Senate debate over Pentagon abortion policies as part of the annual defense bill negotiations was seen by some senators as the best prospect for getting Tuberville to lift those holds, but he opposed it.
The Alabama senator's action bucks decades of precedent in which swaths of military officers and promotions are approved by voice vote and with no objections. Senate Armed Services Committee Chairman Jack Reed, D-R.I., has said that if the Senate were to vote individually on the 260 nominations, it would take 27 days with the Senate working "around the clock" or 84 days if the Senate worked eight hours a day.
Tuberville has said he wants Democrats to solve the problem by introducing legislation on the abortion policy and then holding a vote on it. Tuberville does not have his own bill to change the policy.
"I'm leaving it up to them," Tuberville said Wednesday.
But Senate Majority Leader Chuck Schumer says that Republican leaders, most of whom have criticized Tuberville's holds, should prevail on the senator to change his mind. Biden, too, said Tuberville's fellow GOP senators should work to stop his block.
"I'm confident the mainstream Republican party does not support what he's doing, but they got to stand up and be counted. That's how it ends," Biden said.