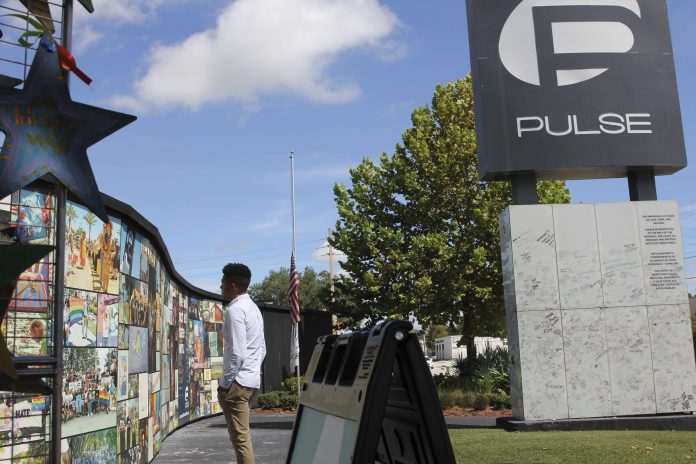 Associated Press
ORLANDO, Fla. (AP) — The city of Orlando plans to purchase the Pulse nightclub property where 49 people were massacred seven years ago with the intention of building a memorial for the victims, Mayor Buddy Dyer said Wednesday.
A proposal to purchase the property for $2 million will be presented before the city council next Monday. If it is approved, the sale will close by the end of the month, Dyer said in a news release.
"In the interest of solving challenges in a way that brings our community together in love, acceptance and partnership, which is the enduring legacy of Pulse, we have decided to purchase the land from its current owners," Dyer said. "We believe that this is the best and most appropriate way to expedite the creation of a proper memorial for the Pulse tragedy."
The efforts to build a memorial for Pulse victims had been moving ahead in fits and starts since the massacre at the gay nightclub in 2016. Barbara and Rosario Poma and businessman Michael Panaggio have owned the property, and Barbara Poma was the executive director of the onePulse Foundation — the nonprofit that had been leading efforts to build a memorial and museum. But Barbara Poma stepped down as executive director last year and left the organization entirely earlier this year.
The onePulse Foundation also said earlier this year that it was scaling back from its plans for a large memorial with a $100 million price tag following fundraising challenges.
Dyer said that the city wants to take a collaborative approach and work with the families of the victims in creating the memorial.
Omar Mateen opened fire in the nightclub on June 12, 2016, leaving 49 people dead and 53 wounded. At the time, it was the worst mass shooting in modern U.S. history. But that number was surpassed the following year when 58 people were killed and more than 850 were injured among a crowd of 22,000 at a country music festival in Las Vegas.
Mateen was killed after a three-hour standoff with SWAT team members. He had pledged allegiance to the Islamic State group.