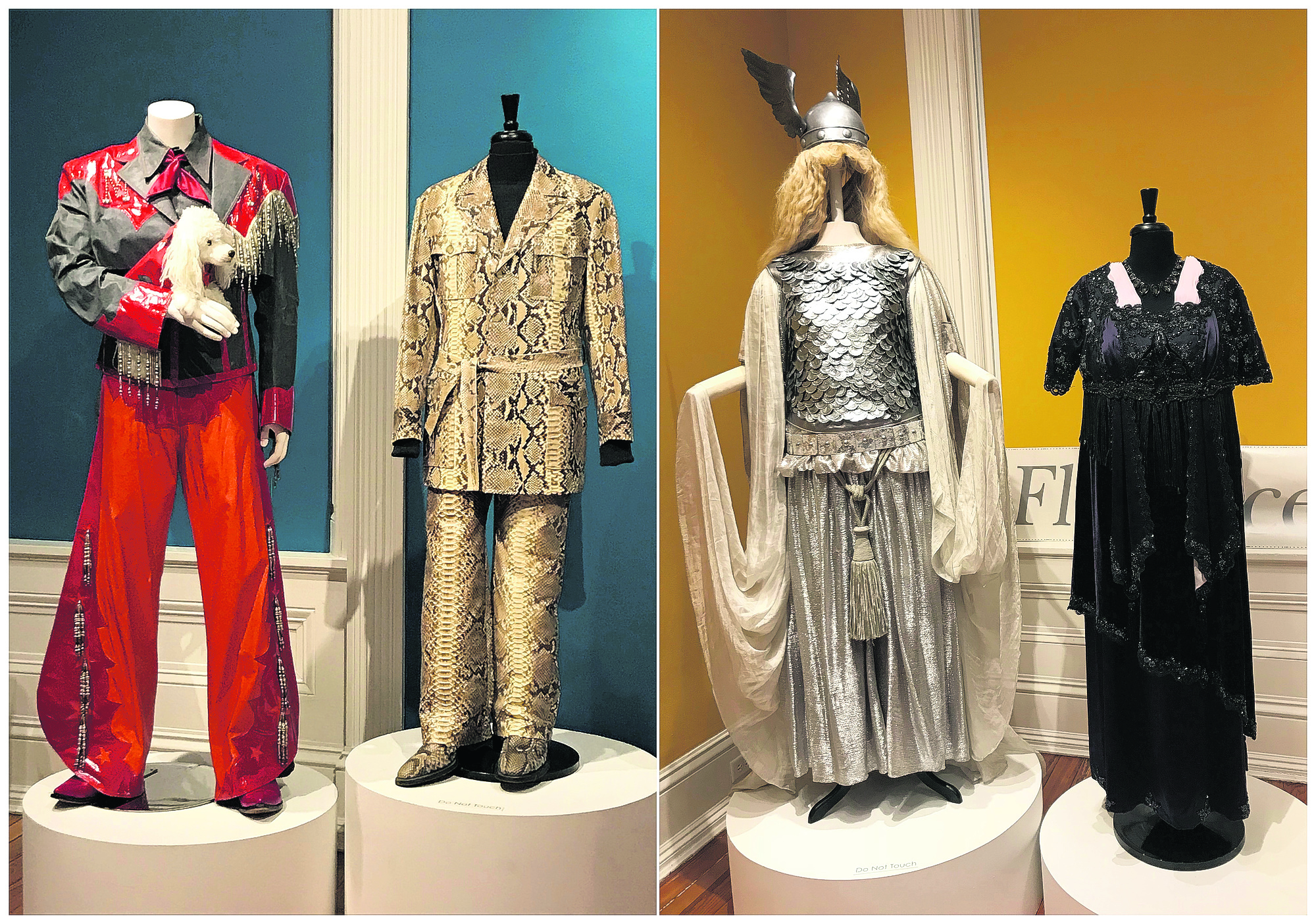 By JULIE CARR SMYTH
Associated Press

LANCASTER, Ohio (AP) — Costumes play a leading role as movies transport viewers to other times, open doors to foreign cultures, and imagine wars in distant galaxies. Now, some of those ensembles are on display for the first time in "Creating the Illusion: Costumes & Characters from the Paramount Pictures Archive," opening Saturday at the Decorative Arts Center of Ohio and running through Aug. 12. Visitors to the show will have a rare opportunity to view more than 40 costumes linked to some of Paramount Pictures' most memorable characters.
The display includes the hippie phase outfit worn by "Forrest Gump's" Jenny, who slogged through the Lincoln Memorial Reflecting Pool. From "Star Trek's" Khan, Benedict Cumberbatch's brown twill oil cloth coat with ribbed shawl collar is shown. Also, the Detroit Lions letterman jacket and Mumford t-shirt worn by Eddie Murphy in the "Beverly Hills Cop" franchise. Others include Morticia Addams' purple gown that shows up black on-screen, as well as the Ulster coat, eye patch and hat worn by Jeff Bridges in his role as Rooster Cogburn. The museum is tucked inside an historic mansion in rural Ohio. It's become a favorite venue for curator Randall Thropp, who grew up in Lancaster and now manages the Paramount costume and prop archive in Hollywood.
"What I like about it is, I do like contributing to the community, giving something back," Thropp said. "Also, secondly, this is a good area to test the demographic. Paramount Archives has never mounted an exhibit like this. It's a way just to get a sense for would the people enjoy this. It's a testing ground." The exhibit, which visitors enter by red carpet, features many costumes never before displayed to the public, as well as props, posters and concept art from 21 Paramount films since 1987, from classics like "Forrest Gump" to cult favorite "Zoolander." Wardrobe pieces on display include those from several films that received Oscar nominations for costume design, including "Coming to America" (1988), "The Addams Family" (1991), "Lemony Snicket's A Series of Unfortunate Events" (2004), "Dreamgirls" (2006), "True Grit" (2010) and "Florence Foster Jenkins" and "Allied" (2016).
Also here are items worn by major stars — Tom Hanks in "Forrest Gump" (1994), Tom Cruise in "War of the Worlds" (2005), Beyonce in "Dreamgirls," Brad Pitt in "Allied," Meryl Streep in "Jenkins" and Eddie Murphy as Foley in Beverly Hills Cop." Designers represented include Colleen Atwood, Joanna Johnston, Ruth Myers and Michael Kaplan. Thropp borrowed the title of the show from a 2015 book by Jay Jorgensen and Donald Scoggins that explored the history of Hollywood costume design. "I loved the title, and I thought, 'How would I build something around that,'" he said. "None of these costumes are store-bought. Every one was constructed from scratch, every one has some kind of story, something to tell about how the costume designer and the actor collaborate."
That led Thropp to include costume sketches, an actor's motion capture suit from "Teenage Mutant Ninja Turtles: Out of the Shadows" (2016) and items with interesting or enlightening back stories. Jorgensen, an author and historian, said the book and exhibit title derives from a quote by iconic Paramount costume designer Edith Head: "What a costume designer does is a cross between magic and camouflage. We create the illusion of changing the actors into what they are not." He said Hollywood costumes are more often abused, hacked up and altered, stolen or thrown out than lovingly protected, preserved and displayed as art.
"A lot of these clothes had really, really inglorious ends," he said. "So it's a powerful thing, getting to see that effigy of that star just in front of you. It really gives you a connection to a classic film. You feel like you're almost there."
Thropp said movies of the period he chose to display now have historic appeal. "You're appealing to a different audience that grew up with Eddie Murphy in 'Beverly Hills Cop 2,'" he said. "For the last generation, it was 'Grease' and 'Happy Days' and remembering the '50s. Now, you've got a generation that's looking back at the '80s and '90s." The Decorative Arts Center is itself a step back in time. It's located in a Greek revival home constructed in 1835 by wealthy lawyer William Reese and his wife, Mary Elisabeth Sherman. Sherman was the daughter of Civil War general William Tecumseh Sherman, who grew up next door. Director Elizabeth Brown said the venue shouldn't be surprising, because "Ohio is really on the front lines of the art world" at the moment.
The "Creating the Illusion" exhibit will include a screening of "Coming to America" Saturday night at suburban Columbus' Drexel Theater, followed by a Q&A with Thropp and Jorgensen; a curator's talk and book-signing Sunday; and a presentation on July 8 by Gayle Strege, curator of Ohio State University's historic costume and textile collection.