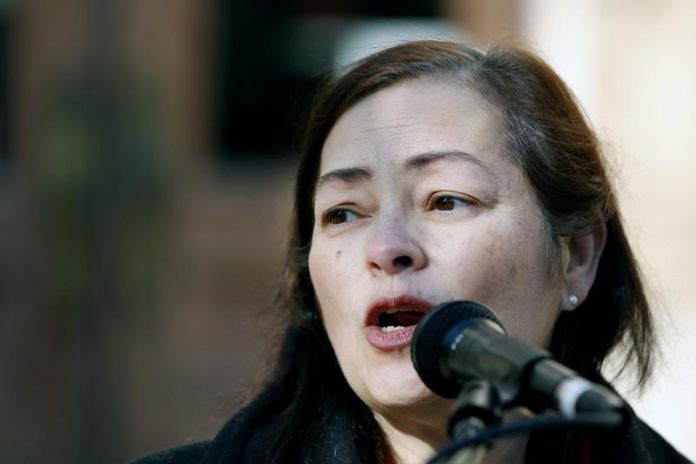 By CLAUDIA LAUER
Associated Press
PHILADELPHIA (AP) — When Deborah Gonzalez took office in January as the district attorney for the Western Judicial District of Georgia, she noticed that too few defendants, especially Black defendants, qualified for a program that promised treatment for addiction or mental health and not jail.
Like many court diversion programs elsewhere, potential participants in the Athens-Clarke and Oconee counties programs were being disqualified for certain previous charges or police contact. People living in poverty also had a hard time qualifying because of weekly program fees
"My philosophy is there is racial injustice and disparities of how people are treated in this system. And we have to be intentional in how we address it," Gonzalez said.
Through a grant from a national nonprofit criminal justice advocacy group, Vera Institute of Justice, and a local organization, People Living in Recovery, Gonzalez is redesigning the program to make it more accessible.
Many of the changes enacted by states following George Floyd's death have centered on policing tactics and not on racial disparities in the criminal justice system. On a national level, bipartisan congressional talks on overhauling policing practices have ended without an agreement, bargainers from both parties said this past week, despite promises from the Biden administration for change.
And now, groups such as Vera are targeting suburban communities to push through criminal justice changes without new laws.
Vera awarded 10 prosecutors about $550,000 to help reduce racial disparities in prosecution. The prosecutors in Georgia, Virginia, Michigan, Hawaii, Pennsylvania, Missouri, New York and Indiana — most of whom were elected in the past two years on progressive platforms — are looking at programs or policies in their offices that disproportionately affect defendants of color.
Some prosecutors are addressing prosecution of specific crimes or making diversion programs more inclusive. Others are looking at ways to keep juveniles out of the criminal justice system all together.
"There was a desire to do more in this moment, to address the system that continues to allow this to happen. So we started asking if there is something more we can do with this unique moment to reimagine what a just system looks like," said Jamila Hodge, the former director of the Reshaping Prosecution Program with Vera.
In Gonzalez's district, for example, about 22% of the district's overall population is Black. Of the more than 6,800 people charged during 2019 and 2020, the majority were Black. Fewer than 150 were referred to the pretrial program, and most came from a county that is only 5 % percent Black.
She hopes to double participation in her program by 2022, and will put in checks to monitor that the diversity is increasing.