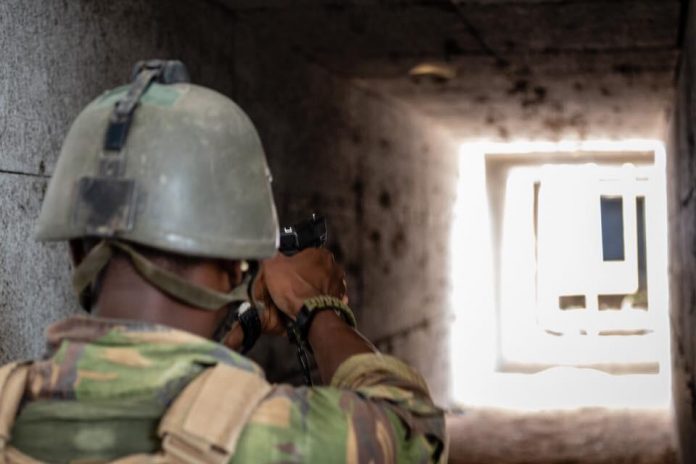 The Bravo Wonju Company of 11 Airmobile Brigade practiced for the last time in the Caribbean as a rotating CIDW unit during the WONJU PATROL exercise. This time, the infantry battle groups were physically challenged under aggravated circumstances such as little sleep and limited eating. The soldiers are tested on skills and drills, physical fitness and mental resilience to determine who the best infantry group within the rotating unit is. The program included the Drie Gebroeders, repelling from the Juliana Bridge and activities in and around the water. A new CIDW, rotation 33, will arrive at the end of February. They are the Alpha Company of 11 Infantry Battalion Garderegiment Grenadiers and Hunters nicknamed the "King Company".
Transport ship Commandant of the Navy in the Caribbean on dry land in the Netherlands.
The maintenance of Zr. Ms. Pelikaan is in full swing. Damen Shipyards Group will carry out a so-called "Mid-Life Update" on the transport ship in the coming months. This makes the ship usable again in the coming years.
Last week the Pelikaan was transferred from the maintenance jetty in Den Helder to Harlingen. Here the ship went into the dry dock to start the second phase of the maintenance_an important process of the update. At the dry dock maintenance can be done on the outside and bottom of the ship which consists of new paint layers and maintenance to the ship rudders.
The Pelikaan has not been seen in the Caribbean since the beginning of November. She made a crossing to the Netherlands, with the first maintenance started mid-December. The ship will be operational again in August. This is deliberately planned so that the ship can support one of the most important Defense tasks in this region: supporting civil authorities, such as the provision of emergency assistance following natural disaster.