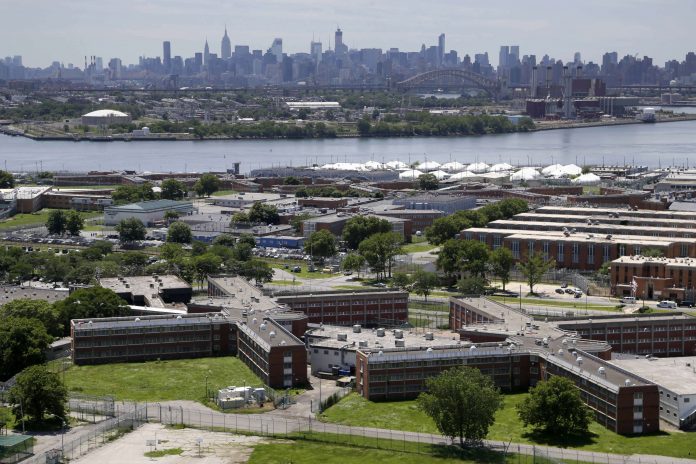 By JAKE OFFENHARTZ
NEW YORK (AP) — Facing the looming prospect of a federal takeover, New York City's troubled Rikers Island jail complex is failing to meet a court-ordered requirement to properly clean and maintain its facilities, according to a new report issued by a federal monitor.
In a progress report released Thursday, the monitor described a decrepit jail complex where detainees are forced to live in damp, fetid quarters infested with mold, vermin and other "generally unsanitary" conditions.
Despite some progress toward collaboration, the monitor — a court-created body known as the Office of Compliance Consultants — found thousands of open violations inside the jail, ranging from "chronic pooling" of water, clogged vents limiting air flow and the persistent smell of sewage. One detainee complained his cell was full of mice "because there's no dust pan on unit to properly pick up the trash,"
The report also faulted jail leaders for failing to maintain key infrastructure, including a sprinkler system that was out of service during an April fire that injured five people. The broken system was only disclosed after the monitor inquired about the extent of the damage, according to the report.
The findings represent the latest setback for the notorious city-run jail system, and could undercut Mayor Eric Adams' argument that his administration should remain in control of the complex at a moment when a federal judge is considering putting Rikers Island in receivership.
The possibility of a federal takeover, an extraordinary step, follows a report from a separate monitor that uncovered a pattern of disturbing incidents — including detainee deaths and gruesome injuries — that correction officials failed to report.
Mayor Adams has defended his stewardship of Rikers Island, arguing that his administration is working to stabilize a jail system that spiraled into chaos during the pandemic.
On Thursday, a spokesperson for the city's Department of Correction said the jail's facilities were cleaned three times daily, adding the agency was in the process of updating its internal tracking procedures. Correctional leaders are also working with a fire safety consultant to enhance its safety procedures, the spokesperson said.
The latest report stems from a 1975 class action lawsuit challenging "environmental conditions" inside Rikers Island. As part of an agreement, the city agreed to meet certain requirements around sanitary practices, ventilation systems, and fire safety.
The monitor has frequently found the city in violation of those orders, leading to admonishments and promises of reform. In the latest monitoring period, which covered the first four months of this year, "the only aspect of the Court's order that the Department substantially complied with is providing a sink," according to the monitor.
Lauren Stephens-Davidowitz, a staff attorney with the Legal Aid Society, said the lack of urgency around the issue was further proof the city was ill-equipped to care for its incarcerated population.
"There's a disregard for the health and well being of the people living at Rikers Island," she said. "The report describes completely unacceptable, dangerous and disgusting conditions in a place that over 6,000 people call home."