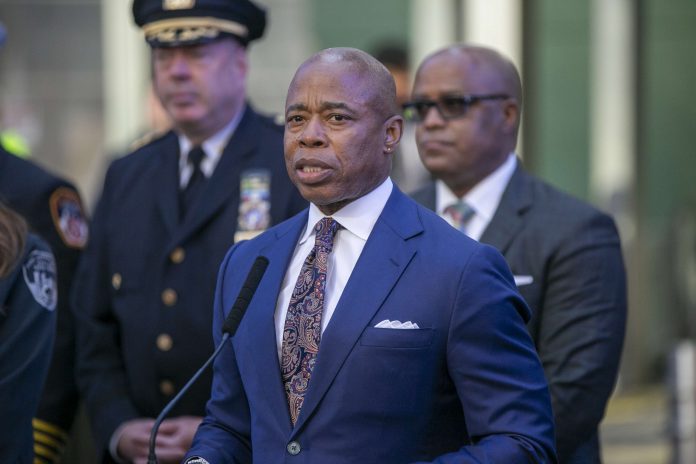 By Anthony Izaguirre
Associated Press
ALBANY, N.Y. (AP) — New York City Mayor Eric Adams on Tuesday said he will travel to Latin America to discourage people from seeking asylum in the city as it struggles to handle a massive influx of migrants that have overwhelmed its shelter system and strained financial resources.
The Democratic mayor is set to visit Mexico, Ecuador and Colombia during a four-day trip this week. The city has absorbed almost 120,000 migrants over the past year, with hundreds still arriving daily in need of housing and employment.
"We want to give an honest assessment of what we are experiencing here in this city," said Adams. "We are at capacity."
"We're going to tell them that coming to New York doesn't mean you're going to stay in a five-star hotel. It doesn't mean that, the mere fact that you come here, you automatically are going to be allowed to work," he said.
Adams has made a series of urgent pleas for a shift in federal immigration policy and for funding to help the city manage the arrival of migrants, which he said could cost the city $12 billion as it rents space at hotels, erects new emergency shelters and provides various government services for asylum seekers.
The trip will begin Wednesday in Mexico, where Adams will attend the North Capital Forum and meet with government officials. He will then travel to Quito, Ecuador, for additional meetings before he heads to Bogotá, Colombia and eventually to the Darien Gap, a dangerous section of the route many migrants pass through on their way to the U.S.
Adams has recently moved to tighten New York shelter rules by limiting adult migrants to just 30 days in city-run facilities amid overcrowding. The city is also resisting a court ruling that requires it to provide shelter to anyone who requests it.
City and state leaders in New York, Illinois and elsewhere have urged the federal government to make it easier for migrants to get work permits, which would allow them to pay for food and housing.