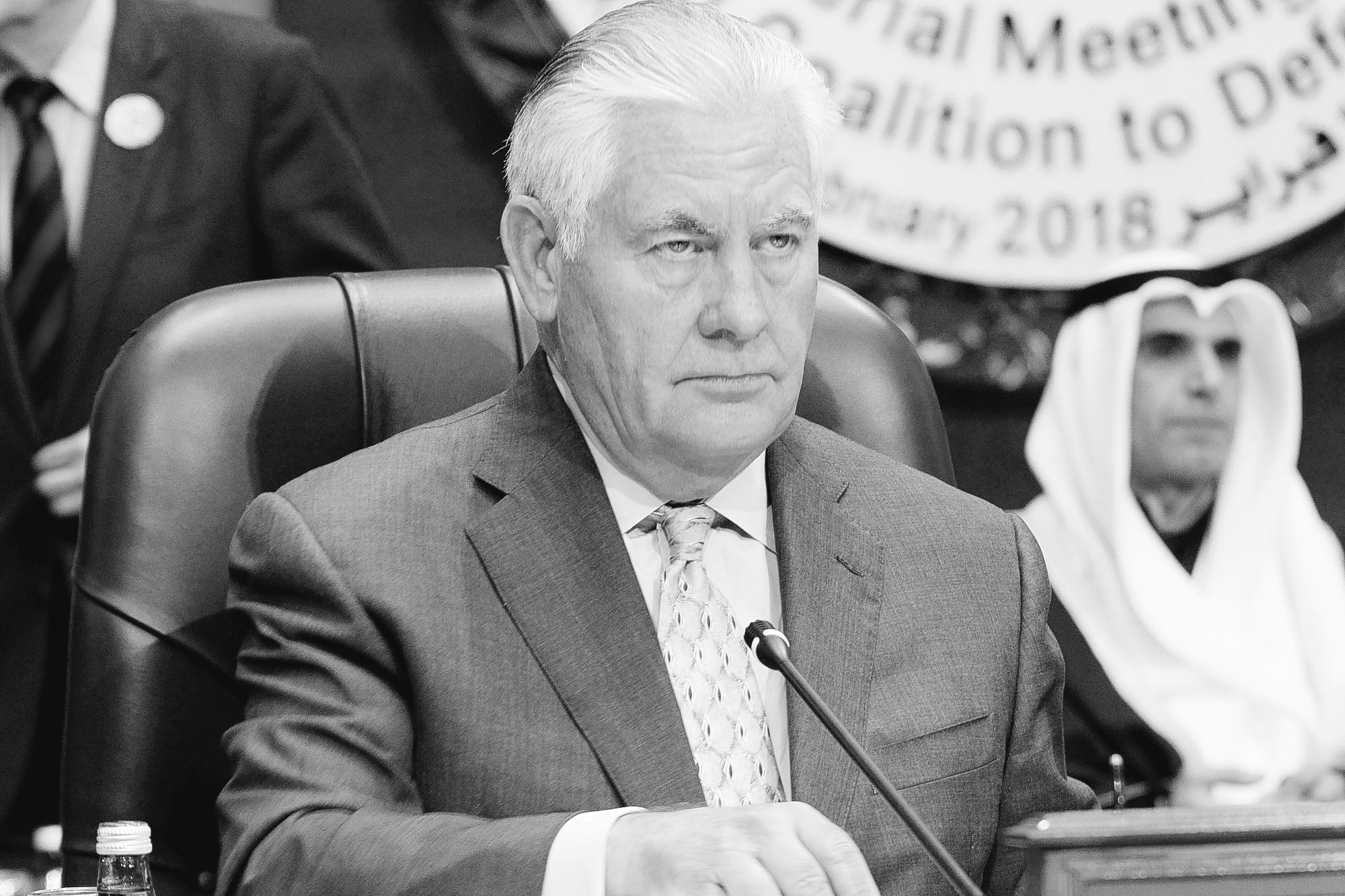 By MATTHEW LEE
AP Diplomatic Writer
KUWAIT CITY (AP) — The Trump administration's appeal for unity fell on a critical deaf ear Tuesday as the latest expression of U.S. support for Kurdish rebels in Syria enraged America's NATO ally, Turkey, and overshadowed Secretary of State Rex Tillerson's plea for nations fighting the Islamic State to overcome rivalries and concentrate on eradicating the extremist group from the Middle East.
While Tillerson sounded the alarm over distractions that threaten the gains of the anti-IS coalition, Turkish President Recep Tayyip Erdogan bashed the United States for proposing to send $550 million dollars in new assistance to Syrian opposition forces. Most, if not all, will go to Syrian Kurds, counted on by the U.S. to defeat IS forces, but seen by Turkey as terrorists in their own right.
Turkey has been attacking the Kurds in Syria for the past three weeks, despite U.S. calls for restraint. And Erdogan's angry comments — including a warning that Turkey's foes may feel "the Ottoman slap," a reference to the Ottoman Empire's onetime might — set the stage for contentious talks to come when Tillerson visits Ankara later this week.
U.S. officials already expected the Friday discussions would be difficult and had sought to soothe Erdogan's anger by stressing transparency in their support of the Kurds and commitment to Turkey's security. But the proposed new assistance to the Kurds, outlined Monday in the Trump administration's budget request, clearly undermined the calming effort.
The White House is asking Congress for $300 million "to train, equip, sustain and enable" vetted Syrian opposition groups to defeat the Islamic State. It wants $250 million for a border security force that would stem the flow of extremist fighters.
"If we are together in NATO, the United States has to abide by NATO rules as much as Turkey," Erdogan said. "If a terror organization is attacking your ally, as a NATO member you have to stand against this."
Erdogan also took aim at comments from a U.S. commander who said the United States and its partners in Syria would hit back if attacked. "To those who say, 'If they hit us, we will respond with force', it is clear that they have never experienced the Ottoman slap," Erdogan said.
The Turks are riled over Washington's support for the Syrian Kurdish People's Protection Units — the top U.S. ally in the fight against IS. Turkey considers them a "terrorist" group linked to Kurdish insurgents fighting within Turkey's own borders.
Tillerson, meanwhile, appealed for coalition members not to lose sight of their ultimate goal in Iraq and Syria at a critical moment with the mission shifting from offensive military operations to stabilization.
"The end of major combat operations does not mean we have achieved the enduring defeat of ISIS," he told a meeting in Kuwait City, using an alternative acronym for the Islamic State group. "ISIS remains a serious threat to the stability of the region, our homelands and other parts of the globe. Without continued attention and support from coalition members, we risk the return of extremist groups like ISIS liberated areas of Iraq and Syria and their spread to new locations."
Turkey's hardly the only distraction. Renewed spillover from Syria's civil war is creating conditions for a host of new conflicts in the region. A U.S. strike last week reportedly killed private Russian military
contractors fighting in the country, though the reports couldn't be immediately verified. Iran and its proxies in Syria have clashed with Israel.
As he has before, Tillerson said he appreciated Turkey's security concerns. But the U.S. message was clear: Addressing those shouldn't come at the expense of fully defeating IS. If the Syrian Kurds feel threatened, American officials said, they'll move their forces away from Islamic State fronts, prolonging the fight.
In Rome, at a meeting of defense ministers Tuesday, Defense Secretary Jim Mattis flatly rejected one claim by Turkish officials that the U.S. is leaving pockets of Islamic State militants in Syria to prolong the war. He said the large number of U.S.-backed forces and rising Islamic State group casualties are proof such claims aren't true.
"We don't bypass ISIS," Mattis said. "Our tactics are tactics of annihilation."