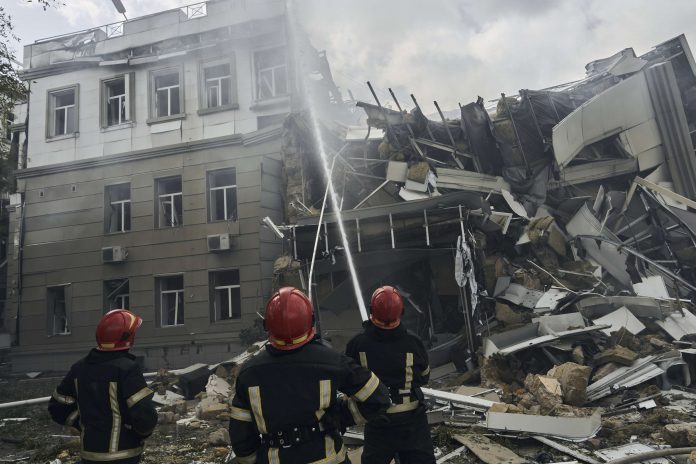 FATIMA HUSSEIN
Associated Press
WASHINGTON (AP) — The United States on Thursday imposed sanctions on roughly 120 firms and people from Russia to the United Arab Emirates to Kyrgyzstan in an effort to choke off Moscow's access to products, money and financial channels that support its invasion of Ukraine.
The sanctions imposed by the Treasury and State departments target dozens of Russian mining, technology and munitions firms and commercial banks. In addition, a group of Kyrgyzstan-based electronics firms and its leadership were targeted as exporters of components and other technology to Russia.
A UAE-based engineering company that sent dozens of shipments of electronics to Russia was also sanctioned.
The latest sanctions build on those imposed on Russia when the U.S. and other Group of Seven nations rolled out a wave of global actions during a Japan summit in May.
"Since Russia launched its full scale invasion of Ukraine, the United States, working with our allies and partners, has taken unprecedented steps to impose costs on Russia and promote accountability for the individuals and entities who support its illegal war," U.S. Secretary of State Antony Blinken said in a statement.
"We will continue to stand with Ukraine for as long as it takes," he said.
After the invasion's one-year anniversary in February, U.S. officials said Russia's metals and mining sector would be a focus of future sanctions actions, as well as reducing Russia's energy revenues through the imposition of a price cap on Russian oil.
Deputy Secretary of the Treasury Wally Adeyemo said Thursday's actions represent "another step in our efforts to constrain Russia's military capabilities, its access to battlefield supplies, and its economic bottom line."
"As long as Russia continues to wage its unprovoked and brutal war against Ukraine, we will impose sanctions to deprive Russia of the technology it needs and disrupt the Russian arms industry's ability to resupply," Adeyemo said in a statement.