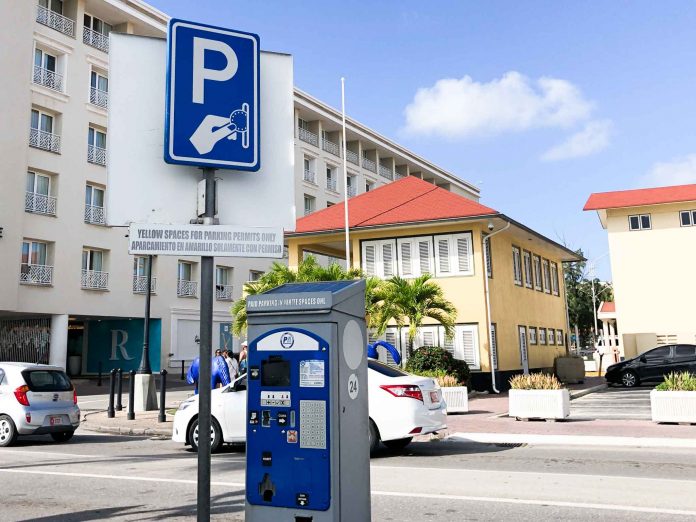 During a press conference yesterday, the director of Aruparking NV informed the community on the new policy for Aruparking. Mr. Mohamed explained the restarting of the control on parking, which will take place in phases, beginning with a phase of awareness.
During the first phase, they will be handing out stickers so that every user will be well informed and aware, so that everyone has a chance to comply with parking rules.
The awareness phase will last for three months before the reactivation of the control on Aruparking. After this, if someone is parked illegally, they will be sanctioned. For now, Arubaparking will control the citizens committing infractions by sticking an orange sticker, to communicate the infraction.
Aruparking will control, among other things, the permit of all those parking in the yellow spots. It will also control if the parking is incorrect, for example, parking on the sidewalk. White spots will be destined for those who pay at the parking meters. Aruparking is working on the maintenance of the parking meters in order to reactivate them at the beginning of 2023.
Regarding sanctions against those breaking the rules, this will be decided shortly. It was agreed with the Raad van Commissarissen of the agency that they will present their advice to minister of Transport, Ursell Arends. The minister will bring this during the Council of Ministers where they will deliberate to reach a position for the government. This way they intend to reach the best solution to manage parking in the city centre and to reactivate Aruparking in its totality in 2023.
"There is a demand in the community for a parking management in the city centre. We must give our people time to get used to an active Aruparking again, and this is why we are starting with a sticker action. This way our people will become aware of where and how it is allowed to park. For this reason there won't be any sanctions yet. The decision on how to implement [sanctions] will be taken later according to our plans", minister Arends emphasized.