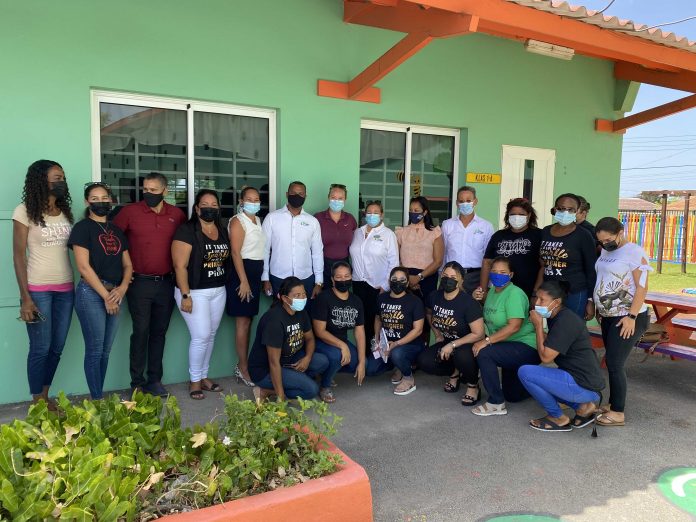 DIVI & TAMARIJN ARUBA ALL INCLUSIVES partner with FUNDASHON DIVI IMPACT, to make a big difference for elementary school, in Dakota
A few days before school opening in Aruba, new bathrooms were inaugurated at Pius X school, in Dakota, in the presence of the cheerful headmaster, teachers, and support staff.
The bathrooms were renovated by Divi & Tamarijn All Inclusive with funds collected by Divi Impact Foundation. According to headmaster Sheila Tromp, the project took just over three weeks, and will contribute greatly to the students' wellbeing and comfort, and to the 61-year-old facility, in general. It gave Ricardo Vrolijk, president, Impact Foundation, and Yanel Olivero, board member and project leader, great pleasure to deliver the upgraded, modern facility on time. They were supported by board members Francis Ridderstap, Maria Esquera, Pearl Lake, and Island Marketing & Promotion Manager, Tabitha Fecunda, as they showed the project off to members of the local press.
Divi & Tamarijn All Inclusive Resorts were introduced to Pius X elementary school on the Kids Council platform, an initiative by Dutch Princess Laurentien in which local 6 graders got to brainstorm, resolving adult challenges, in hospitality. The initiative resulted in collaboration beyond the council, and the partners, Divi & Tamarijn All Inclusive Resorts and Fundashon Divi Impact, deserve recognition for the ongoing, long term, good work they have been doing for the community. In recent years, work teams consisting of volunteers and professionals have been working at the Pius X school in Dakota, painting, fixing the roof, cleaning and restoring classrooms and the gym hall. A donation of 28 new air-conditioners followed, installed in classrooms which previously offered education under uninsulated corrugated roof panels. It was a long process that required addition power infrastructure, and a substantial investment. On another occasion, the school received eBoards, the easy-to-use web solution which supports communication and collaboration in the classroom, integrating the latest technology.
In January of 2021, Divi & Tamarijn All Inclusive with partner Divi Impact delivered 200 tablets to the eagerly awaiting students who from then on study math and other complicated subjects on an interactive Dutch platform, with their teacher as coach and mentor, helping them through the curriculum at their own pace. That was the last time, the late managing director, Alex Nieuwmeyer, attended a donation celebration. While he has departed, his important work is ongoing.
Divi IMPACT is a non-profit organization that was established on September 2, 2010, with the goal to fundraise for a scholarship fund is used to assist Divi employees and/or their children who wish to pursue a higher education, on island or abroad. The Foundation's goal is to inspire and motivate Divi's company leadership, owners, guests, business partners and employees to donate time, money and resources to help the community in creating a higher standard of living and to enhance the Divi Brand locally, by creating educational assistance for employees and their kids. Divi IMPACT raises money year round by deducting small amounts from company employee salaries and by soliciting guests' donations. They have invested many thousands of florins in the Pius X school already! Pius X school belongs to SKOA, Stichting Katholiek Onderwijs, the foundation running 15 kindergartens, 25 elementary schools, 5 secondary schools and 1 school for students with special needs. Eighteen of the foundation's learning institutions are still on the list for air-conditioning installation.
The press was invited to visit the elementary school, as representatives of Divi & Tamarijn all-inclusive inaugurated the new bathrooms, with a simple, attractive, and easy to clean design. The support stuff has also been provided with rolling housekeeping carts for their cleaning supplies. As a result of Divi & Tamarijn involvement with the school for seven years, the facility, classrooms and gym hall, are nicely painted and in excellent state of repair, including flowering pots and colorful school-yard designs. The school presented Divi with a token of appreciation. President Vrolijk reports the list of future projects is long; it is continuously compiled, including scholarships for students and recently a Back to School project for supplies.