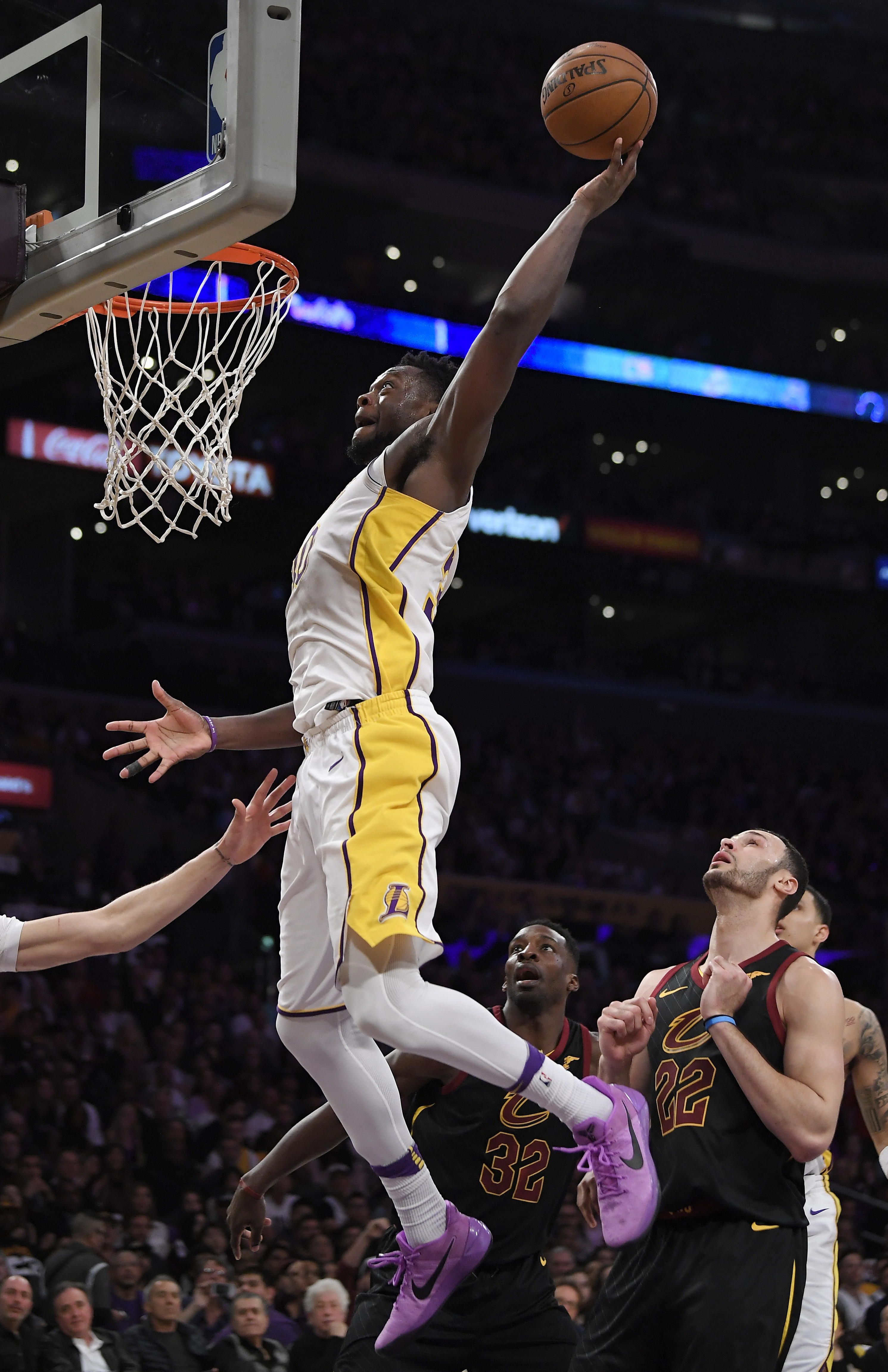 By The Associated Press
LOS ANGELES (AP) — Julius Randle had a career-high 36 points, 14 rebounds and seven assists, and the Los Angeles Lakers auditioned for LeBron James' favor in free agency with a 127-113 victory over the Cleveland Cavaliers on Sunday night.
Isaiah Thomas had 20 points, nine assists and five rebounds against his former teammates as the Lakers roared away from James and the defending Eastern Conference champions in the second half. With its sixth win in eight games overall, Los Angeles (30-36) emphatically snapped a seven-game losing streak against Cleveland. James had 24 points, 10 rebounds and seven assists for the Cavs, who have lost four of six after getting swept at Staples Center by the Clippers and Lakers.
Starting center Larry Nance Jr. had 24 points and eight rebounds, and Jordan Clarkson added four points in their first game against the Lakers since they were traded for Thomas and Channing Frye on Feb. 8. Brook Lopez scored 22 points for the Lakers, and Kentavious Caldwell-Pope added 20.
RAPTORS 132, KNICKS 106
NEW YORK (AP) — Jonas Valanciunas scored 17 points, Kyle Lowry had 16 and the Toronto Raptors kept right on rolling after a big win two nights earlier, beating the New York Knicks for their season-high eighth straight victory. The Raptors had no letdown after edging NBA-leading Houston on Friday in a matchup of the No. 1 teams in each conference, leading much of the game even with All-Star DeMar DeRozan shooting just 4 for 16 for nine points.
But seven Raptors finished in double figures in Toronto's 15th win in 16 games. The Raptors fell one point shy of their highest total of the season, set in a victory over Cleveland on Jan. 11. Tim Hardaway Jr. scored 25 and Luke Kornet had 18 as the Knicks dropped their seventh straight game and 15th in the last 16.
PACERS 99, CELTICS 97
BOSTON (AP) — Victor Oladipo scored 27 points, then committed a dead-ball offensive foul with 1.5 seconds left that gave Boston a shot to win the game at the buzzer, but the Indiana Pacers held on to beat the depleted Celtics. Myles Turner scored 19 points, including the game-winning basket with 21 seconds to play, and added 10 rebounds for Indiana, who survived the crazy ending to win for the fifth time in six games.
Boston led by 10 at halftime before point guard Kyrie Irving left the game with a sore left knee, joining absent big man Al Horford, who was home sick, and Jaylen Brown, who is in the concussion protocol. After Boston rallied to tie 95-all with 37 seconds left, Turner gave the Pacers the lead again and, after Terry Rozier's miss, Indiana hit a pair of foul shots to take a four-point lead. With fans heading for the exits, Tatum hit a seemingly meaningless layup to cut the deficit to two points with only 1.5 seconds left. But before the ball could be inbounded, Oladipo was whistled when his elbow caught Marcus Morris in the face. A review confirmed the call. Boston inbounded the ball to Rozier, who took a long 2-pointer that bounced off the near side of the rim.
TIMBERWOLVES 109, WARRIORS 103
MINNEAPOLIS (AP) — Karl-Anthony Towns helped Minnesota stop a season-longest three-game losing streak with 31 points and 16 rebounds, and the Timberwolves powered their way past Golden State down the stretch to hand the Warriors their second straight defeat without Stephen Curry. Kevin Durant had 39 points and 12 rebounds for the Warriors, who left Curry at home from this road trip to rest an injured right ankle and lost 125-108 to Portland on Friday."
Andrew Wiggins added 23 points for the Timberwolves, who lost twice on the road to the defending champion Warriors earlier this season by a combined 37 points. Curry had a collective plus-36 rating over those two games. Klay Thompson had 21 points for the Warriors, but he went 3 for 12 from 3-point range.
ROCKETS 105, MAVERICKS 82
DALLAS (AP) — Eric Gordon scored 26 points and Chris Paul had 24 points and 12 assists as the Houston Rockets, playing without James Harden, beat the Dallas Mavericks. The Rockets rested Harden because of a sore left knee, but had plenty of 3-point shooting even without their MVP candidate. Houston, which had its 17-game win streak snapped Friday in Toronto, broke the game open in the third quarter by hitting their first six 3s of the period amid a 22-10 run. The Rockets finished 17-for-45 from deep. The Rockets moved 1 1⁄2 games ahead of Golden State for the best record in the NBA after the Warriors lost to Minnesota earlier Sunday. Dwight Powell led the Mavericks with 20 points, one short of his career high, on 9-of-11 shooting.
NUGGETS 130, KINGS 104
DENVER (AP) — Nikola Jokic had 20 points, 11 rebounds and 10 assists for his seventh triple-double of the season, Gary Harris added 21 points and the Denver Nuggets cruised past the Sacramento Kings. Denver led by as many as 36 points while staying in the thick of the playoff chase. The Nuggets now enter a difficult stretch in their schedule — eight of their next nine games are on the road. Buddy Hield scored 18 points, while former Nuggets player Kosta Koufos chipped in 14 points and 10 rebounds for the Kings, who play Monday night in Oklahoma City.
BULLS 129, HAWKS 122
ATLANTA (AP) — Zach LaVine scored 21 points, including four free throws in the final 17 seconds to stop Atlanta's comeback, and the Chicago Bulls beat the injury-depleted Hawks.
Bobby Portis also had 21 points for Chicago. The Hawks, already playing without injured point guard Dennis Schroder, lost Kent Bazemore to a right knee sprain and Jaylen Morris to a left ankle injury in the second quarter. Taurean Prince led Atlanta with a career-high 38 points. Mike Muscala also set a career high with 19 points.
JAZZ 116, PELICANS 99
NEW ORLEANS (AP) — Ricky Rubio had 30 points, 10 rebounds and seven assists, and Utah
overcame Anthony Davis' first career triple-double for a victory over the New Orleans Pelicans that extended the Jazz's winning streak to six. Donovan Mitchell scored 27 points, including 15 during the last 3:08 of the third quarter to put Utah in front for good in what could be an important victory in a tightly packed race for one of the Western Conference's final five playoff spots. Rudy Gobert added 19 points and 16 rebounds, and Joe Ingles scored 20 for Utah, which has won 11 straight on the road. Davis had 25 points, 11 rebounds and a career-high 10 blocks in his return from a sprained left ankle that sidelined him for one game. Jrue Holiday had 18 points and 10 assists for the Pelicans, but missed 12 of 19 shots, turned the ball over four times and struggled defensively.
76ERS 120, NETS 97
NEW YORK (AP) — Joel Embiid scored 21 points, Robert Covington added 19, and the Philadelphia 76ers routed the Brooklyn Nets. Dario Saric scored 18 points and Ben Simmons had 11 points, six assists and six rebounds for the 76ers, who were able to avenge a disappointing loss to the Nets at Barclays Center in January. D'Angelo Russell had 26 points for the Nets, who have lost 13 of their last 15 games.