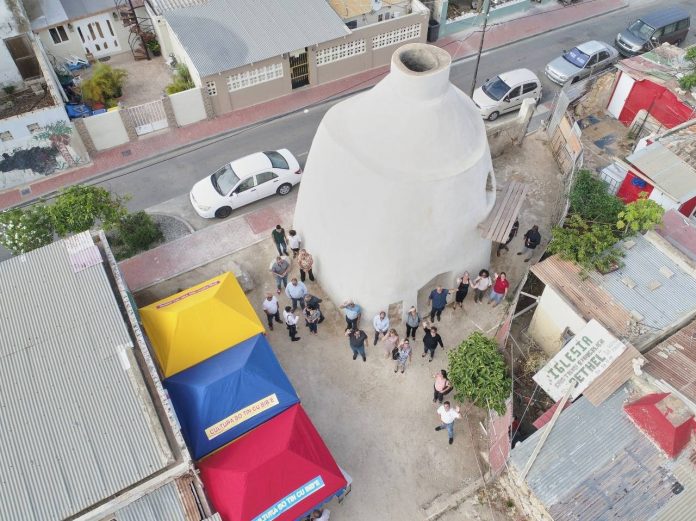 On Friday 3rd of July, Monuments Fund Aruba (SMFA) celebrated the termination of the Lime Kiln restoration project in Rancho and a user agreement was signed with the Rancho Foundation.
From today on the Rancho Foundation can make free use of the lime kiln for their walking tours. For years, the Rancho Foundation has been committed to raising awareness and education about the Rancho neighborhood and its monuments. The Lime Kiln is a 128-year-old industrial monument that was last restored around the 1970s. In recent years, unfortunately the lime kiln has been in a very bad condition.
Since it is an object that cannot be rented out, it was difficult to obtain financing for this project. Thanks to partners such as Aruba Bank, VNO, Unoca and Prins Bernhard Cultuurfonds, it was possible to restore the lime kiln completely in 2019.
At the fourth Conference of Caribbean Heritage Organizations, in early 2019, SMFA was introduced to Parvenir Heritage Restoration and Maintenance Co. Ltd. from Trinidad and Tobago. As a contractor, they have extensive experience in working with limestone and lime plaster. And they have set themselves the goal of sharing their knowledge in the Caribbean.
The knowledge about lime production and processing has almost disappeared from Aruba in recent years. This makes restorations more difficult and SMFA also experiences many problems with the maintenance of limestone buildings and objects. Therefore, SMFA has decided to combine the restoration project with a traditional stone masonry course.
The restoration started at the end of September. In total, 17 people participated in the course and received a certificate from Enseñansa pa Empleo. After the course, the restoration continued with the help of a group of Parke Arikok rangers who also attended the course. And together with Parvenir who led both the course and the restoration they completed the project.
The restoration project was smaller than projects they have done in the past, but it certainly had its challenges. This is partly due to the very poor condition of the oven.
Due to the situation with addicts around the lime kiln, SMFA have decided to close the entrances to the lime kiln with gates to prevent incidents as in the past.
SMFA is very pleased with the result and to having contributed to a positive development in the area of Rancho and we hope this project can inspire more positive developments and projects in the future.