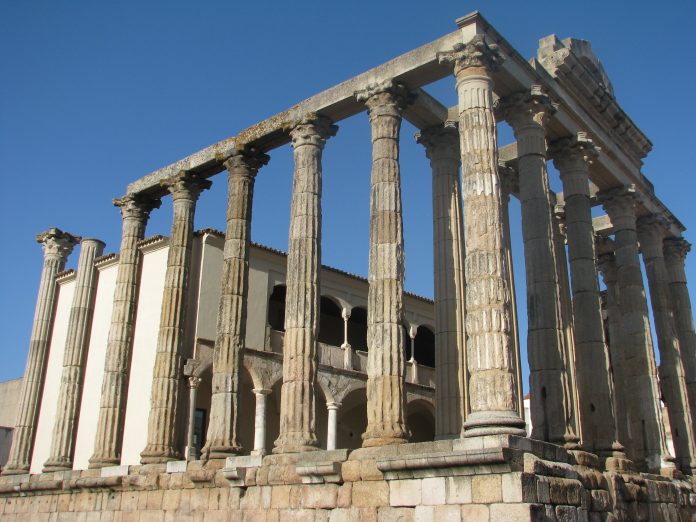 The flamenco strains were so haunting I asked the quintet of 20-somethings playing guitars on the doorstep of a massive, whitewashed centuries-old church if I could listen for a spell.
"Sure. Want a sip?" one replied, offering the litrona — a quarter-gallon bottle of beer — they were sharing. Then they went back to jamming, their notes echoing up the steep, narrow lane in one of the most monument-filled, tourist-empty cities in the Iberian peninsula.
Caceres is a highlight of Extremadura, a Spanish region of vast sun-parched landscapes and untouched historical jewels exactly halfway between the ever-more-crowded capitals of Madrid and Lisbon, Portugal.
I spent a weekend there last October exploring Roman ruins, climbing up medieval towers and scarfing down plates of the famed local ham without seeing one tour group.
I traveled mostly on comfortable public buses that rolled through olive and oak tree-studded hills, past fortified towns and palm-fringed farms, stopping to pick up schoolchildren returning home and elderly couples going to market.
Every stop appealed — especially Trujillo with its castle — but I focused on three must-sees: Merida, Caceres and Guadalupe.
IMPERIAL POWER.
This small city played a role in two of the world's great empires, Rome's and Spain's.
As their provincial capital, Romans filled Merida with public and private showpieces. Centuries later, many of the conquistadores that led Spain's dominion in the Americas came from this region (and returned to fill it with palaces).
Just across the two-millennia-old, half-mile river bridge, stand a couple of monuments dedicated to Merida by Rome and by its namesake city in Yucatan, Mexico.
Next to the monuments, in a fortress built by a ninth-century emir, I descended the steps of a water cistern decorated with Roman and Visigoth marble panels and carvings of leaves and grapes. Just past the bright-red bullfighting arena, in the Roman Casa del Mitreo, I marveled at the bright turquoise sea depicted in a 2,000-year-old floor mosaic representing the cosmos, including a sun figure with a crown of rays exactly like the Statue of Liberty.
There is a Circus Maximus so gigantic you can imagine thousands of spectators roaring as chariots sped down the straight. But what took my breath away was the Roman Theater, its stage wall decorated with exquisitely detailed floral elements and veined marble columns that glowed blue in the afternoon sun.
In the pedestrianized streets of the workaday downtown, I found the Augustus-era Temple of Diana, its huge colonnade framing a porticoed Renaissance palace — two empires literally fused.
GOLD TREASURE.
Caceres' strawberry-gold walled monumental core hugs a hilltop, with hardly a single modern element among slender medieval towers and Renaissance palaces covered in coats of arms.
It looks perfect enough for a movie set, but still feels real — I watched a nun in a white habit and a briefcase hurry under a stone arch, not a selfie stick in sight.
In Plaza de San Mateo, where a crested tower and a bell tower jostle for height, I chatted about U.S. presidential politics through a convent turnstile with the Kenyan sister selling me almond cookies.
Places to visit include the Santa Maria cathedral, full of conquistador tombs, around the corner from the Toledo-Moctezuma palace built by a mixed local-Aztec family, and the Casa de las Veletas museum, with an arch-lined Arabic aljibe (cistern).
But I found it hard to stop making laps up and down the entire town, following the sun as it marched across stern yet sumptuous facades, revealing sculpted stone details like grimacing gargoyles, lions holding an escutcheon, and a puffy-cheeked sun itself.
Fortified by wild boar tapas and shots of local bellota liquor — made from the same acorns eaten by pigs that end up as Iberia's best hams — I kept wandering into the night. My steps and those flamenco melodies were the only sounds in floodlit cobblestone alleys.
SPIRITUAL ESCAPE.
The enormous swirling rose window of the Royal Monastery of Guadalupe towers over this tiny, remote mountain village where pilgrims have come for seven centuries to honor the Virgin Mary. Columbus was among them and the conquistadores brought the devotion to Latin America, where the Virgen de Guadalupe remains widely revered.
The fortress-like complex is filled with whimsical decorations, such as the cloister shrine and turrets covered in green and white tiles, and treasures, including jewel-encrusted reliquaries and paintings by Zurbaran.
I had my last dinner in Extremadura — wild mushrooms, venison stew and homemade custard — in the little square facing the main monastery entrance, where a few locals chatted and water trickled from a medieval fountain.
The bells tolled. Then, unbroken silence.q