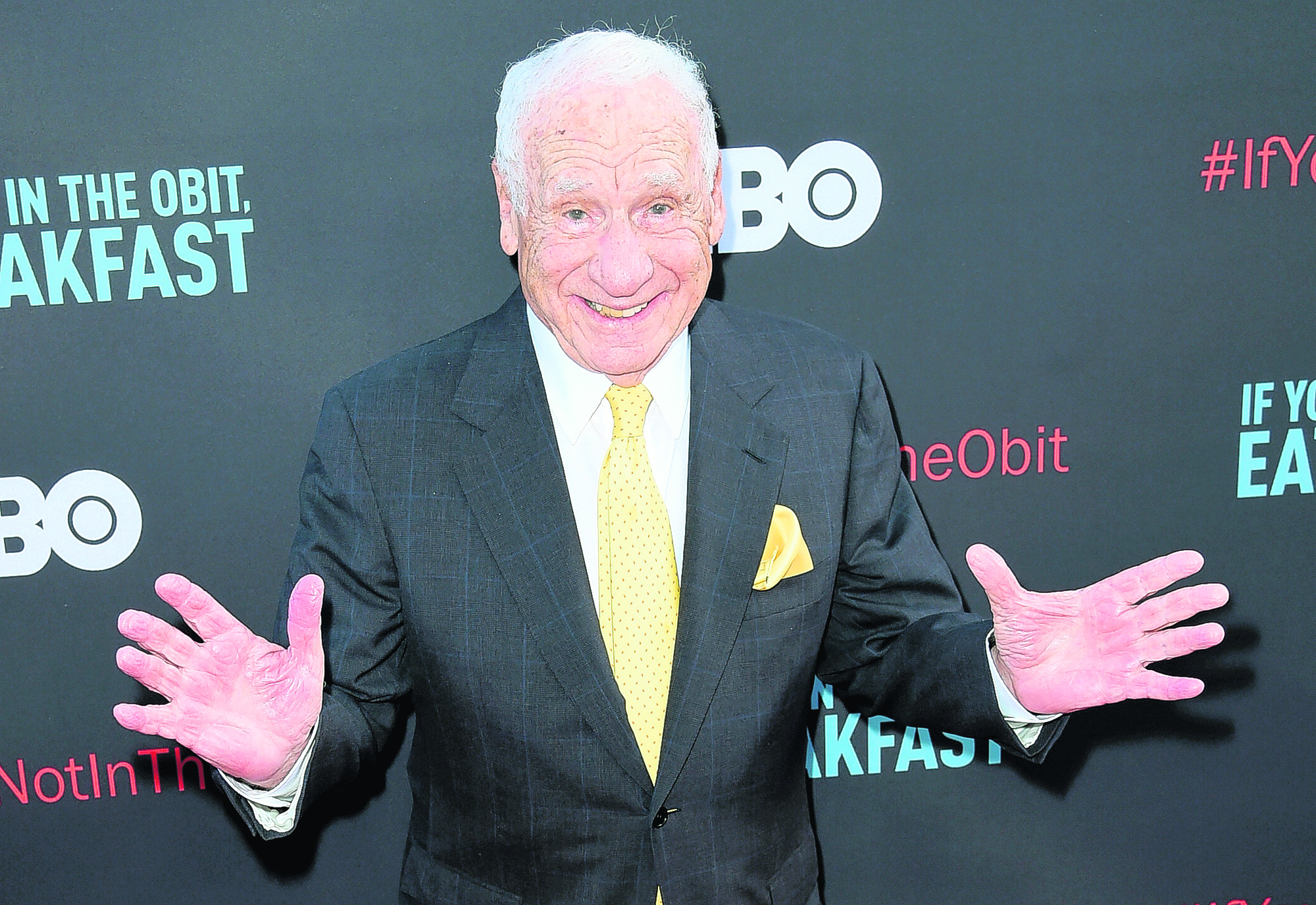 By LINDSEY BAHR
 AP Film Writer
LOS ANGELES (AP) — Mel Brooks is just two months shy of his 92nd birthday and he still carves out time for movie nights with his pal Carl Reiner. The two just recently got together to watch a restoration of the 1938 Errol Flynn and Olivia de Havilland classic "The Adventures of Robin Hood." Classic film and proper presentation are important to the legendary comedian and filmmaker, especially in the age of streaming. This week, Brooks will be on hand to kick off the ninth annual TCM Classic Film Festival at the TCL Chinese Theater Thursday night in Hollywood with a special screening of the first film he ever directed: "The Producers." Brooks spoke to The Associated Press about the film, streaming and even "The Last Jedi." Remarks have been edited for clarity and brevity.
AP: Congratulations on this new restoration of "The Producers."
BROOKS: I'm very thrilled. TCM, these are people I really admire and I love them and God bless them for keeping all the movies that I grew up with still alive, still available. I don't think anybody else does it, or does it as well. When they said they wanted to open their festival with the 50th anniversary of "The Producers," I got very excited.
AP: The film has only grown in esteem too. Why do you think it's endured?
BROOKS: Oh it's very simple and it sounds a little egotistical, but it's because it's very good. The only test — real test — it's not critics. It's never critics. The only test is whether a movie is still around after 10 years, 20 years, 30 years, 40 years and in this case 50 years. So, you know, I know, it must be a good movie or no one would care about it 50 years later.
AP: And Martin Scorsese will be there on opening night too to get the Robert Osborne Award.
BROOKS: He was gracious enough to give me my lifetime achievement trophy at the American Film Institute. I love Marty Scorsese. As a matter of fact, this is a true story, when I was in pre-production on "The Producers," this is a true story and he will never admit it but he and Harvey Keitel were two little ragamuffins who for some reason followed me around when we were in pre-production 50 years ago. I think they were putting together a movie called "Mean Streets" or something. It was pretty weird. But I really admire him. I admire not only his outrageous talent, "Raging Bull" is magnificent, but I admire his love and dedication to the art of movies. He's really one of the great moviemakers of our time.
AP: Like Scorsese, you also have an encyclopedic knowledge of cinema.
BROOKS: Yeah well I'm old, that's the secret. The secret is I've lived a long time. There's a lot of people who love film. I've been around, so there isn't a movie you could name that either I or Carl Reiner couldn't give you a chapter or verse on.
AP: Do you keep up with current movies? Do you get out to the theater or watch them at home?
BROOKS: I don't like to watch movies at home. I don't like to watch movies on TV. I really like going to the theater. I like the community experience, especially if it's a comedy. I like being in the dark and being transported into different worlds, it's very important to me. And now there's a thing that's replaced it. It's called streaming. I'm afraid to make another movie because I don't want it to be seen by millions of people on a telephone. Comedies must be seen by at least 100 people in some kind of theater. It's really heartbreaking to me. You know, movies are still good. Acting is still good. Directing is still good. Writing is still good. It's where they're seen that just really gets me.
AP: Is it a little bittersweet to be celebrating the 50th anniversary of "The Producers" without Gene Wilder and (composer) John Morris?
BROOKS: Yeah. It's heart-rending but it's what it is. And I'm glad that there will be a lot of young people in the audience who will actually understand it. I kind of understand "The Last Jedi." I kind of understand it. There were two or three battle scenes, two big fights where I don't really know who's fighting and why they're fighting, you know? But thank God for "The Empire Strikes Back" because I have something I can refer to. So I know some of the names. I know Han Solo. I know some of the names. But I don't know why they're fighting, I don't really know.
I have a grandson, he's 13 and he knows all the names. He says to me things like, "If you've gone to Jakku you've gone too far." And I say well, "What is Jakku?" and he said, "Well it's a planet." I really don't know these planets anymore. Jakku. Ok. But it's all right. I'm catching up. Young people like big wild future fights. Fighting in the future. I kind of like it too. It's better than fighting at 47th and Broadway, you know? Two guys get out of a car? Yeah, future fights are much better than two guys in a car. Anyway, you've got to ask me two more questions because I've got more things I've got to get done today.
AP: Well, I'll keep it to one big one. What sort of impact do you think you've had on American comedy?
BROOKS: One never really sees themselves in relationship to the wide world. It's rather impossible to judge your impact on moviegoers, your impact on people who like your films or who like your television. It's serious. When they tell me, I'm glad to hear it, but frankly I've got to tell you honestly, I walk past the mirror and I say that's a cute old guy. I don't think it's me! I'm not a cute old guy. I'm still 35, you know? We really can't see ourselves and judge ourselves in relation to other people.