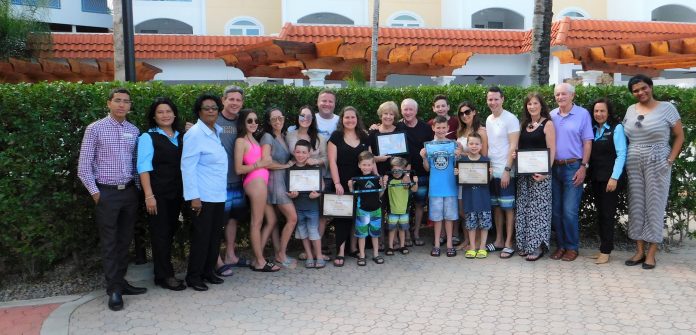 Aruba Tourism Authority representative, Marouska Heyliger, had the privilege in honoring a group of loyal visitors. What made this group extra special is that they all have been coming to Aruba for over 25 years. They received their distinctive certificate of Goodwill and Emerald Ambassadors.
The honorees are:  
Stefanie and Edward Levin who have been coming to Aruba for 25 years
Steven and Rebecca Gidseg for 28 years,
Randy and Barbara Gidseg for 30 years,
David and Lauren Gidseg for 30 years and Emerald Ambassadors Michael and Jill Gidseg have been coming to Aruba for 36 years.
Representatives of the Costa Linda Beach Resort were also present at this special ceremony where they celebrated the longtime friendship and loyalty of these lovely visitors. The honorees stated that Aruba is their favorite island for so many reasons, but specially its beautiful beaches, friendly people and great weather.
The Aruba Tourism Authority and Costa Linda Beach Resort would like to say 'Masha Danki" to all of them for choosing Aruba as their favorite vacation destination for so many years.