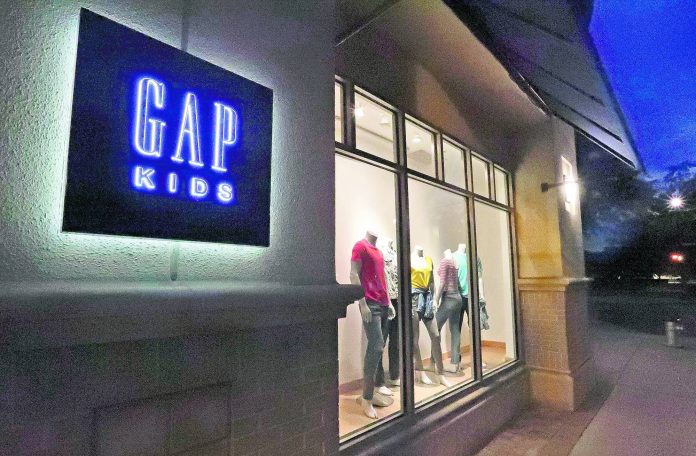 Gap is being sued for refusing to pay rent for stores temporarily closed during the coronavirus pandemic.
Mall owner Simon Property Group said in a lawsuit filed this week that the clothing retailer owes three months of rent, totaling $65.9 million. Gap Inc. has more than 390 stores at Indianapolis-based Simon's malls, including its namesake brand, Old Navy and Banana Republic.
Gap and other major retailers, including sneaker seller Foot Locker, have said they wouldn't pay rent for stores that were forced to close due to the pandemic. In April, Gap warned that it may be sued by its landlords and that a dispute could be costly and have "an uncertain outcome."
San Francisco-based Gap did not respond to a request for comment Thursday.
U.S. trade gap rises to $49.4 billion in April
The U.S. trade deficit hit the highest level in eight months in April. Exports and imports both posted record monthly drops as the coronavirus pandemic smothered America's commerce with other countries.
The gap between what the U.S. sells and what it buys abroad jumped to $49.4 billion in April, up 16,7% from $42.3 billion in March and highest since last August, the Commerce Department said Thursday. April exports fell 20.5% to $151.3 billion, and imports dropped 13.7% to $200.7 billion. April's exports were the lowest in exactly 10 years; imports were lowest since July 2010.
Total trade — exports plus imports — dropped 16.7% in April from March and 24.8% from April 2019.
In much of the world, the pandemic and the lockdowns meant to contain it have brought economic activity to a near-standstill.
The politically sensitive deficit in the trade of goods with China rose 53% to $26 billion in April; goods exports to China rose 29%, but imports rose more — 45% — as Chinese factories ramped up production after a draconian lockdown.
In April. the United States ran a $71.8 billion deficit in the trade of goods such as autos and appliances. It ran a $22.4 billion surplus in the trade of services such as banking and education.
Through April, the U.S. overall deficit in trade of goods and services this year is $168.5 billion, down 13.4% from January-April 2019. Exports are down 9.5% so far this year, and imports have fallen 10.2%.
.