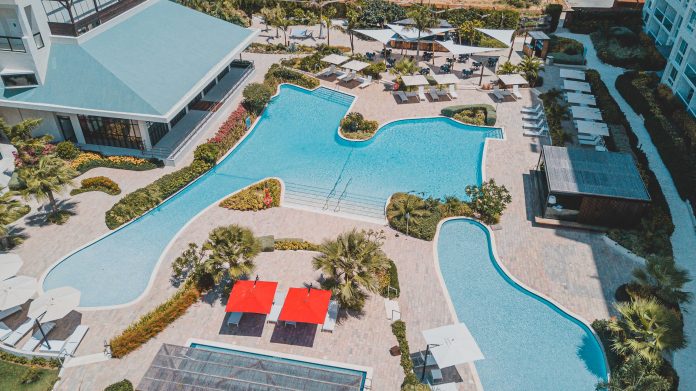 There is a new kid in town, or rather: a new lady named Radisson Blu Aruba. Radisson Blu brand originates from Copenhagen, Denmark, where interior design and style live. The upper upscale hotel brand breathes the freshness of clean sheets, eases your mind with white and light wooded tones and pampers you with a luxury, trendy feel. This resort sets itself apart from the rest with huge, spacious rooms, impeccable service, a beach chic appearance and a superb location where everything you need is within walking distance. The buzzling nightlife of Palm Beach is around the corner, the stunning white-sanded beaches a stone throw away! With special opening rates this is your chance to try the lady in blue!
Fabulous facts
132 expansive suites, which feature free Wi-Fi, multiple bedrooms, a spacious living room and dining area, and a well-equipped kitchen. From 1.073 to 2.147 square feet you will have a perfect match for a family or two couples, or have all the space to yourself; it is entirely up to you. For sweeping vistas of Aruba's beaches, upgrade to a suite located on the top floors of the hotel. Blu's suites offer views of the ocean, island, or pool to inspire you while you relax.
Radisson Blu offers more than most standard rooms, you feel you are renting a condominium with the luxury services of a hotel. On your way to the suite the resort shows you already the attention to details: the elevator space is upgraded with corners of huge bamboo poles and trendy light bulbs incorporated in a wall of wooded decoration. The hallways are high and spacious taking you to the hip suite where the design is white with light wood to provide a luxury, contemporary ambiance. The suite's kitchen is fully equipped with an oven, dishwasher and kitchenware, a big family table ready to invite you to family breakfast or a friends gathering. You feel great, the white interior even accentuates the bright-blue ocean in front of you: inhale this Zen moment from your spacious balcony.
Have a Sunset bite
A delightful breakfast, a scrumptious lunch or a delicious dinner are all possible at Sunset Bistro on the third floor. Here you will find a modern setting by the hotel's infinity pool with amazing ocean views. The chef and his team are clearly dedicated to making you come back presenting to you tasty tapas items or full entrée offerings. One thing has to be said: the hotel's staff makes a difference. Real smiles, real attention and real enthusiasm is what you encounter. Here we are experiencing something new and a new place has new vibes, for you to discover. Go and find out why Sunset Bistro is the next hotspot for a bite, a drink or more.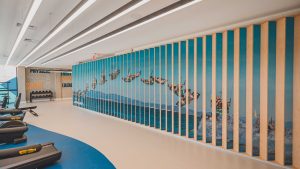 Water wellness
Imagine to wake up in your spacious, stylish suite and after some yawning and stretching you enjoy a cup of Joe on your balcony where your eye catches the huge pool below. This is very inviting and your body needs this as we all know that water makes us feel calm. The only worries you will have is to choose between the infinity pool right in front of Sunset Bistro or the big adult and children's pools centered between the suites and main hotel building. Cindy or one of her colleagues from the Acqua Breeze Pool Bar welcome you with a big smile and Caribbean flair.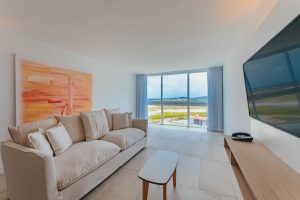 That Blu thing
To say it all in a nutshell: this resort has a special something to it, you feel the difference in the attention, the design, the details and the space. To find out for yourself, you need to dive into the experience and most probably you will say like we do: it's a Blu thing.
Radisson Blu Aruba
J.E. Irausquin Boulevard 97-A
Palm Beach, Aruba
Tel.: +297 526 000
Email: reservations@radissonbluaruba.com
Website: https://www.radissonhotelsamericas.com/en-us/hotels/radisson-blu-aruba