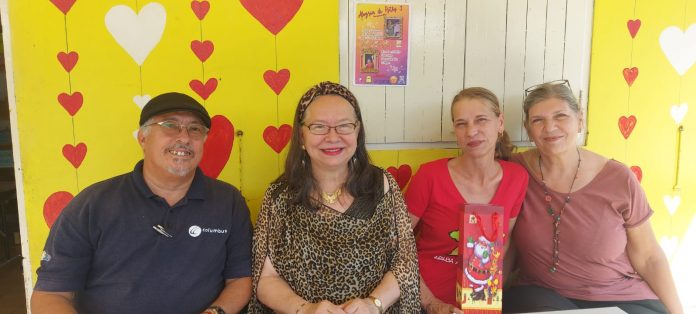 On December 14th of last year, audience at the Cas di Cultura theater enjoyed the third installment of the one-woman show "Alegria di Ruthy #3", where profits from ticket sales were donated to a foundation that is always in need of monetary assistance.
In a press conference Monday morning, Ruthy Vrieswijk-Bergen, better known as "Lady Ruth", cheerfully expressed that she has chosen Tuesday January 10th as an appropriate date to donate the profits from her show to the dynamic team Wayaca Animal Shelter, specifically Miss Sandy and Ria.
"We can look back at yet another successful show. About 200 people were present, some to whom we gifted tickets in the spirit of the holiday season," Ruthy stated.
The sum that has been donated to Aruba Animal Shelter is 1418 florins, which Ruthy expressed was an act of love and dedication, seeing as it was not easy to get many of the public to participate in some of her team's activities due to their other holliday plans with friends and family.
It seems that this was the first time that Ruthy had ever arranged a show in the month of December, during which she was able to experience beautiful moments, including on training nights with her incredible team of artists and musicians in "Veranda Shon Jordan".
Ruthy also expressed her gratitude and satisfaction with how everything had turned out before, during and after her show. There is always room for improvement, but seeing as Ruthy is not a professional, but indeed a multifaceted artist with heart and talent, she gave it her all again and felt the love that the audience had for her resonate in their laughter and applause.
Ruthy decided to make her donation to the shelter after one of her friends made a joke about cats that made Ruthy relate to the animal shelter. Since then the shelter has had a place in her mind and heart. It is for that reason that the profits from her third show were intended to go to this foundation. In the past she made donations to the foundation for women in need (previously named Fundacion pa Hende Muhe den Dificultad, but now known as Fundacion Contra Violencia Relacional) and three groups of Scouting Aruba.
At the end of the conference, she thanked her sponsors and everyone who bought a ticket and went to go see her show; those who shared a night of laughter, music, dancing and poetry with the artist.
Aruba Animal Shelter
As it is known on the island, the first pet law that is still in effect today was implemented on the first of February 1955 to deal with the problem of stray dogs roaming the streets of the island. This problem is one that has been of great concern for Aruba for a while now.
With the support of the Freemasons on the island, Asociacion di Prevencion di Crueldad pa bestianan di Aruba (Association for the Prevention of Cruelty to Animals) started in 1950 and was located in an old bunker close to the airport.
In an effort to maintain a refuge for animals, Aruba Animal Shelter was founded in 1952, but in less than ten years, the organization was abandoned after a shortage of funds and lack of volunteers. It wasn't until 1986, where Aruba Animal Shelter Foundation was registered in a notary along with volunteers and veterinary services that to this day still offer help to cats and dogs that are homeless and that may be at risk of danger on the streets.
For Sandy and Ria of Aruba Animal Shelter, the problem with cats and dogs roaming the streets is still an epidemic. Some owners turn to sterilization and microchipping their pets, but these end up back on the streets. Pet adoption were also low last year, and the organization hopes that this year would bring more people seeking to adopt, more donations and more volunteers in order to maintain their noble cause.