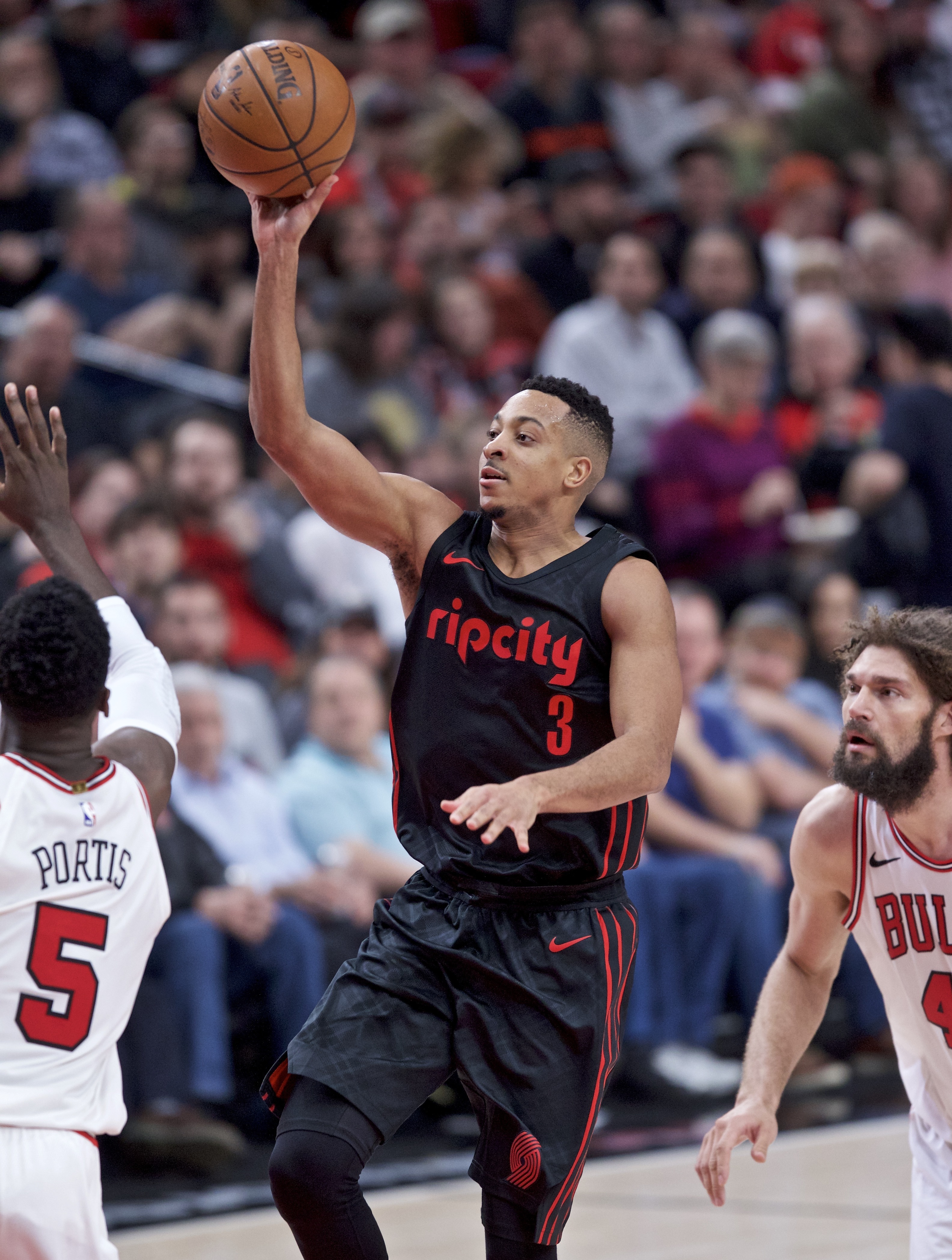 By The Associated Press
CLEVELAND (AP) — LeBron James scored 24 points, Jae Crowder made a go-ahead 3-pointer with 1:21 left and the Cleveland Cavaliers began a long stretch without injured All-Star Kevin Love by holding off the Miami Heat 91-89 on Wednesday night.
The Cavs rebounded from a troubling loss at Detroit — Cleveland gave up 125 points to the undermanned Pistons — and prevented the Heat from overtaking them for third place in the Eastern Conference standings.
Cleveland played its first game since Love broke his left hand against the Pistons. The five-time All-Star is consulting with surgeons in New York, and it's possible he'll undergo an operation as early as Thursday. Love, who could miss two months, already has screws in the hand from a previous procedure after he broke it in 2009 with Minnesota.
Goran Dragic scored 18 and Josh Richardson 15 to lead the Heat, who went just 3 of 28 on 3-pointers.
CELTICS 103, KNICKS 73
BOSTON (AP) — Terry Rozier filled in nicely for Kyrie Irving, logging his first career triple-double in his first NBA start and leading Boston over New York.
Rozier had 17 points, 11 rebounds and 10 assists to become the second player in NBA history with a triple-double in his first start, joining Tony Wroten for Philadelphia on Nov. 13, 2013, according to Elias Sports Bureau. Irving was sidelined by a bruised right quadriceps after he got hurt during Monday's win in Denver.
Marcus Morris scored 21 points for the Celtics, and Jayson Tatum had 15. Al Horford and Jaylen Brown scored 14 apiece.
Morris left late in the third quarter with a bruised left hip.
Enes Kanter had 17 points and 17 rebounds for the Knicks, and Kristaps Porzingis scored 16.
TRAIL BLAZERS 124, BULLS 108
PORTLAND, Ore. (AP) — CJ McCollum scored a franchise-record 28 points in the first quarter and finished with a career-high 50 through three as Portland took advantage of short-handed Chicago.
McCollum's 28 points in the opening quarter were the most in the NBA this season. His final tally was nine points shy of the team record set by Damian Lillard last season.
Lillard also sat out the final period after adding 13 points and seven assists for the Trail Blazers, who led by as many as 29. It was Portland's fourth straight win overall, a season high, and the club's eighth in a row at home.
Zach LaVine had a season-best 23 points in Chicago's fifth consecutive loss.
NETS 116, 76ERS 108
NEW YORK (AP) — Spencer Dinwiddie scored 27 points, D'Angelo Russell added 22 in his best performance since returning from knee surgery, and Brooklyn snapped a four-game skid with a victory over Philadelphia.
Rookie center Jarrett Allen, making his first start at home, had 16 points and 12 rebounds for the Nets, who took charge of a close game with an 11-0 run early in the fourth quarter.
Dinwiddie had six points during the spurt and a pair of recent 76ers contributed the other five in the first meeting since a trade between the teams last month.
Joel Embiid had 29 points and 14 rebounds for the 76ers (24-24), who dropped their third straight. Ben Simmons scored 24 and J.J. Redick had 20 in his return from a seven-game absence with a leg injury.
MAGIC 127, LAKERS 105
ORLANDO, Fla. (AP) — Marreese Speights scored 21 points in his second start of the season, Evan Fournier added 19 and Orlando ran away from Los Angeles in the third quarter.
Winning for only the fourth time in 24 games, the Magic made a franchise-record nine 3s in a 43-point third period, their highest-scoring quarter of the season. They shot 18 for 32 (56 percent) from behind the arc in the game.
With 15 points and six assists, Elfrid Payton was one of seven players to score in double figures for the Magic (15-35).
Julius Randle and Jordan Clarkson scored 20 each for the Lakers, who never led after the first quarter.
PACERS 105, GRIZZLIES 101
INDIANAPOLIS (AP) — Myles Turner had 15 points and 11 rebounds in his return to the starting lineup, and Indiana beat Memphis for its third straight win.
Turner gave the Pacers a 102-101 lead by hitting two free throws with 34 seconds left.
With two seconds remaining, Wayne Selden missed a floater in the lane that would have given the Grizzlies the lead. Indiana came up with the rebound and sealed it at the foul line with less than a second left.
All five Pacers starters scored in double digits. Bojan Bogdanovic and Darren Collison each had 21 points, Victor Oladipo added 13 and Thaddeus Young had 10.
Marc Gasol had 23 points and nine rebounds for Memphis. Selden led the Grizzlies with 24 points but was ejected with 0.7 seconds remaining after arguing he was fouled on his missed shot.
HORNETS 123, HAWKS 110
ATLANTA (AP) — Kemba Walker hit a career-high nine 3s and scored 38 points, leading Charlotte to a dominant win over Atlanta.
The Hornets never trailed while building double-digit leads in each half.
Dwight Howard had 20 points and 12 rebounds in his return to Atlanta after spending one season with his hometown Hawks. It was Howard's second double-double in less than a week against the Hawks. He had 18 points and 15 rebounds in Charlotte's 121-110 victory Friday.
Nicolas Batum had 10 points, 11 rebounds and 10 assists for Charlotte.
SUNS 102, MAVERICKS 88
PHOENIX (AP) — Rookie forward Josh Jackson matched his career best with 21 points, T.J. Warren added 20 and Phoenix stopped a five-game losing streak by handing Dallas its fifth loss in a row and eighth in nine games.
Suns backup point guard Isaiah Canaan broke his left ankle in a gruesome injury late in the first quarter.
Marquese Chriss added 15 points and 12 rebounds for the Suns, who beat Dallas for the fourth time in a row dating to last season.
After missing Monday night's game in Memphis with bruised ribs, Devin Booker was back at point guard for Phoenix and scored 15 points.
Dennis Smith Jr. scored 17 for the Mavericks, who shot just 36 percent.