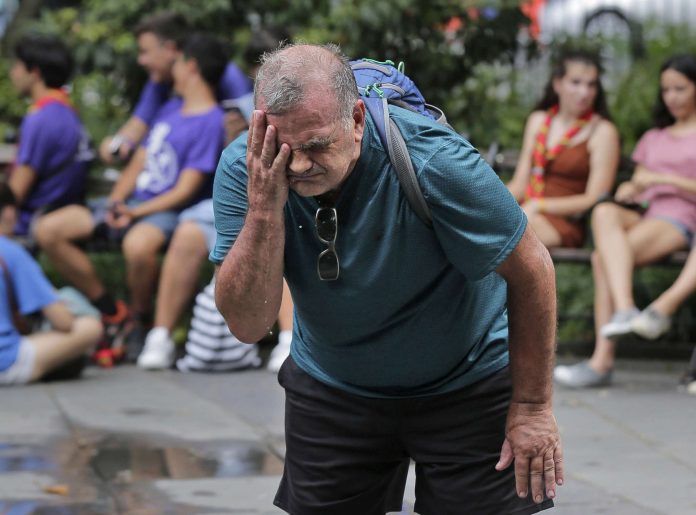 ORANJESTAD – Aruba is currently experiencing a heat wave, and the heat advisory is in place for today, Tuesday 6th of June.
High temperatures today should range from 34 to 36 degrees Celsius with humidity in the low to high 80's and 90's. This will make for heat index values (apparent temperatures) around 40 to 45 degrees each day.
The heat and humidity will not subside much at night with temperatures only dropping into the high 20's, at 27 to 28 degrees Celsius. This will add to the danger for people who cannot find a way to adequately cool down.
Excessive heat is the number one weather killer. People should be prepared for the dangers excessive heat poses. Young children, elderly people and those with illnesses or heart conditions are at the most risk.
Know the difference between heat exhaustion and heat stroke
The symptoms for heat exhaustion include headache; dizziness or fainting; heavy sweating; cold, pale and clammy skin; nausea or vomiting; fast, weak pulse; weakness or muscle cramps; and excessive thirst.
The symptoms for heat stroke, which is a medical emergency, include headache; confusion or delirium; loss of consciousness; no sweating/ dry skin; hot, red skin; nausea or vomiting; rapid heart rate; body temperature above 104F.
In case a person is suffering heat exhaustion, you can hydrate with water or sports drink, and avoid alcohol. Move to a cooler, air-conditioned place. Lie down. If fully conscious, sip water. Take a cold shower or use cold compresses. If vomiting continues, seek medical attention. Remove tight fitting clothing or extra layers. Act quickly, as untreated heat exhaustion can lead to heat stroke.
If suffering from heat stroke, call 911 immediately, as this is a medical emergency. Move the person to a cooler place. Use cold compresses to reduce body temperature. Do not give fluids.
If you are suffering from a medical emergency during your stay in Aruba, please call 911.