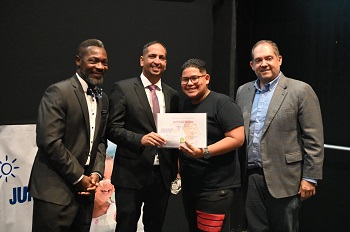 On April 22, 2022, the Minister of Tourism & Public Health the closing ceremony of the first Aruba Childhood Obesity Prevention Program called "JUMP18" at the Gloria took place.
JUMP18 is a multidisciplinary childhood obesity prevention program affiliated with the Horacio Oduber Hospital.
JUMP18 started on September 14, 2021, to make a difference, and inspire and motivate others. It will create new opportunities for all involved in the program, for example, the parents, the professionals, and especially the children.
JUMP18 is a team of five young Aruban healthcare professionals and a pediatrician that developed a hands-on initiative to empower children and their parents to improve their health and wellbeing. The philosophy of JUMP18 is to motivate and enable Aruban children and their parents to live sustainable and healthy lifestyles needed to prevent the harmful effects of childhood obesity. JUMP18 aims to help parents and children to live healthier lives by (re)educating and challenging their limiting beliefs. Over the past six months, JUMP18 held a variety of workshops under professional guidance for the children and their parents.
Minister of Tourism & Public Health, Mr. Dangui Oduber, who attended the closing ceremony, affirmed that this program is according his Healthcare policy based on prevention. "It is for the first time in history Aruba has a national plan for the prevention of Non-Communicable Diseases, approved by the Pan American Health Organization (PAHO). The national prevention plan is an extensive long-term plan to reduce the amount of NCDs under the Aruban population and reach a more sustainable budget for AZV. It is essential to teach children, at a very young age, the importance of leading a healthy life.
NCDs are diseases such as cancers, diabetes, cardiovascular disease, stroke, and chronic lung diseases and are a burden on the AZV's budget. Diabetes causes kidneys failure and leads to dialysis. Each patient undergoing dialysis has a hefty price tag of Awg.100,000.00 per year for the AZV, and these are almost 100% preventable. Obesity and malnutrition is the leading cause of most of these diseases.
Minister Dangui Oduber thanked Dr. Jamiu Busari, he founder and senior researcher of JUMP18, for this initiative and supervision. He also thanked the professional medical team of JUMP18 for making this program a success. To have a healthy community takes responsibility and commitment to take better care of ourselves, eat healthier, and be more active.
Together we can succeed.