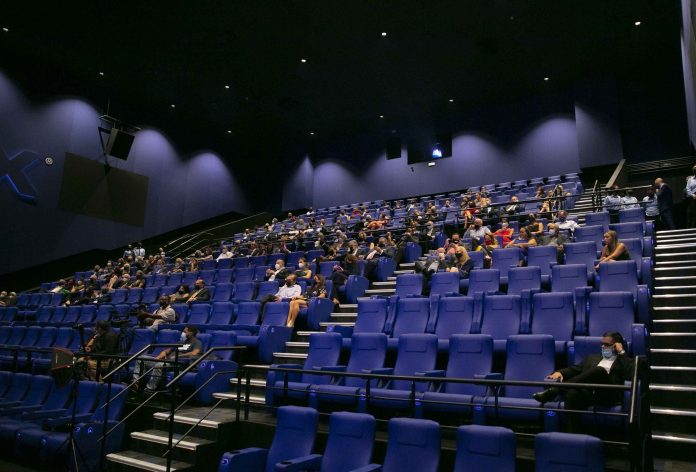 Aruba now offers the most entertaining movie-going experience with heart-pounding audio, awe-inspiring images and an immersive experience. IMAX is the name. But, there is way more. Grande Dame Gloria is the newest entertainment complex and has 10 cinema theaters: an IMAX, 6 comfort class theaters and 3 VIP theaters. In total offering a capacity of 1132 seats. Gloria invites you to dine at any of its three restaurants. If you prefer, grab something quick at Lettuce Eat, Cold Fusion or the ubiquitous Starbucks. "If you vacation here, this is your perfect night out with the family," says Joe Davis, Managing Director Gloria.
Davis manages not only in Aruba but also in Curacao. "Gloria is an entertainment destination. We try to create a place for people not only to watch movies but also have a night out whether that is eating dinner, enjoying drinks, watching a sport event in one of the bars downstairs or to do something with your family like see a movie and afterwards go to Stay & Play." You can get pampered in the VIP sections which have a different entrance from the rest of the complex or just sit and have a coffee. Truly, Gloria has something for everyone. "This is the most state-of-the-art movie theater in the Caribbean."
Downstairs
IMAX is a brand, Gloria agreed to a franchise where they purchased the proprietary equipment and thus offering to show movies in that format. Davis: "A larger screen, dynamic sound, amazing image that is IMAX." Upon entering the complex you encounter a food court offering P.F. Chang's (Asian food), Italian Mangiamo and the sports bar Sizzle. Starbucks, Lettuce Eat and Cold Fusion are welcoming you and for the children there's Play & Stay play court.
VIP
If you want an upscale experience, use the separate entrance to the VIP theatres. "Here you relax in a full recliner with a particular headrest, your waiter comes into the auditorium and takes your order to serve you there. If you do not want to watch a movie and just enjoy your steak and seafood we offer a very nice lounge to sit and eat, your choice. Seats are state of the art, brand-new and super comfortable with built-in tray tables, illuminated menus and a call-button for service," Davis says. Eventually they will offer valet parking as well.
Upstairs
The escalator brings you to the first floor with IMAX and 6 comfort class theaters. "Ease in very comfortable leather rockers and enjoy the large and wide screens plus perfect sound. IMAX offers wide huge chairs and a screen of 22 meters wide (71 feet) and 13 meters tall with a 10.1 Dolby Surround Sound System, amazing." Gloria takes you inside the movie, you are living it!
Covid-19 safety in place
Because of the current pandemic Gloria has the required Covid-19 safety protocol in place. Social distancing is required, seats are separated and complete sanitizing is done after each movie.
Unique points
Parking with 310 spots, near the hotels
VIP experience
IMAX super cinema experience
6 comfort class theaters
Food Court
Mingle with the locals
Fun for your teens and small children (Stay & Play)
Something different than your standard restaurant night
The company behind Gloria
Eddie de Veer is the owner of MetaCorp, a 100% Aruban company existing for 100 years and owner of Gloria. "Gloria was the first cinema theater we started on Aruba, now we do it again and we make the circle round. This is spectacular." If you visit Gloria, take a look at the short wall video showing the history of MetaCorp and their significance to the Aruban community. De Veer: "In difficult times like these we do invest in our local economy showing confidence and giving hope."