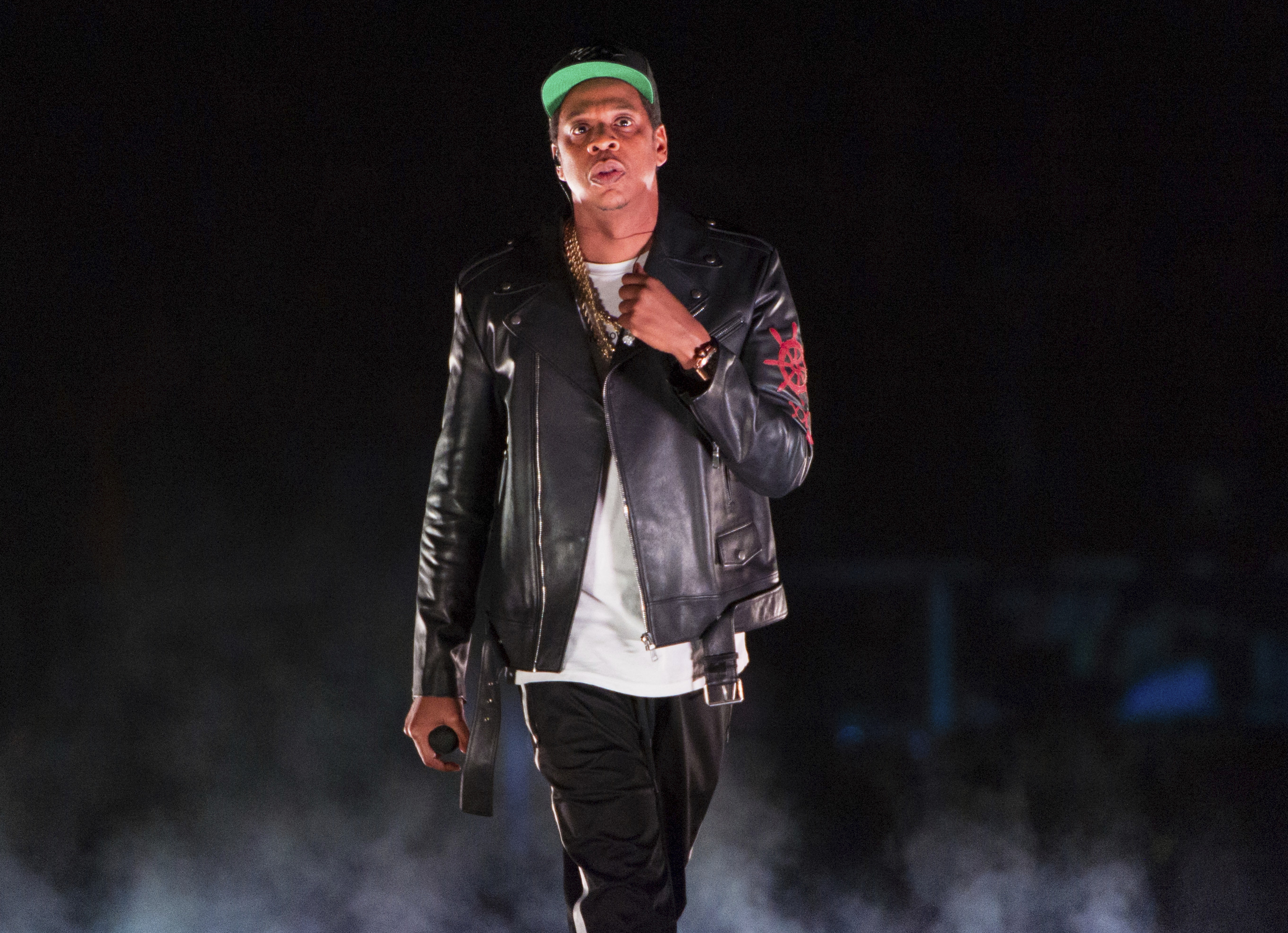 By MESFIN FEKADU
AP Music Writer
NEW YORK (AP) — Jay-Z said though he boycotted the Grammys almost two decades ago, he's better served helping the Recording Academy grow instead of abandoning it.
At Clive Davis' annual pre-Grammy gala on Saturday — where Jay-Z earned the Grammy Salute to Industry Icons Award — he said he initially boycotted because DMX had an amazing year in music but didn't earn any nominations at the 1999 Grammys. Jay-Z's sophomore project, "Vol. 2… Hard Knock Life," won best rap album that year though he didn't attend the show, besting albums by A Tribe Called Quest, Mase, Big Punisher and Jermaine Dupri.
"I didn't come back until… 2004 when a beautiful, young lady whom I love dearly had a solo album… the beautiful Miss Beyonce. And I realized, 'Man, art is super subjective and everyone is doing their best, and the Academy, they're human like we are and they're voting on things they like and it's subjective,'" he told the audience, which included Quincy Jones, Tina Fey, Jerry Seinfeld, Diddy and Beyonce, who Davis called "the first lady of music."
"And if we believe in it — 'cause we do, we can pretend that we don't care but we really care — we care 'cause we've seen the most incredible artists stand on that stage and we're inspired to be that, so I was like, 'I have to be here,'" he added. "That is the idea for all of us to get involved and to push this thing further no matter what happens at the Grammys, it's going to be what it is. Bob Marley is going to be Bob Marley, whether he's nominated for a Grammy or not. Tupac is going to be Tupac, Biggie is going to be Biggie."
Rap has had a long history with the Grammys — whether its top performers like Eminem and Kanye West constantly losing in the major categories to rock, pop and country acts, or rap awards not making it on the televised show, though that's changed in recent years.
Jay-Z has won 21 Grammys and has been nominated for 74. He is the top contender at Sunday's show, competing for eight awards including album, song and record of the year.
The Brooklyn rapper was serenaded at the Sheraton New York Times Square Hotel by Alicia Keys, who performed a medley of his popular hits on piano, closing with their collaboration, "Empire State of Mind."
"Before anything else I was a true fan of your music Jay, and still am. I will walk down the streets with my headphones on and my Tims and baggy jeans and your (music) was my soundtrack," she said.
The black-tie event closed with a rousing tribute to Aretha Franklin by Jennifer Hudson, though the Queen of Soul didn't attend. Hip-hip trio Migos performed their No. 1 hit, "Bad and Boujee"; Luis Fonsi "put a little spice (on) tonight" — as he said it — when he sang the monster hit "Despacito"; and Leslie Odom, Jr. and Ben Platt reprised their Tony-winning roles in "Hamilton" and "Dear Even Hansen," winning over the crowd.
Barry Manilow kicked off the night in tribute to New York — singing Frank Sinatra's "New York, New York" — in honor of the Grammys returning to the Big Apple after 15 years for its 60th anniversary.
But Gladys Knight might have had the best performance: She was golden when she sang "Stand by Me" and "Midnight Train to Georgia," earning a standing ovation.
"Thanks for standing by me," the icon said.
Guests at Davis' white-hot party outside of the music world included New York Yankee players Giancarlo Stanton and CC Sabathia, Martha Stewart, Ivana Trump, John Oliver, NBA player Chris Bosh and Nancy Pelosi. Robert Kraft, the owner of the New England Patriots, received a Bronx cheer when Davis introduced him to the audience.
Davis famously announces his celebrity guests with a list of their accomplishments. When he called out Katie Holmes, he said she was sitting near Jamie Foxx, who she has been linked to for some time now.
"If you're going to sit together what better night than tonight," Davis said to laughs from the audience, which included Sting, John Legend, Alison Krauss, Pink, Cardi B, DJ Khaled and Earth, Wind & Fire.
Rising singer Khalid and rapper Logic, both nominated for multiple Grammys, closed the show with the suicide prevention anthem, "1-800-273-8255."
"From section 8 and welfare to the Grammys — I can't wait," yelled Logic.