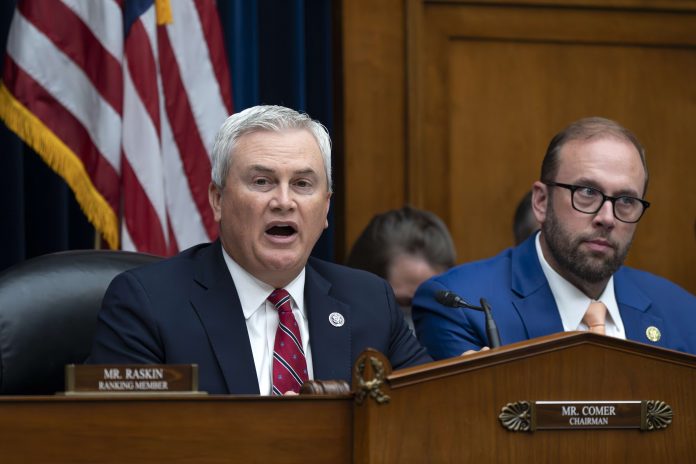 By FARNOUSH AMIRI
Associated Press
WASHINGTON (AP) — House Republicans raised unsubstantiated allegations Wednesday against President Joe Biden over his family's finances as they summoned IRS whistleblowers to testify publicly for the first time about claims the Justice Department improperly interfered with a tax investigation into Biden's son Hunter.
Lawmakers were hearing from the two IRS agents assigned to Hunter Biden case, which looked into his failure to pay taxes. Greg Shapley is a supervisory special agent managing large cases for the IRS. The second agent, whose name was withheld in closed-door interview transcripts released earlier by Republicans and who was referred to by the committee as "whistleblower X," was disclosed at the hearing as Joe Ziegler, an IRS agent since 2010.
"We will continue to follow the money trail," said Rep. James Comer, chairman of the House Oversight and Accountability Committee, as he opened the session.
The Justice Department has denied the whistleblowers' allegations.
The top Democrat on the committee, Maryland Rep. Jamie Raskin, called the hearing "a theater of the absurd."
The GOP inquiry got underway last month, days after the announcement that Hunter Biden would plead guilty to misdemeanor tax offenses as part of an agreement with federal prosecutors.
The IRS employees claim there was a pattern of "slow-walking investigative steps" into Hunter Biden, including delayed enforcement actions in the months before the 2020 election that Joe Biden won.
The House Ways and Means Committee recently voted to disclose hundreds of pages of testimony from the IRS employees in which they described roadblocks faced by agents on the case.
One of Shapley's most explosive claims was that U.S. Attorney David Weiss in Delaware, the federal prosecutor who led the investigation, asked for special counsel status in order to bring the tax cases against Hunter Biden in jurisdictions outside Delaware, including the District of Columbia and California, but was denied.
Weiss and the Justice Department have denied that, saying he had "full authority" and never sought to bring charges in other states.
But Shapley testified under questioning during an exchange with Rep. Jim Jordan, R-Ohio, that he wrote an email later that day to memorialize the October 2022 meeting with Weiss and five others. Shapley insisted on Wednesday on his own recollection of what was said.
The second IRS whistleblower, Ziegler, described his frustrations with the way the case was handled, dating to the Trump administration under Attorney General William Barr. The tax agency employee said he started the investigation into Hunter Biden in 2015 and began to delve deeply into his life and finances.
Ziegler told the committee thatl he decided to come forward publicly "not as a hero or a victim," but as a married, gay Democrat "compelled to disclose the truth."
Democrats on the committee pushed back on the whistleblower claims that Hunter Biden received special treatment because his father was the nominee for president in the upcoming 2020 election.
Rep. Raja Krishnamoorthi, D-Ill., made the point that Donald Trump was president during the 2020 time frame when the whistleblowers allege there was interference.
Trump's Justice Department, he noted, issued a memorandum in February 2020 telling prosecutors to "exercise particular care regarding sensitive investigations and prosecutions that relate to political candidates, campaigns and other politically sensitive individuals and organizations," his voice rising. "Especially in an election year!"
Democrats have pointed out that Weiss was appointed to his post by Trump and the federal investigation into Hunter Biden was initiated under Trump. Biden kept Weiss on the case when he won the election.
Republicans have also sought testimony from other agents involved in the case, and held a transcribed interview this week with an FBI agent, now retired, who they said was involved. But other witnesses have declined to appear before the panel.
White House press secretary Karine Jean-Pierre, speaking while the hearing was underway, said Republicans were focusing on "political stunts" and the president "on how we continue to do the work of the American people."
Before the hearing, Comer, R-Ky., acknowledged it has been difficult for Republicans to succinctly outline Hunter Biden's tangled financial affairs or to provide convincing evidence of any specific wrongdoing by the president or his family.
"It's so hard to explain," Comer told reporters. "Hopefully these IRS agents can do a better job explaining than I can," he said.
Justice Department officials have countered these claims by pointing to the extraordinary set of circumstances surrounding a criminal case into a subject who at the time was the son of a leading presidential candidate.
It is unclear how much of the conflict described by the whistleblowers amounts to internal disagreement about how to pursue the investigation or a pattern of interference and preferential treatment. Department policy has long warned prosecutors to take care in charging cases with potential political overtones around the time of an election, to avoid any possible influence on the outcome.
In one specific case, Shapley described IRS agents' efforts to execute a search warrant of a storage facility in Virginia where the younger Biden's documents were being stored. He said the assistant U.S. attorney involved in the case reached out to Hunter Biden's lawyers, in a move that is seen as customary in cases involving high-profile individuals, but it ruined "our chance to get to evidence before being destroyed, manipulated, or concealed."
A similar occurrence happened when the FBI officials notified Hunter Biden's Secret Service detail ahead of an effort to interview him and several of his business associates in order to avoid a potential shoot-off between two law enforcement bodies.
Nonetheless, Republicans have moved full steam ahead, issuing a series of requests for voluntary testimony from senior officials at the Justice Department, FBI and Internal Revenue Service, including Weiss. They have also requested a special counsel review of supposed retaliation against the whistleblowers who came forward with the claims.
Weiss wrote in a letter to Jordan earlier this month that he would be happy to testify before the committee when he is legally able to share information with Congress without violating the longstanding department policy of discussing an ongoing investigation.
Testimony from Justice Department officials could come after Hunter Biden appears for his plea hearing next week.